Particle: An Age-Defying Skin Cream for Men
Skincare professionals are beginning to get through to men across the globe that skincare matters. The message they're conveying is that developing a regular skincare regimen keeps skin looking fresher and younger, and wards off irreversible sun damage.
The evidence that the message is getting through is found in the growth of the men's personal care market. It is expected to reach nearly $166 billion by 2022, according to Research. The skincare segment leads the market owing to the popularity of face and neck creams, such as anti-aging skin creams and sunscreen.
Particle, a new in skin cream for men, is designed to provide men with a simple, effective way to establish a regular skincare routine. Applying Particle's face cream in the morning and evening takes only a minute and it contains all the necessary ingredients to offer six benefits from one product.
The cream is specifically engineered by expert biochemists to take the more rugged, less penetrable nature of men's skin into account.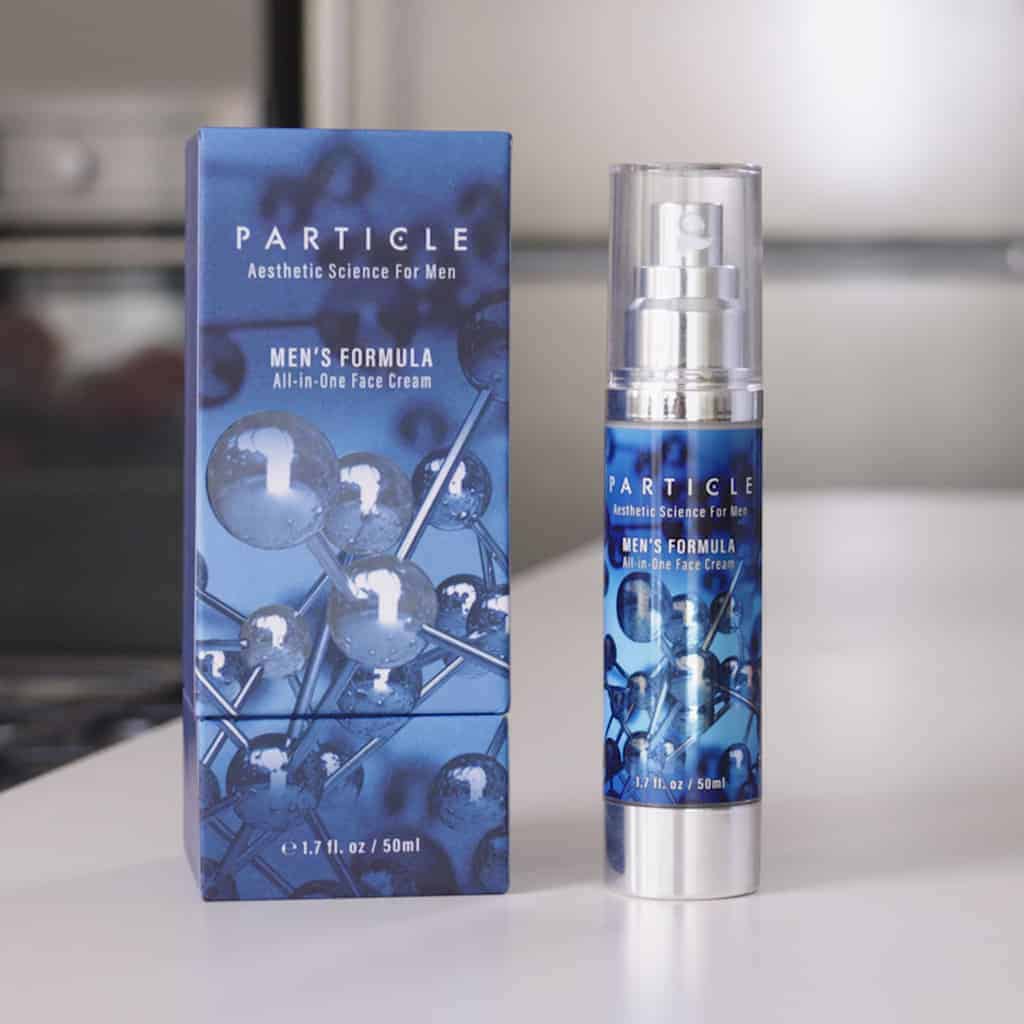 Common skin problems
As you age, your skin loses elasticity. The collagen and elastin that give your skin its firmness starts to degrade and fine lines and other signs of aging, like sagging skin, begin to appear. Exposure to the sun contributes to skin problems, causing wrinkles, discoloration and dark spots.
Men's skin is different
As a man, you have thicker skin than woman that is harder to penetrate. The products that work for women may not work as well for you and this is why a product specially formulated for men's skin is ideal.
Good skincare can change what people say from "Have you been feeling stressed lately?" to "Wow, you look great!" With Particle, your skincare routine is so straightforward you have no excuse for not following it.
One cream with six benefits
The goal of every skincare regime is to cleanse, moisturize, protect, and repair. The sheer volume of product options to accomplish this can make the idea of skincare daunting for men. Maybe that is why you don't have much of a skincare routine – you find it too difficult to figure it all out.
Using Particle's six-in-one cream as part of your daily routine makes skincare straightforward. One cream is all you need to use to see:
A firmer skin and reduction in wrinkles
Healing of sun damage, including dark spots
Improvement in bags and circles under the eyes
Moisturized and rejuvenated skin
Smooth skin after shaving with no redness or razor burn
Nourished skin
Easy to use
All you have to do is to gently rub a small amount of the cream in, paying attention to areas around your eyes and your forehead where wrinkles usually appear. It not only delivers nutrients to your skin but creates a barrier to protect it: a true skin cream for men.
Apply it in the morning to moisturize and protect and before bed to allow the nutrients to regenerate your skin while you sleep.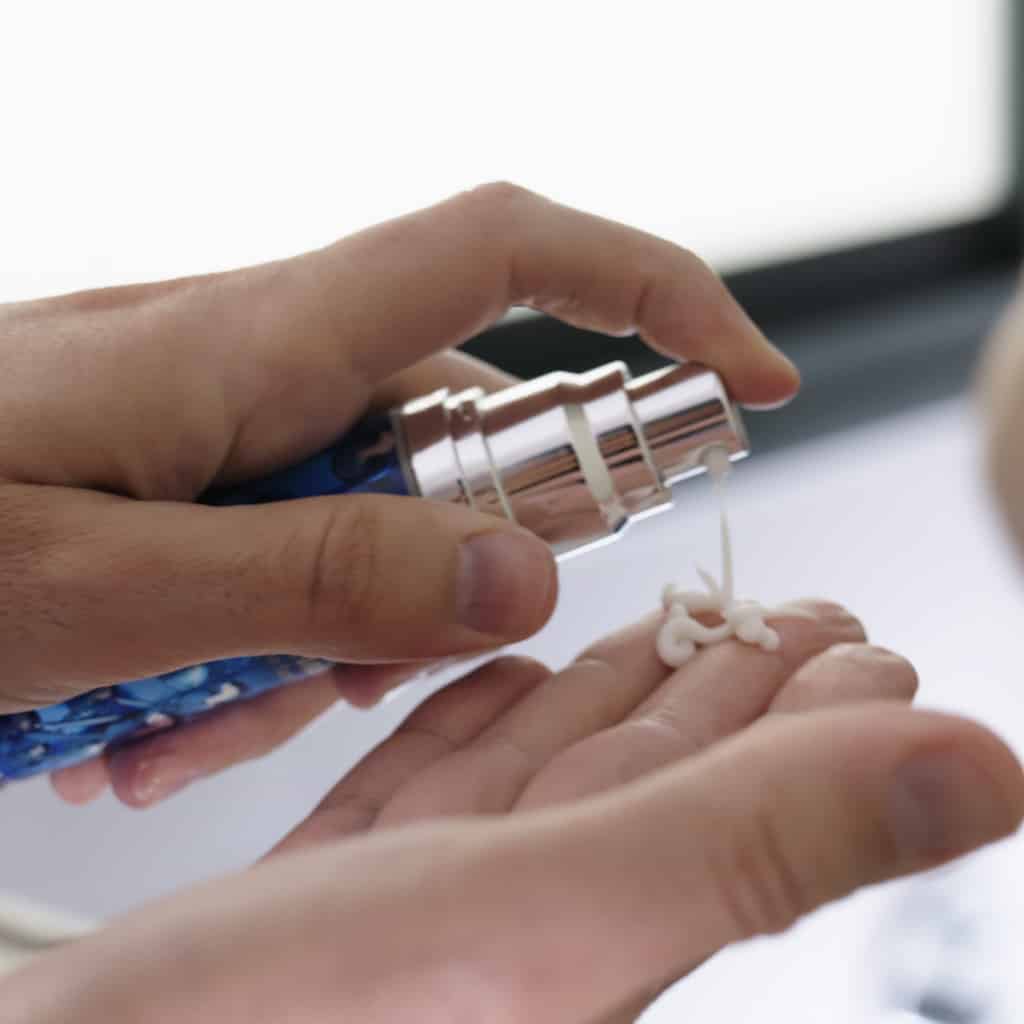 Handpicked ingredients
All the ingredients in Particle cream are carefully selected for their nourishing, soothing and healing qualities: the perfect skin cream for men.
Allantoin helps to soothe and heal the skin, stimulating new tissue growth.
Squalane oil squeezes into spaces between the skin cells, making your face feel smooth. It seals the outer skin layer and keeps moisture locked up.
Our own skin cells produce Hyaluronic acid to help maintain moisture levels but aging and environmental pollutants can take their toll. Particle cream contains Hyaluronic acid because it works like a magnet for moisture, hydrating your skin and making it feel plump and healthy.
Lactic acid helps to get rid of dead skin cells and stimulates collagen renewal.
A number of other ingredients, such as jojoba oil, glycerin and shea butter are included in the cream for their nourishing, healing and moisturizing effects.
Coffee seed extract helps to heal sun damage such as discoloration, loose dry skin and wrinkles, promoting elasticity.
Vitamin E is an antioxidant that helps to protect the skin from free radical damage.
No skin irritation after shaving
If your skin feels irritated after shaving, Particle can make a difference. It gets rid of any redness or razor burn, soothes the skin, and leaves it feeling smooth.
Save money
Buying different products to treat your razor burn, the circles under your eyes, dry skin, wrinkles and dark spots could cost you plenty.
Using one product with all of these benefits saves you money. The company offers a 30-day money-back guarantee if you try the product and don't love it.
Have confidence in your complexion
If you want your skin to stay smooth and supple as you grow older but you don't want to have to apply all kinds of different products, Particle face cream provides you with that opportunity.
It ensures that you don't have to follow a complex skincare routine to achieve results. The handpicked, quality ingredients will soothe, nourish and heal your skin, giving it more vibrancy.
It is never too late to begin caring for your skin but the sooner you start, the better. How you look affects your confidence and in your 30s when you are starting to show signs of aging, it's good to know that using an effective skin cream for men product like Particle can make you look healthier and younger with very little effort on your part.