Ever thought of exploring the icy wonders of Antarctica by cruise but stumbled upon the question: how much does it cost? I know; I've been there too. In fact, did you know that the average price of an Antarctic cruise in 2020 was US$10,000? With this comprehensive guide that dives deep into all factors influencing costs—like flights, visas, and insurance—you'll be able to plan your dream trip without unexpected surprises.
Ready to break the ice on this journey? Let's get started!
Key Takeaways
The average price of an Antarctic cruise in 2020 was around $10,000 per person, with prices ranging from $6,000 to $50,000 depending on the type of cruise and amenities offered.
Flight costs to the main departure point in Ushuaia can range from $700 to $1,000 for North Americans and $3,000 to $7,000 for Australians. Alternative departure points include Punta Arenas in Chile, Buenos Aires or Puerto Madryn in Argentina, and Invercargill and Hobart in New Zealand and Australia.
Visa requirements depend on your nationality and the countries you are visiting before or after Antarctica. While no specific visa is required for Antarctica itself, permits may be necessary depending on activities planned during the visit. It's important to check visa requirements well in advance.
When it comes to clothing and gear for an Antarctic cruise, layering is crucial due to extreme temperatures. Waterproof boots with good traction are a must-have, along with thermal socks, a warm hat, and gloves/mittens. Sunglasses that protect against UV rays are also recommended.
Table of Contents
Understanding Antarctic Cruises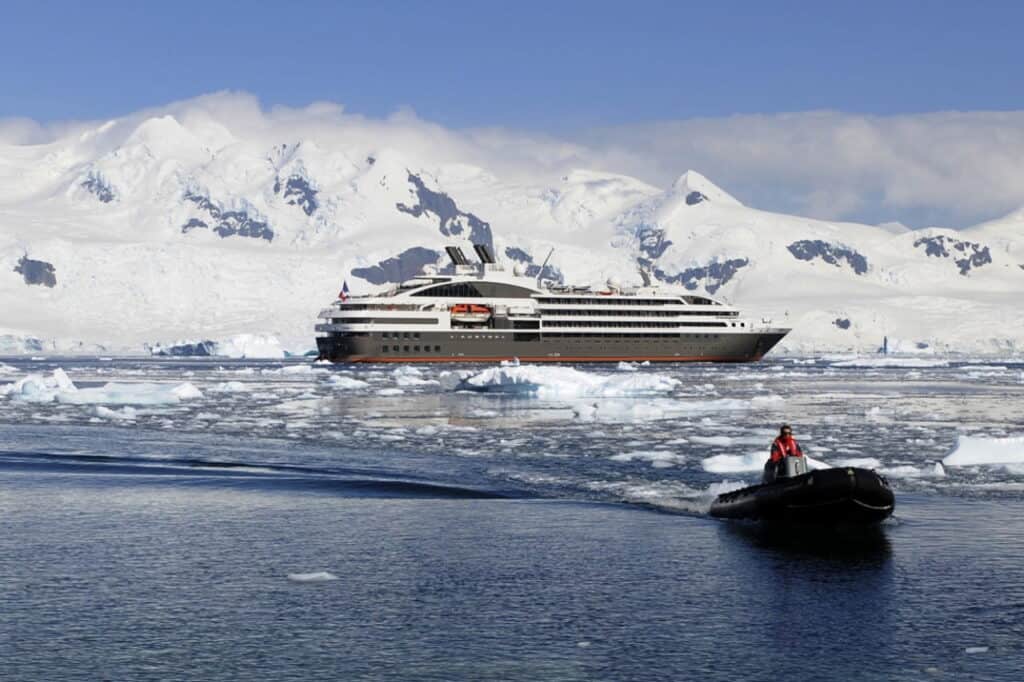 Antarctic cruises offer an incredible opportunity to explore one of the most remote and pristine regions on Earth, but understanding the different aspects of these cruises is crucial before embarking on this adventure.
Cruise Operators
Choosing the right cruise operator is an essential part of planning your Antarctic adventure. Several companies offer voyages to this remote corner of the world, each with its unique approach and services. Here are a few top-notch operators to consider:
Ponant: A renowned name in Polar adventures, Ponant offers the finest Antarctica cruises and expeditions with expert guides and top-class service.
Swoop Antarctica: Known for their high-quality ships, Swoop Antarctica provides a variety of itineraries covering key areas of the Antarctic continent.
Oceanwide Expeditions: This operator focuses on small-ship Polar expeditions and delivers personal experiences and quality service.
Lindblad Expeditions: Together with National Geographic, Lindblad offers some of the most educational cruises in Antarctica, guided by experts in their field.
Aurora Expeditions: Originating from Australia, Aurora focuses on exploratory voyages with a strong emphasis on wildlife encounters and active adventure options like sea kayaking or climbing.
Hurtigruten: With environmentally-friendly hybrid ships and sustainability at its heart, Hurtigruten offers an extensive range of departure dates and itineraries to choose from.
Silversea Cruises: If you're after luxury in Antarctica, Silversea has got you covered with gourmet dining, spacious suites, and impeccable onboard service.
Antarctic Ships
Cruising to Antarctica is an adventure of a lifetime, and the ship you choose significantly influences your overall experience. Here's a snapshot of typical Antarctic ships:
Small Expedition Ships: These vessels, often accommodating between 50-200 passengers, provide intimate experiences with expert guides and a strong focus on education. Examples include the Classic Antarctica Cruise or the Ross Sea Cruise.
Luxury Ships: Offering top-notch amenities, these high-end ships combine adventure with comfort. The Antarctica Basecamp Cruise or Epic Antarctica voyage often utilizes such vessels.
Research Vessels: Formerly for scientific use, these are now repurposed for tourism and are usually characterized by their ice-strengthened hulls and simple accommodations. East Antarctica Cruises commonly employs research vessels.
Icebreakers: These powerful machines can crush through sea ice, getting you far into places like the Antarctic Circle via Falklands and South Georgia Cruise.
Sailboats: For those looking for an extreme adventure, sailboats offer the most authentic Antarctic exploration experience but come with less comfort and more risks.
Fly/Cruise Options: An excellent choice for those short on time or keen to avoid the Drake Passage; these combine a flight with a cruise like the Antarctica Express Cruise or Patagonia Coastal Cruise.
South American Ports
As an avid traveler, I've come to learn that picking the right departure point for your Antarctic cruise is a key element of planning. South American ports are popular due to their close proximity to Antarctica. Here are some of the main ones:
Ushuaia: Known as the southernmost city in the world, it's the most common departure point for Antarctica cruises and expeditions.
Punta Arenas: Located in Chile, this port offers alternative routes to Antarctica, often with more adventurous itineraries.
Buenos Aires: Although further away, several cruise operators offer packages starting from Argentina's capital and include flights to Ushuaia.
Puerto Madryn: This Argentinean hub is another option for those wishing to explore Patagonia before launching their Antarctica adventure.
Australia/New Zealand Ports
I want to talk about the alternative departure points for Antarctica cruises, specifically the ports in Australia and New Zealand. Here are some important facts to keep in mind:
Invercargill, New Zealand: This port is located on the South Island of New Zealand and serves as a gateway to Antarctica. It offers convenient access to the Southern Ocean and is a popular starting point for many Antarctic expeditions.
Hobart, Australia: Situated in Tasmania, Hobart is another departure point for cruises to Antarctica. It is known for its picturesque waterfront and serves as a launching pad for various Antarctic adventures.
Departure Options: Choosing an Australian or New Zealand port can offer added convenience for travelers from these regions, as they may find it easier and more cost-effective to reach these departure points compared to traveling all the way to South America.
Flight Costs: When considering an Antarctica cruise from Australia or New Zealand, it's essential to factor in flight costs from your location to these ports. Prices can vary depending on your departure location and can range from $1,000 to $2,000.
Visa Requirements: Visa requirements for visiting Antarctica depend on your nationality. However, it's important to note that no visa is required specifically for Antarctica itself.
Cost Factors in an Antarctic Cruise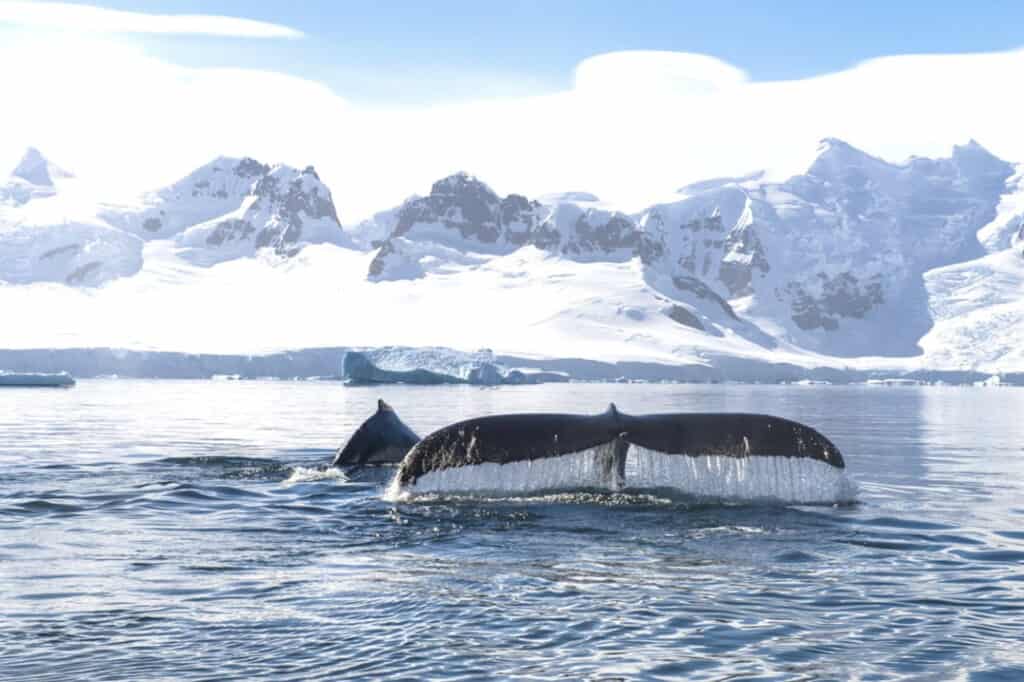 When planning your Antarctic cruise, it's important to consider the various cost factors that can impact your overall budget. From flights to visas and gear, understanding these costs will help you better prepare for this once-in-a-lifetime adventure.
In this section, we'll break down each factor and provide valuable insights to help you plan accordingly. Keep reading to find out more!
Flight Costs
Planning a cruise to Antarctica? One major cost you'll need to consider is your flight expenses. Flights to Ushuaia, the primary departure point for Antarctic cruises, can range from $700-1,000 for North Americans and $3,000-7,000 for Australians.
Alternative departure points include Punta Arenas in Chile, Buenos Aires or Puerto Madryn in Argentina, and Invercargill and Hobart in New Zealand and Australia. It's essential to factor these flight costs into your overall budget when planning your dream Antarctic adventure.
And don't forget that the prices mentioned are just estimates and may vary depending on various factors such as seasonality and airline availability. So be sure to do some research and compare prices before making any bookings!
Cruise Costs
When it comes to planning an Antarctic cruise, one of the most important factors to consider is the cost. Cruise costs can vary depending on several factors, including the type of cruise you choose and the amenities offered onboard.
On average, an Antarctic cruise in 2020 costs around $10,000 per person, with prices ranging from $6,000 to $50,000. Expedition ships tend to be more expensive, with prices starting at $10,000 and going up from there.
If you're looking for a more budget-friendly option, larger cruise ships offer more affordable prices, starting at around $1,700 for a 16-day trip. It's also worth noting that additional expenses, such as flights to Ushuaia (the main departure point) and travel insurance, should also be factored into your overall budget.
Visas, Permits, and Vaccinations
When planning an Antarctic cruise, there are a few important considerations to keep in mind regarding visas, permits, and vaccinations. Here's what you need to know:
Visas: Depending on your country of citizenship and the countries you are visiting before or after Antarctica, visas may be required. It's essential to check the visa requirements for these countries well in advance. For example, if you're a US citizen traveling through Argentina, you may need to pay a visa fee. Make sure to budget for these additional costs.
Permits: While no visas are required specifically for Antarctica itself, there are certain permits that may be necessary depending on the activities you plan to undertake during your visit. These permits are typically obtained through the tour operator or cruise company. The International Association of Antarctic Tour Operators (IAATO) plays a crucial role in regulating tourism in Antarctica and ensures that visitors adhere to environmental guidelines.
Vaccinations: Although no specific vaccinations are required for visiting Antarctica, it is always recommended to consult with your doctor or travel health clinic before embarking on any international trip. They will have the most up-to-date information about recommended vaccines and health precautions for travelers heading to remote destinations like Antarctica. In general, ensuring that routine vaccines are up-to-date is important.
Clothes, Equipment, and Gear
When preparing for an Antarctic cruise, it's essential to have the right clothes, equipment, and gear. Here's what you'll need:
Layering is crucial: Antarctica's extreme temperatures require proper layering. Start with a moisture-wicking base layer to keep you dry and warm. Add a mid-layer for insulation, such as fleece or down jackets. Top it off with a waterproof and windproof outer layer.
Waterproof boots: With icy and wet conditions, having waterproof boots is a must. Look for sturdy boots with good traction and ankle support.
Thermal socks: Keep your feet warm with thermal socks designed for extreme cold weather conditions.
Hat and gloves: Protect your head and hands from the cold with a warm hat and waterproof gloves or mittens.
Sunglasses: The Antarctic sun can be intense, so don't forget polarized sunglasses to protect your eyes from glare and harmful UV rays.
Sunscreen: Even in cold climates, sunscreen is essential to protect your skin from the sun's rays reflecting off the snow and ice.
Backpack: A small backpack will come in handy for carrying essentials like water bottles, camera gear, and snacks during excursions.
Binoculars: Enhance your wildlife viewing experience by bringing lightweight binoculars to spot penguins, seals, whales, and other fascinating creatures from afar.
Camera equipment: Capture unforgettable moments with a high-quality camera equipped with zoom lenses for wildlife photography or wide-angle lenses for capturing panoramic landscapes.
Dry bags: Keep your belongings dry during Zodiac cruises or wet landings by using waterproof dry bags to store cameras, phones, passports, or any other valuables.
Motion sickness remedies: If you are prone to motion sickness, consider packing over-the-counter motion sickness medication or natural remedies like ginger candies or wristbands that apply acupressure points on your wrists.
Insurance Cost
Insurance for an Antarctic cruise is crucial due to the remote location, harsh climate, and limited infrastructure. While the cost of insurance varies based on coverage and provider, it's recommended to invest in comprehensive coverage that includes trip cancellation, emergency evacuation, and baggage protection.
Given the extreme temperatures and challenging weather conditions in Antarctica, having insurance ensures peace of mind knowing that you're financially protected against any unforeseen circumstances during your adventure.
Remember to consult with your insurance provider about the specific coverage options available for Antarctic travel to make sure you have all eventualities covered!
Budgeting for Your Antarctic Cruise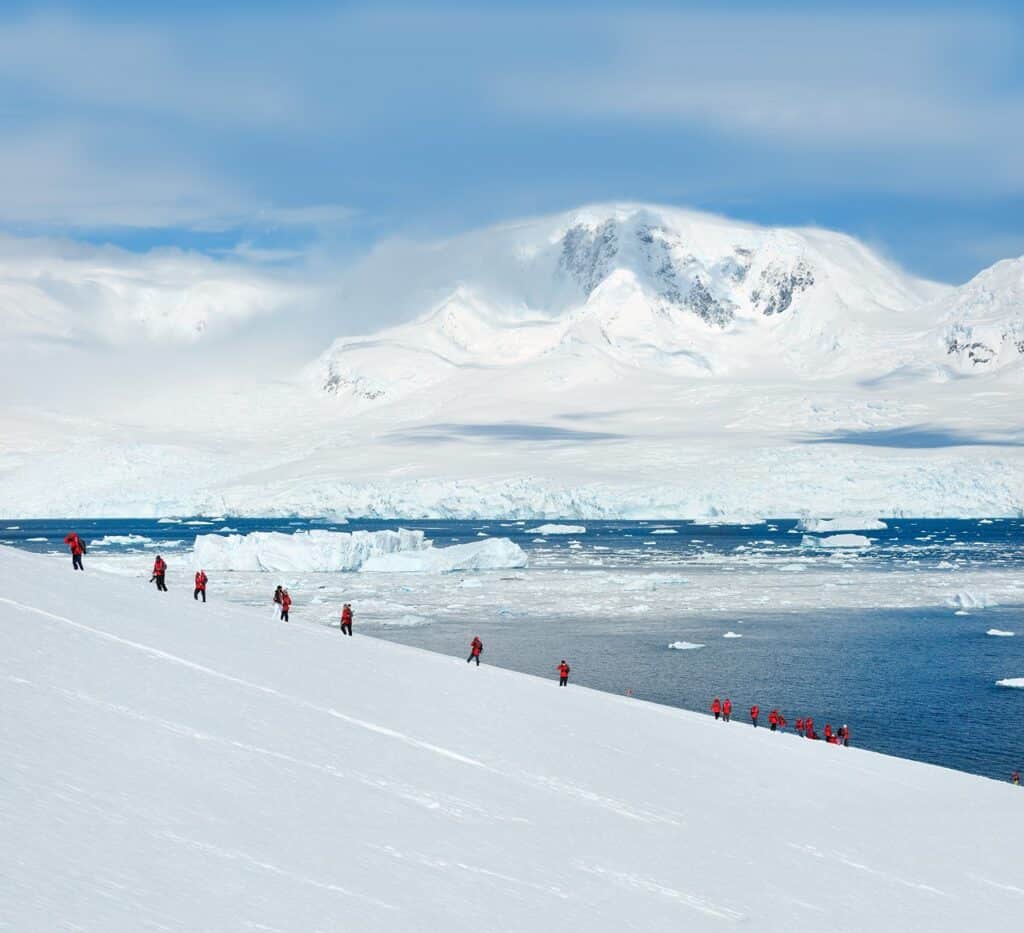 Budgeting for your Antarctic cruise is essential to ensure you have a memorable experience without breaking the bank. From low-budget options to luxury experiences, there's something for everyone.
Discover how you can make the most of your budget and plan your dream adventure in Antarctica. Read More.
Low Budget
As someone who loves to travel but also has to stick to a budget, I understand the importance of finding affordable options. When it comes to planning a low-budget Antarctic cruise, there are a few key things to consider.
First, keep in mind that prices can vary depending on the itinerary, ship, and cabin you choose. On average, an Antarctic cruise in 2020 costs around $10,000 per person, but you can find options starting from as low as $6,000.
To save money further, consider sailing during the shoulder season (November or March) when discounts may be available. Additionally, booking early or last minute can sometimes offer better deals.
Mid-range
In terms of budget, a mid-range Antarctic cruise offers a great balance between affordability and comfort. With prices ranging from $6,000 to $25,000 per person, you can expect a comfortable cabin, delicious meals on board, and access to knowledgeable expedition staff who will enhance your experience in Antarctica.
Keep in mind that the price may vary depending on the duration of the trip and any additional destinations included in the itinerary. While it may not be considered a luxury, a mid-range cruise still offers an incredible opportunity to explore this pristine region and witness its awe-inspiring wildlife and landscapes firsthand.
Remember to book early for potential discounts and keep an eye out for special promotions or deals that may further reduce costs.
Luxury Budget
When it comes to a luxury budget for an Antarctic cruise, be prepared to indulge in the ultimate polar experience. With prices ranging from $7,000 to $9,000 and even up to $20,000 for longer itineraries or those including the Falkland Islands and South Georgia, you can expect unparalleled comfort and exclusive amenities throughout your journey.
Picture yourself aboard a top-of-the-line expedition ship with luxurious accommodations, gourmet dining options featuring fresh local cuisine, and personalized service from knowledgeable guides.
As you embark on this once-in-a-lifetime adventure, you'll have access to unique activities such as helicopter rides over pristine icebergs or guided hikes through stunning landscapes.
Key Factors Affecting the Cost of Cruising to Antarctica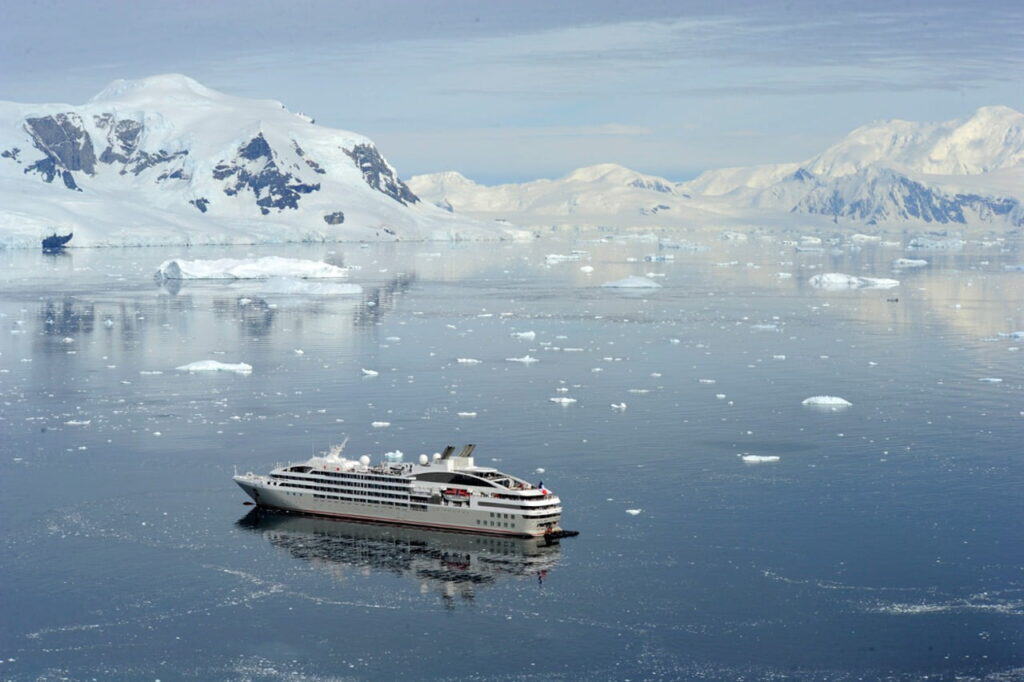 Several key factors can significantly impact the cost of cruising to Antarctica, such as the choice between high season and shoulder season, fly or cruise options, opting for an authentic or luxury experience, and whether you are traveling solo or with your family.
High season vs shoulder season
During the high season for cruising to Antarctica, which is from November to March, you can expect higher prices and more crowded ships. However, sailing in the shoulder season, specifically in November or March, may offer discounts or cheaper prices for Antarctica cruises.
This means you can potentially save money while still enjoying a fantastic Antarctic adventure. Plus, with fewer tourists around, you'll have a more intimate experience with nature and wildlife.
So if you're looking for a budget-friendly option without compromising on your experience, consider traveling during the shoulder season when planning your Antarctic cruise.
Fly vs cruise
For those considering a trip to Antarctica, one important decision to make is whether to fly or cruise. Both options have their advantages, and it ultimately depends on your preferences and priorities.
Flying allows for quicker access to the continent, with flights typically departing from Punta Arenas in Chile or Ushuaia in Argentina. This option can be more convenient if you have limited time or are looking for a more efficient way to reach Antarctica.
On the other hand, cruising offers a unique and immersive experience as you journey through the stunning landscapes of the Southern Ocean before arriving in Antarctica. It provides an opportunity to witness wildlife, go on excursions with knowledgeable guides, and fully immerse yourself in the beauty of this remote region.
Keep in mind that flying may be pricier than cruising due to additional costs such as charter flights and transfers. Moreover, flying limits your exploration of other destinations like South Georgia or the Falkland Islands, which many cruises include in their itineraries.
Authentic vs Luxury
When it comes to planning an Antarctic cruise, one of the key decisions you'll have to make is whether you prefer an authentic or luxurious experience. An authentic Antarctic cruise focuses on immersing yourself in the raw beauty and untouched wilderness of this incredible continent.
These cruises often feature smaller ships, allowing for a more intimate experience with nature and wildlife. You'll have the opportunity to participate in citizen science projects, go kayaking among icebergs, and even camp overnight on Antarctica's icy shores.
On the other hand, if you're looking for a touch of luxury during your Antarctic adventure, there are options available that offer premium accommodations and amenities. Luxury cruises provide a higher level of comfort and service without sacrificing access to remote locations or unique experiences.
You can still enjoy wildlife encounters, breathtaking landscapes, and adventurous activities while enjoying plush cabins, gourmet cuisine, spa facilities, and top-notch personalized service.
Traveling solo or with your family
As a guy looking to experience the breathtaking beauty of Antarctica, you have the option to travel solo or bring your family along on this unforgettable adventure. If you're craving some alone time and want to fully immerse yourself in the awe-inspiring landscape, traveling solo might be the way to go.
It allows for more flexibility in choosing activities and exploring at your own pace. On the other hand, bringing your family can create precious memories that will last a lifetime.
Imagine sharing the excitement of seeing penguins up close or witnessing majestic icebergs together. Just keep in mind that costs will vary depending on whether you're traveling alone or with loved ones.
Saving Money on Your Antarctic Cruise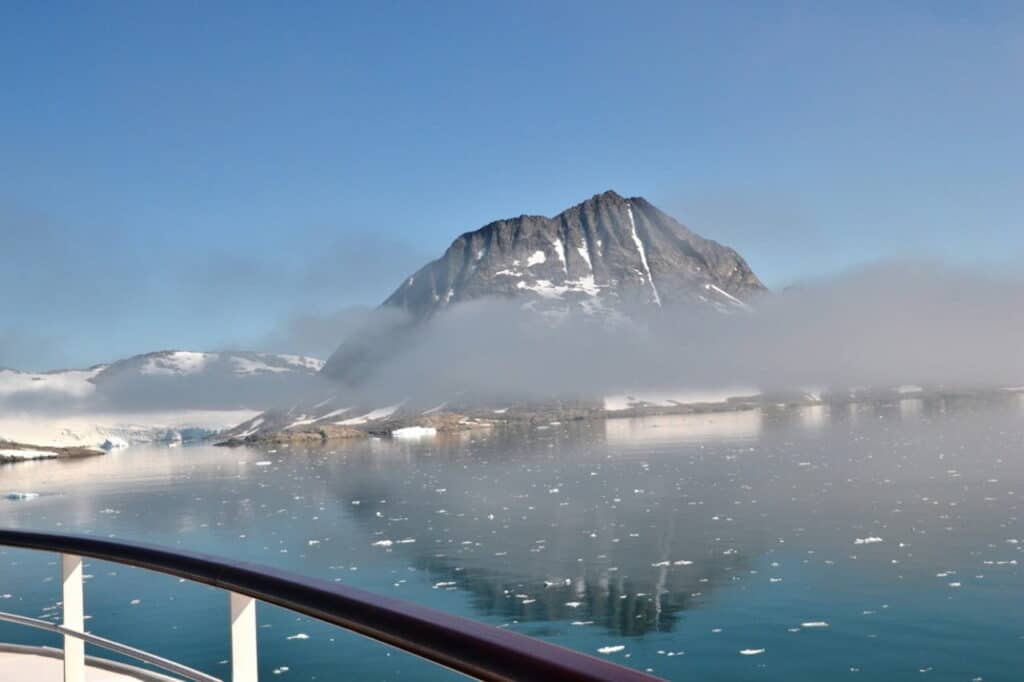 Save money on your Antarctic cruise by booking early, sailing in the shoulder season, looking for last-minute deals, choosing a cheaper cabin or sharing one, and keeping an eye out for special promotions and discounts.
Read on to discover how you can make your dream adventure more affordable!
Booking early
Booking early for your Antarctic cruise is a smart move that can save you a significant amount of money. By securing your spot in advance, you can often enjoy discounts of $1,000 to $1,500 off the voyage price per person.
Not only do early birds get financial rewards, but they also have the advantage of choosing their preferred voyage and cabin. Plus, booking directly with the ship operator won't affect the cost of your cruise – so why wait? Be proactive and lock in your adventure to Antarctica today!
Sailing in the Shoulder Season
I absolutely love the idea of sailing in the shoulder season to Antarctica. Not only can you potentially score some fantastic discounts and cheaper prices, but you'll also get to experience this incredible destination at a different time of year.
The shoulder season refers to November or March, when fewer people tend to visit Antarctica. During this time, prices for cruises may be more affordable, allowing you to save some money while still enjoying all that Antarctica has to offer.
Plus, since it's outside of the peak tourist season, you'll likely encounter fewer crowds and have a more intimate experience with nature. So if you're looking for a budget-friendly option or simply want a unique adventure, consider setting sail during the shoulder season for an unforgettable trip to Antarctica!
Booking Last Minute
If you're looking to save some money on your dream Antarctic cruise, one option to consider is booking last minute. By waiting until closer to the departure date, you may be able to take advantage of discounted prices and special offers.
Many cruise operators offer deals on unsold cabins in order to fill up their ships, so it's worth keeping an eye out for these opportunities. Just remember that availability can be limited, so if you have specific dates in mind or certain preferences for your trip, it's best not to rely solely on last-minute bookings.
However, if flexibility is key and you're willing to take a bit of a chance, booking last minute can be a great way to score a fantastic deal on your Antarctic adventure.
Choosing a Cheaper Cabin
When it comes to choosing a cabin for your Antarctic cruise, there are options available that can help you save money. Opting for an interior or lower deck cabin rather than a balcony or suite can significantly reduce the overall cost of your trip.
While these cabins may not offer the same views or amenities as their more luxurious counterparts, they still provide comfortable accommodations and access to all the onboard activities and experiences.
By choosing a cheaper cabin, you can allocate more of your budget toward other aspects of your Antarctic adventure, such as excursions and wildlife encounters. Remember, the focus of this trip is exploring Antarctica itself, so don't feel like you need to break the bank on your cabin choice.
Sharing a Cabin
Sharing a cabin is a great way to save money on an Antarctic cruise. Instead of booking your own private room, you can split the cost with another traveler. This not only reduces the overall expense but also allows for social interaction and shared experiences during your trip.
Many cruise operators offer options for sharing cabins, either matching you with a compatible roommate or allowing you to bring a friend along. By opting to share, you'll have more funds left over to spend on exciting excursions and activities in Antarctica itself.
Plus, it's always fun to make new friends while exploring the breathtaking landscapes of the southernmost continent!
Looking for Deals
One of the best ways to save money on your Antarctic cruise is by looking for deals and special offers. Many cruise operators offer early booking incentives, which can save you anywhere from $1,000 to $1,500 off the voyage price per person.
By booking your trip well in advance, you can take advantage of these discounts and secure a good price.
Another option is to book your cruise during the shoulder season, which is typically in October or March. During this time, prices tend to be lower as it's considered the less busy period.
If you're flexible with your travel dates, consider booking last minute. Sometimes cruise operators offer discounted rates for remaining cabins close to departure dates.
When it comes to cabin selection, choosing a cheaper option can help reduce costs. While luxury suites may have stunning views and extra amenities, opting for a more basic cabin can still provide a comfortable experience at a lower price point.
Frequently Asked Questions About the Cost of Taking a Cruise to Antarctica
How much does a cruise to Antarctica typically cost?
The cost of a cruise to Antarctica can vary depending on factors such as the duration of the trip, the type of accommodations chosen, and the level of luxury or expedition-style experience desired. On average, prices for a cruise to Antarctica start around $5,000 per person and can go up to $30,000 or more.
What is included in the cost of a cruise to Antarctica?
Typically, the cost of a cruise to Antarctica includes accommodations on board the ship, meals, and beverages (excluding alcoholic drinks), onboard activities and entertainment, as well as shore excursions led by experienced guides. Some cruises may also include additional amenities like transfers from airports or pre- and post-cruise hotel stays.
Are there any extra expenses I should be aware of when planning a cruise to Antarctica?
While many aspects are usually covered in the initial cost, there are some potential additional expenses to consider when planning your Antarctic adventure. These may include flights or transportation to embarkation ports (such as Ushuaia in Argentina), travel insurance, optional excursions or activities not included in the base fare, gratuities for crew members, and any necessary visa fees or permits required for visiting specific landing sites.
Can I find discounts or special deals for cruises to Antarctica?
Occasionally, there may be discounted rates available for last-minute bookings or early bird promotions offered by certain cruise operators. It's worth keeping an eye out for these opportunities, but keep in mind that booking far in advance is generally recommended due to limited availability and high demand for Antarctic cruises. Working with a reputable travel agent specializing in polar travel can help you navigate options and potentially find any current deals that fit your preferences and budget.
Conclusion
In conclusion, taking a cruise to Antarctica can be an unforgettable adventure, but it's important to understand the costs involved. From cruise operators and flights to visas and gear, there are several factors that will impact the price of your trip.
By budgeting wisely and considering different options, you can find a cruise that suits your preferences and wallet. So start planning your Antarctic expedition today and get ready for an experience like no other!