Without daring, the world has no heart. Without conviction, the world has no soul. Believing these truths, Courage & Conviction has been distilled from the waters of the Shenandoah and Potomac Rivers and inspired by the rolling countryside of the Blue Ridge Mountains. A trademark of true American single malt whisky, Courage & Conviction is unique in its application of time-honored techniques.
Copper pot stills crafted in Scotland are hand-hammered by expert distillers to create the signature taste that engulfs the senses. Further from ritualistic malted barley to casks aged in the Shenandoah Valley's climate, the combination of these aspects creates a distinctive journey of flavors that will excite the senses of every whiskey connoisseur.
Courage & Conviction is a name that embodies the quality of American single malt whisky, and with their award-winning taste, these premier whiskies will complement any lifestyle. If you have never tried American single malt whisky, you are in for a surprise! Enlisted are the top four taste profiles that are exciting, vibrant, and powerful. So, let your spirit of adventure take hold and trust in the waters that bring you to a new place in the world of whiskey.
1. Courage and Conviction
This is the youngest of the four whiskies. It is a unique blend of malted barley that will entice the lightest of palates and novice drinkers. It is a pure taste that will uplift your spirit with its bright, spirited personality and ensure an instant smile and gratifying experience. With every drop squeezed from 100% mountain-grown barley and aged for a minimum of 36 months, this whisky is at its peak.
Color – A light, soft yellow with porch-light amber tone in it.
Nose – This has the nose of a real cream soda, with peaches and raisins adding depth to the aroma.
Taste – Sweet at first, with tropical fruits coming in shortly after. This gives way to a floral note that is pleasant but not overpowering. Further, the fruitiness fades into a bit of bourbon casks with its light vanilla notes.
Finish – Experience the warm and soothing finish that makes you feel as if you're basking in the sunlight of a cloudless summer day. This is the soft afterglow that you will have, with notes of light fruit and vanilla to keep you company as the feel-good experience continues.
Overall – A drink that will give you a light heart, a smile on your face, and a desire to drink more.
2. Courage & Conviction Bourbon Cask
When life gets in the way of the things that matter most, Courage & Conviction Bourbon Cask allows you to lose yourself and relive moments that are both precious and lost. This whisky will reconnect you with the boldness and character that is unique to every dram, with a robust, smoky punch and a velvety sweetness. You will be surprised by the power in each sip, which will make you sit back and revel in the warmth of this rare bourbon cask single malt.
Color – A nice deep amber, not too red, not too brown, with a bit of royal red in it.
Nose – Caramel and butterscotch notes dominate at first, with then comes the strong vanilla notes of the bourbon cask, followed by senses of wood, mustiness, and earth.
Taste – The orange oil hits right away, with toasted coconut and cinnamon coming in with a few seconds. These are complemented by a nice briny flavor and a hint of the graham cracker flavor of the barrel. This blends nicely with the cinnamon, with a bit of a mild barrel spice on the finish.
Finish – Creamy, smooth, and medium in length. Not too long, but long enough to keep the flavor alive for a few seconds, with mild warmth to keep you company.
Overall – A nice sweet and smooth finish, with no harshness and an abundance of flavors that blend nicely.
3. Courage & Conviction Cuvée Cask
A long-term friendship. A real conversation. A culinary experience. The memories that you cherish become the stories that bind you together, and you grow together with every shared recollection. As your favorite dram, Courage & Conviction Cuvée Cask is the friendship that comes to life in each sip. It is a whisky worthy of sharing with friends who will appreciate its rare character and personality. This is the friend that will whisk you away to moments that are memorable and enjoyable and that will keep you coming back for more. Harnessed in the warmth of selected sherry casks, this whisky is truly a lovable companion to have by your side.
Color – Deep butterscotch, with an unmistakable deep reddish-brown shade in it.
Nose – Sweetness from raspberry and cherry pie, malty and toasty in the background, giving way to a bit of smoke and a hint of vanilla, all laid over a damp forest floor.
Taste – It's a bit sharp at first but gives way to an intense fruity sherry, a bit of vanilla, and a spicy undertone that makes it something extra special. With cocoa notes and a hint of baking spice, this is like a decadent dessert with just the right amount of spice to take over the top.
Finish – The finish has just the right amount of length to keep you locked in for a while, with a soft warmth that is sweet and tasty yet leaves you thinking there is more to be had.
Overall – Exceptionally smooth, as it captures all the best flavors, spices, and textures in a way that is inviting and gratifying.
4. Courage & Conviction Sherry Cask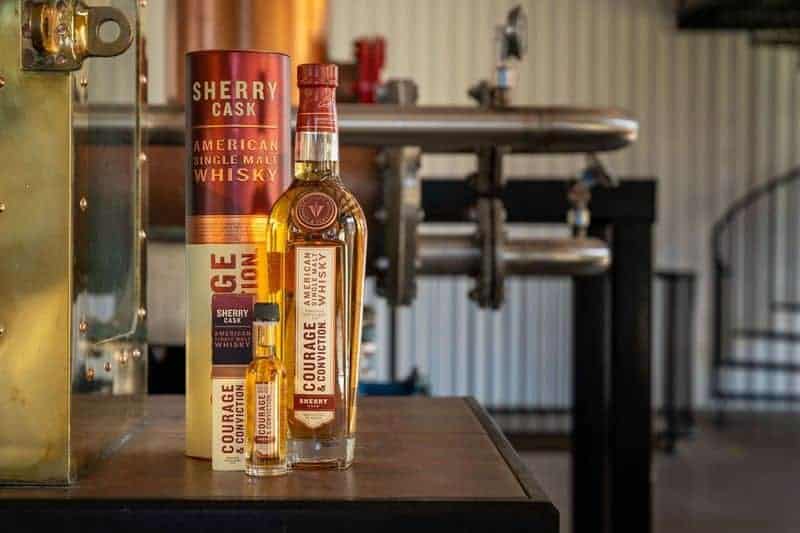 Natural and bright, yet refined and complex, Courage & Conviction Sherry Cask possesses the character of a unique personality that is captivating and engaging. It is the kind of whisky that reflects on your own personal experience, shares it with you, and shares with you the things you enjoy. This particular tasting will feature a robust but smooth taste that is sure to be a hit with any crowd. Cheers!
Color – With a nice amber tone, there is a light red/orange hue to it, making it glint nicely in the light.
Nose – Initial notes of cherry and vanilla bean create a playful dichotomy with even lighter notes of orange blossoms. With more time comes a soft oakiness and dustiness, with slight traces of spice.
Taste – Fruity but not in an overpowering way, with a strong vanilla note on the front and center. Hints of fresh strawberry and raspberry show up next, as to make notes of barrel char or roastiness, but not to an intense level.
Finish – With creamy caramel notes and a light floral sweetness, this smooth and comfortable sip is a nice balance of everything, with no harshness or rough edges.
Overall – An extremely smooth, well-balanced, and enjoyable experience.
Conclusion:
I have to say; I thoroughly enjoyed each of these four whiskies. Each one is very different from the other, but all are great and will be hit home runs for anyone who is familiar with single malt whisky, or even those who are new to it. The team at Virginia Distillery Company did a great job coming up with four distinct flavors and profiles that all complement each other well yet stand on their own as great tasting whiskies. If you are a fan of single malt whisky but haven't had American single malt whisky before, I highly recommend giving this tasting a try. You will not be disappointed!
​Images Provided by Virginia Distillery Co.