There are all types of potential business threats. For instance, you might not sell enough of your products because you are in a competitive niche. Someone can sue you, and you might bankrupt the company by paying damages if you lose the case.
You also have to make sure your physical premises are safe, though, assuming you don't have an exclusively online company. If you have a central office where your employees work, or more than one, you need to have security measures in place, but you should also know about fire hazards. A fire in your workplace can injure people, and it can also cost you time to rebuild if a fire does break out and rages out of control.
There are some logical ways your company can deal with fire hazards, though, so let's look at some of them right now:
Understand and Avoid the Most Common Fire Causes
One way you can make a building fire a lot less likely is to know the most common ways they occur. For instance, smoking indoors can cause fires. Maybe you have a careless employee who tosses a still-burning cigarette into a trash can.
You can ban smoking in your company's offices. You can also have a kitchen on the premises, but make sure your employees don't engage in elaborate cooking projects. Having a microwave is fine, but you shouldn't have a stove or anything else that can cause a fire.
You should also be sure that you only hire licensed electricians to do your electrical work. Maybe you feel like you know a little bit about electrical wiring, so you can save some money by doing repair work yourself.
Watching YouTube videos definitely does not make you an expert. It's almost always better to bring in the pros to do any electrical work your business requires.
Set Up a Wet-Pipe Sprinkler System
If you do a bit of fire prevention research, you will quickly discover that if a workplace fire ever starts, you can put it out pretty quickly if you've installed a wet-pipe sprinkler system.
The ceiling is generally where you install this system. The term "wet-pipe" refers to a system that always has water in it versus the dry-pipe system, where you have to pump the water in before you can use it.
If you rent office space, check to see if there is a wet-pipe system already. Most modern buildings have them, but if you see that space a realtor shows you lack, you'll probably want to look elsewhere.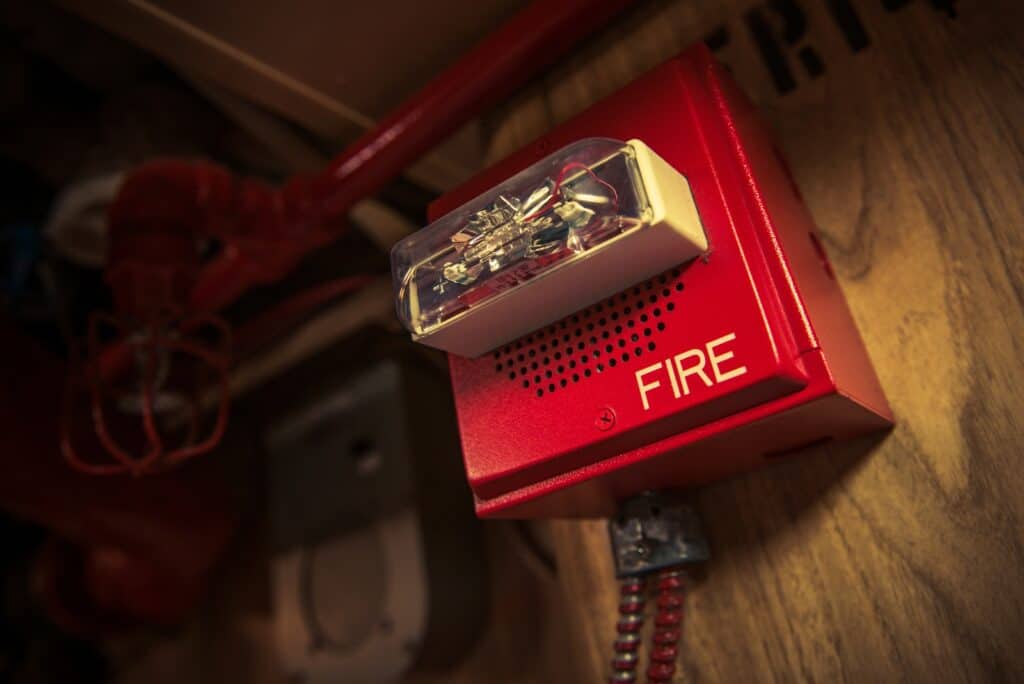 Make Sure Your Building Has Pull Stations
You should also make sure your business's buildings all have pull stations on every floor. If you go into nearly any office building, you will see pull stations. There are either single or double-action ones.
The single-action pull station usually means that you simply pull down on a lever if a fire breaks out. The double-action one requires someone to lift a glass cover before pulling the lever down.
Either one works fine; just make sure you have them on every floor. No workstation should be more than a few yards away from a pull station.
Also, instruct your workers on how to use them. They're very simple to utilize, but some people won't know about them until you point them out.
Appoint a Fire Safety Director
New York City requires office buildings to have fire safety directors on staff. Most other parts of the country don't demand that, but it's still not a bad idea.
You can look amongst your workers and choose someone who you feel has a good head on their shoulders. You can appoint them fire safety director, and that's the person responsible for making announcements if there's ever a fire.
If a fire does break out, that person can get on the public address system in the lobby and tell the workers what to do. At that point, someone will presumably have pulled an alarm at one of the stations throughout the building. The fire safety director can calmly instruct the people to walk down the stairs and out of the building to safety.
One final thing you can do is to conduct fire safety drills every six months. This way, if a fire ever does break out, your workers will already have an idea of how they should behave. This is a common-sense approach that can pay off if a disaster ever strikes.