You can tell a lot about a guy's fashion sense when he's wearing casual clothing and developing his street style or his signature look. When the weather warms up and you're looking forward to summer date night, there are lots of options to choose from when putting together a handsome outfit that will impress your date and give you that sense of self-confidence.
From Elvis and Steve McQueen to David Beckham and Nick Jonas and others, Hollywood gives the world plenty of inspiration from stars known for their iconic style. Below, we've listed our favorite fashion tips for creating ideal summer date night outfits.
Outfit 1: Jeans and a Polo
Talk about a classic look. You can't go wrong when you show up for date night this summer in a pair of men's jeans that suit your shape and the polished look you're trying to convey. The beauty of denim is that it comes in a wide range of options, such as slim fit, tapered leg, athletic fit, and much more. A dark wash will give you that refined vibe, whereas a lighter wash will give your outfit a more relaxed style.
Pairing jeans with men's polo shirts makes for the perfect casual combination. You have many options in colors and visible branding, but fashion pros recommend wearing a nice simple polo shirt in a neutral such as navy, white, black, or gray. It's an excellent, timeless choice in a silky-smooth cotton knit fabric with a covered button placket.
Outfit 2: Nice Shorts and a Lightweight Button-up
Another summer date-night look that a lot of guys enjoy putting together is a pair of men's shorts and a button-up shirt. Again, this is a classic ensemble that can be minimal and relaxed, depending on how you wear it. For instance, maybe you and your date are heading to a romantic bistro and dining outdoors on a hot summer evening. Gym shorts and running shoes may look a bit too laid-back, so consider a button-up shirt in a lightweight material and a nice pair of linen shorts, and please, no short shorts. It's best to look for trim, tapered-cut shorts and have the hem fall one or two inches above your knees.
Also, buy a pair of invisible or no-show socks. You can comfortably wear these cooling socks with loafers, boat shoes, or low sneakers (clean, not scuffed, of course!)
Outfit 3: Polo and Chinos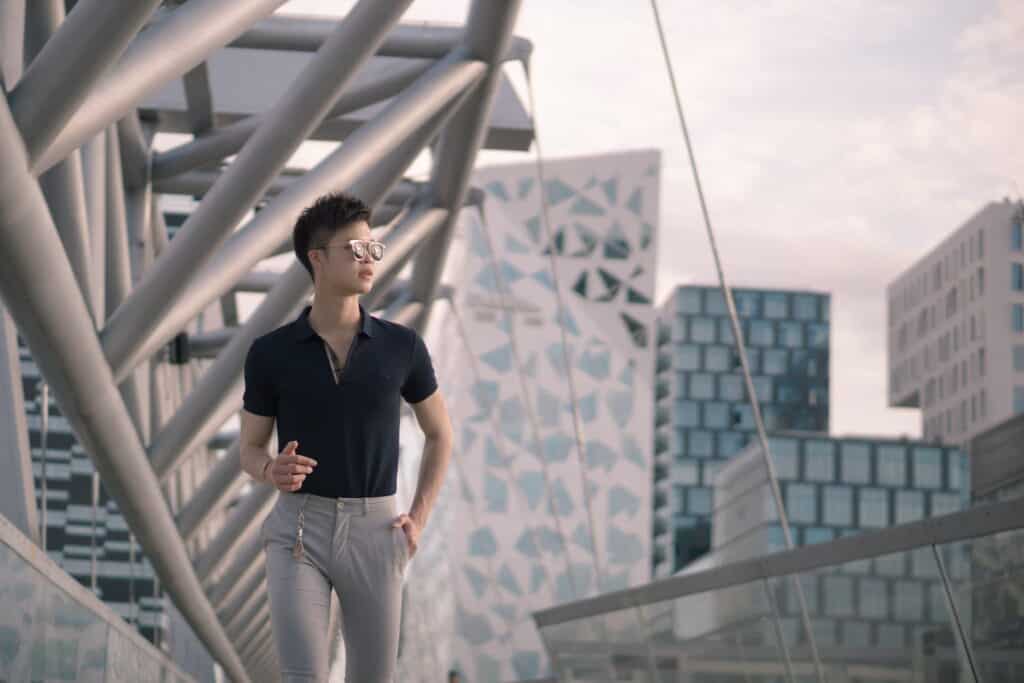 Chinos are another great-looking and classy choice for date night. Add a polo, and you've got an elegant outfit that goes fantastic with any date night venue, such as cocktails, dinner, a party, or even just for coffee. You can wear the polo untucked with casual footwear. You can also layer the outfit with a linen blazer.
Chinos are versatile: You can dress them up or down. The traditional combination is a pair of chinos with a white polo shirt. It's a timeless Americana at its best, and you can't mess it up.
Outfit 4: White Tee and Trousers
White is the color of summer because it is cooling and crisp and complements everything under the sun. If you're unsure how to dress for your date, fashion experts recommend reaching for a plain white dress shirt, Oxford shirt, or T-shirt. From there, the sky's the limit. You can pair the white shirt with basic, neutral gray, or khaki trousers to achieve a smart casual ensemble.
The white T-shirt is also a closet staple and looks amazing at any age. It can become the foundation of many summertime looks. Many men have worn a basic white T-shirt for semi-fancy summer evening affairs and looked cool, comfy, and confident.
A white tee can also be layered with an open, oversized white shirt or a chambray shirt to add interest to an outfit. A neutral linen blazer over a white T-shirt is another sophisticated date night look that isn't stuffy but chic and clean.
Outfit 5: Floral Shirt and Jeans
Another fab summer date night outfit can begin with a colorful shirt in a floral print; floral shirts aren't just for vacation time. They are ideal for hot weather and can brighten up any ensemble with style and an effortless look. A floral shirt and jeans with deck shoes strike the right note for festival gatherings or heading out to dinner, and you have tons of options. There are neutral floral prints to vivid ones, so there's something for every individual's preference.
You can also layer an open floral shirt over a white T-shirt for a sharp, casual look. Brad Pitt and Chris Evans are two celebs who can't get enough of the trendy floral print shirt for summertime fun. They've been photographed in street style wearing these colorful shirts with jeans or cargo shorts and a cool pair of sunglasses.
What Outfit Will You Choose?
Your clothing and how you put your outfits together can say a lot about you. The mission isn't to follow every trend out there and try to be something you're not. Comfort and confidence matter on summer date night, and looking effortlessly cool and polished in your signature style is something people notice and long remember. Try these fashion tips outlined above, have some fun, and put your personal spin on them. You will make an impression and one that's uniquely yours.