The wardrobe has always been a place of creativity. The clothes we wear aren't just pieces of fabric but fashion items that communicate our personality and present our character in a way that no other item in the world can.
Nowadays, It's easier to get lost in the various sections offered by clothing stores, and the vast options can become a bit mind-boggling. Avid fashionista or not, everyone craves a personal fashion style that will make you radiate with confidence and have all the heads turning for a second glance. 
Today, we compiled a list of tips and tricks to help you define your personal style, so read on and let us help you create a valiant wardrobe with our ideas.
Take a look at what you have
Right off the bat, a nice inventory of your current wardrobe storage will serve you as a guiding star in this process. Get a piece of paper and a pen and get down to business. Write down what worked for you in the past and whether you still feel the same love as you did for those specific clothes. The things that didn't click should be instantly out of the picture. The reason for doing this is to get inspired and who knows you better than you personally.
Let the clothes do the talking
Now that you know what's a keeper and what's going to the sidelines, it's time to settle for a style. Mix/matches and combinations of different styles are always on the table, but a style that exemplifies what you care about is what you should strive for. If you like to show that you are a proud member of a specific subculture, then why not express it via your clothing style?
Music always had a heavy impact on the clothes we picked. Gothic clothing styles were and still are a staple among the ravers and the classic Dracula film fans. Coupled with spiky boots and dark makeup, your outfit will be doing the talking for you. Achieving the perfect Gothic makeup look entails focusing on intricate details like eyebrow shapes and eyelashes. If you're tired of applying mascara daily, consider diy at home lash extensions. These extensions can be effortlessly applied in minutes, and the chic enhancement they provide will last for weeks, offering you the convenience of a ready-to-go look without the daily mascara routine.
On the other hand, if you prefer something more sporty, there is no need to get really creative with your outfit. A bright polo shirt, relaxed pants, and slip-on shoes will just tick all the right boxes for you.
If you aren't sure where you belong regarding style, there are many quizzes online that can help you out with that task of finding out.
The signature that defines you
As you delve deeper into your style, you'll find that you always reach for particular items, regardless of the occasion or the outfit. Wearing your favorite band's merch can become compulsive at some point, but that is completely fine, as you'll be meeting like-minded people left and right when you sport clothes that state your passion for music.
Improve upon perfection
The earliest evidence of the usage of jewelry dates twenty-five thousand years ago, and who can argue with time? Jewelry takes an outfit and elevates it to a completely new level. You can go all out with layered bracelets and tennis bracelets, or you can stick to the classics – watches, gold necklaces, etc.
If you aren't a big fan of traditional jewelry,  accessories are always there to serve as an ace in the hole. From chokers to layered rights, all you need is a spark of creativity to create the perfect style.
Which way are the trends heading
It's not wrong to take to image-based social media to check how other people created their styles and get inspired even further. You can also draw inspiration from your favorite celebrities and their outfits.
Of course, the choice is yours whether you want to be in step with contemporary fashion and trends or create something that will be exclusive to you.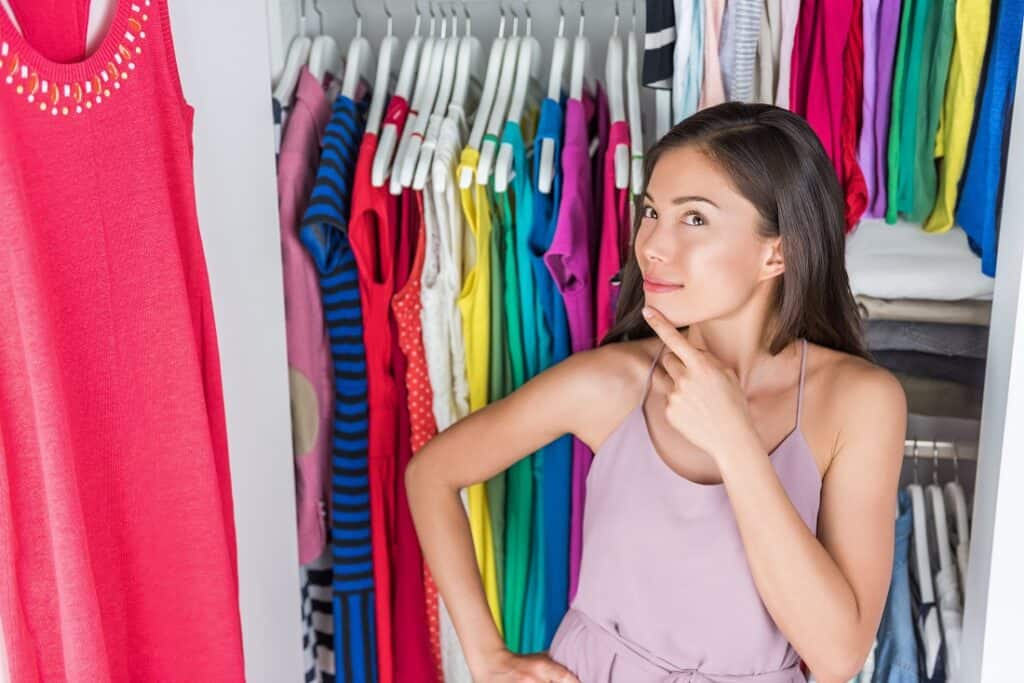 Before we shut the closet
Settling on a style that defines you can be a long process of trial and error. We always recommend snapping photos of what you think looks best on you for future reference. You can inspire yourself with other peoples' outfit choices, but refrain from copying as the goal is to create a style of your own. Lastly, you should always feel comfortable in your clothes; something that looks extremely well doesn't mean that it will feel well. always go for apparel that will make you feel comfortable and confident while wearing it.