Being a cowgirl was never just a style or a costume to me. It runs deep in my veins, and I'm very passionate about preserving its culture. It's a lifestyle that has been around since the 19th century and has continued growing in popularity ever since.
Growing up, I remember seeing cowgirls in all kinds of settings, from rodeos to music festivals. This article will explore the history and heritage of cowgirls, from their beginnings in the Wild West to the present day, and I will be sharing my own personal anecdotes along the way.
Table of Contents
Definition of a Cowgirl
The cowgirl: an iconic figure of the American West. Wild and free, fiercely independent, and in tune with the natural world, she has embodied the spirit of freedom since she first saddled up. But what is a cowgirl? Many people believe it's just a woman who wears jeans, rides horses and wears cowboy boots. While this may hold true in some respects, there's much more to being a cowgirl than just style statements.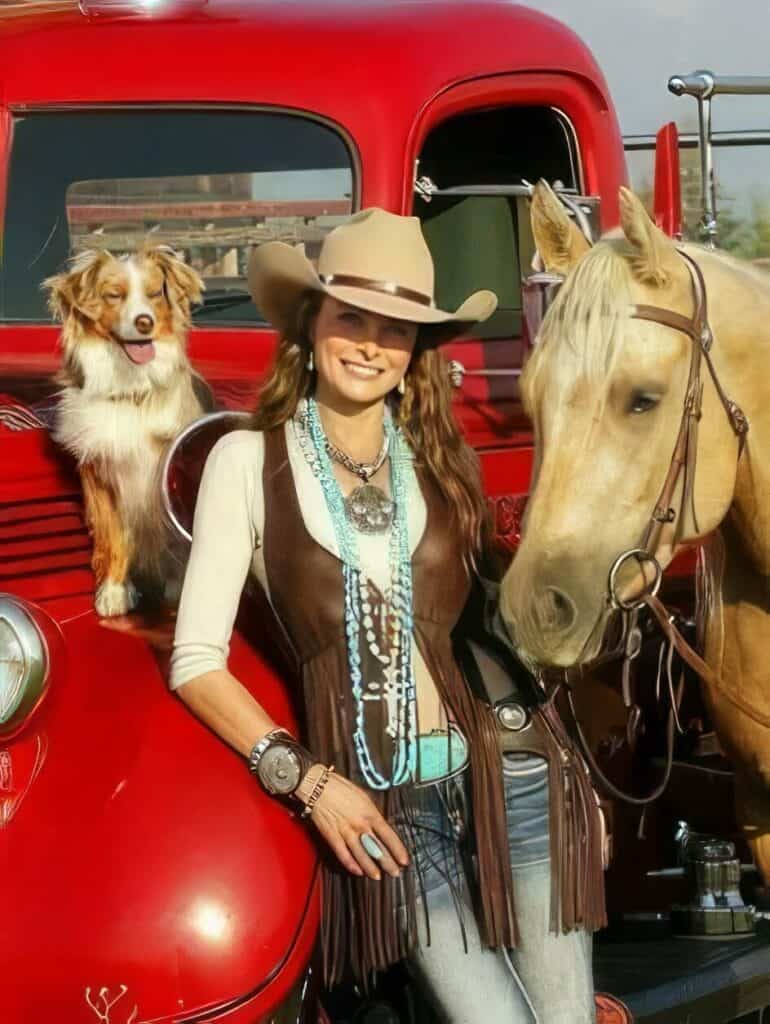 True cowgirls are born with naturally strong independent spirits that cannot be tamed. Cowgirls represent the courage and pioneering spirit necessary for settling America's wild western lands. Since women were generally granted few rights at that time, they had to work twice as hard as their male counterparts to make a living—and they rose to the challenge!
The traditional cowgirl was responsible for taking care of all aspects of her homestead—from plowing the fields, tending to livestock, and milking cows to sewing her own clothing and cooking meals for her family (in addition to being a lovingly devoted mother). She often wore practical clothing such as divided skirts, wool shirts, and sturdy leather boots. In modern times, however, many young women are also participating in rodeos by competing in events like barrel racing or bull riding—popularized by notable figures like Tom Mix, Florence Lawrence Broncho, Billy Anderson Lucille Mulhall, Annie Oakley and other famous rodeo riders through history.
Today's cowgirls come from all walks of life — some may favor classic Western attire while others take inspiration from classic Hollywood glamour (Gwen Stefani is a great example!) Regardless of personal style or background, each woman embodies the tradition that birthed one of America's most beloved myths: The American Cowgirl!
A Brief History of Cowgirls
Cowgirls have a long and proud history in the United States, beginning with the first female ranchers who broke new ground riding alongside their husbands or alone. From those early days to today, cowgirls have been part of the cultural landscape, shaping America's image of strong, independent women.
Cowgirls were first documented in the 1890s as they traveled across the country to compete in wild west rodeos. These brave women dazzled audiences with their horsemanship skills as they competed against men in events such as bronc riding, calf roping, and trigger shooting. Their strength and ingenuity paid off; they often took home more prize money than men!
In the 1920s and 1930s, cowgirls began to take center stage when Hollywood – looking for a new role for its female stars – created the image of a "Western Girl," using stars such as Barbara Stanwyck, Gene Autry, and Tom Mix to popularize their cause. This romanticized version of a "cowgirl" became an instant hit with both men and women alike; everyone wanted to emulate her style. As style-makers began experimenting with different looks for cowgirls, fashion trends like fringed leather skirts and cowboy hats soon followed suit.
Over the following decades, cowgirls evolved from mythic figures into real-life heroines who changed America's understanding of what it meant to be a woman: strong yet feminine, tough yet stylish, priding herself on her knowledge of livestock while also embracing her femininity. Westernwear trends such as riding boots, denim jeans, and flannel shirts were adopted by everyday Americans looking for practicality combined with modern fashion flair. Cowgirl culture is alive today through special events such as state fairs where you can find genuine rodeo riders along with amateur ropers competing against each other while dressed in traditional handcrafted costumes featuring hats made out of genuine wool or felted felt decorated with rhinestones – accessories perfectly suited for both modern-day city gals after work cocktails alongside rural farm girls preparing for their next day at branding time – creating an allure that resonates with generations-old and young alike!
Cowgirls in the Media
Cowgirls have taken center stage in the media in recent years, from rodeo events to cowgirl-themed films. Cowgirls have become a staple in the entertainment industry, from sitcoms and reality TV to fashion magazines.
From the iconic cowgirl outfits to the Western lifestyle, the image of the cowgirl has become a symbol of strong independent women who are passionate about their craft. This article will explore how the media portrays cowgirls and their cultural heritage and how it has shaped the narrative of what it means to be a cowgirl.
Cowgirl Movies
Cowgirls have been popular characters in many movies over the years, both as leading ladies and supporting actresses. Classic cowgirl films include My Darling Clementine (1946) with Henry Fonda as Wyatt Earp and Linda Darnell as Clementine Carter, a rifle-toting cowgirl; The Paleface (1948) with Bob Hope fighting off Native Americans while falling in love with Calamity Jane (played by Jane Russell); and Rancho Notorious (1952), set in Texas in the 1880s, featuring Marlene Dietrich as an outlaw's widow. More recent cowgirl productions include The Ballad of Little Jo (1993), starring Suzy Amis as Josephine Monaghan, a woman who dresses and lives like a man; Wild Wild West (1999), with Salma Hayek playing Rita Escobedo, a steamy seductress; Gunslinger's Revenge (1998) with Hilary Swank as Olive Stratton, a drifter bent on vengeance; Bad Girls (1994), featuring Madeleine Stowe leading four female outlaws; Brokeback Mountain (2005), starring Jake Gyllenhaal and Heath Ledger portraying two young ranch hands struggling against love in alpine meadows of Wyoming; and Needful Things (2009) which features Angie Dickinson as Dodie Larkin, an eye-catching female rancher.
As movie genres have changed to better reflect modern times, so too have the people playing these classic movie roles: from glamorous gun-slinging stars to prominent female directors helming three of Hollywood's current top-grossing films. Today's Western hero is just as likely to be feminine toughness personified by hip cowgirls like Selena Gomez in Monte Carlo or Diane Lane's character Maggie McAllister from the box office hit Secretariat.
Cowgirl Music
Cowgirl music is a subgenre of American country music, particularly popularized by women such as Patsy Cline and Loretta Lynn. It has moved beyond the traditional Western style to include a range of contemporary sounds. In addition to the classic sound of outlaw country, cowgirl artists now enjoy mainstream radio success, with some artists combining elements of pop and rock music with lyrics that express female strength, independence, and masculine bravado.
Women in the genre set themselves apart from typical Nashville sounds by taking on topics such as feminism, which often poses challenges for those who are later embraced by more conservative members of the Nashville community. Other tracks cover a wide range of themes, from heartbreak and hardship to empowerment and redemption, offering something for everyone.
Women in cowgirl music stand out through their voices — strong, passionate instruments that declare ownership over their lives — expressing anger, resignation, joy, and sorrow throughout each song. From upbeat honky-tonkers like Dolly Parton's "9 to 5" to tender ballads like Patsy Cline's "Crazy,"; women have been shaping country culture since its beginnings with the release of "The Cowboy's Dream" in 1925 by Linda Hayes Miller (the first-ever female recording artist). Today, young female artists are continuing this legacy while striving to create their own unique sound within being true to the roots of cowboy music.
Cowgirl Television
In recent years, cowgirls have become popular figures both on the small screen and in movies. Popular TV shows starring female cowgirls include The Ranch (2016-2020), Paradise Ranch (2018), and Heartland (2007-present). Other iconic TV series and movies that feature a female cowgirl as the main character are Friday Night Lights (2006-2010), Lonesome Dove (1989), Sweet Home Alabama (2002), and How The West Was Won (1978-79).
Today, cowgirls aren't only seen in novels; they are also featured on TV shows and in movies. These on-screen cowgirls inspire young people everywhere—a message of strength, confidence, courage, faithfulness, and resilience—all traits that typify the spirit of a true modern-day cowgirl.
While some may think that Cowboy Westerns are all about grizzled Cowboys, there is actually a surprising amount of screen time for modern female Cowgirls. In fact, many shows have even highlighted young women who take charge of their own destinies. Cowgirl heroes often take center stage, from gunning down bad guys to taking care of their own ranch animals to standing up against injustice.
The popularity of Cowgirls today is partly due to iconic characters from the past being re-imagined in new ways and contexts. From legendary country music artist Dolly Parton's character in "9 to 5" or Reese Witherspoon's iconic portrayal of spunky "Tracy Flick"in Election, these characters provide audiences with depth and strength traits that are integral components of being a successful Modern Cowgirl.
Cowgirls in Sports
Women have been participating in rodeo and equestrian events across the United States for centuries, often wearing cowgirl boots, cowgirl hats, and other cowgirl attire. This is an important part of the cultural heritage of the United States, and these women have paved the way for modern female athletes.
In today's world, there are more opportunities for female athletes and cowgirls to compete, with many events specifically for women riders. Let's take a look at the history and modern state of cowgirls in sports.
Rodeo
Rodeo was once known simply as ranching, and cowgirls were a rightful, integral part of this vibrant culture. From barrel racing to bull riding and more, cowgirls provided substantial contributions to the sport. As with all sports, rodeo is about friendliness, fair play, and camaraderie, but at its core, it remains an American frontier-inspired activity.
Cowgirls have had an interesting history in rodeo since the late 1800s when the inaugural event was held in Prescott, Arizona. Throughout much of the 20th century, cowgirls were not included in organized rodeos on par with male competitors and had their own circuits where they could participate. In 1948 female participants began competing alongside their male counterparts; it was a pivotal moment for both female competitors and the traditional Women's Professional Rodeo Association (WPRA), which remained in existence for decades afterward.
Cowgirl sportsmanship has beautified the sport, taking pride in place at international events such as South American championships, where all participants have equal opportunities to showcase their skills. Moreover, countless young women around the world are invited every year to participate in International Cowgirl Camps—rambling west to fulfill their cowgirl dreams while making a lasting impact on both people who love the West and those new to this genre of Western living alike.
Barrel Racing
Barrel racing is a rodeo competition where Western-style riders and their horses run a cloverleaf pattern around three barrels arranged in a triangle in the center of an arena. It's an event that requires both speed and precision maneuvering—and cowgirls have risen to the challenge time and time again!
The rules of barrel racing state that the rider must keep her horse at a gallop while making tight turns around each barrel. Competitors are judged on their success in completing the course quickly, accurately, and safely. Barrel racing is considered one of the premier women's professional rodeo events. To compete at the highest levels, skillful horsemanship, agility, timing, and well-tuned instincts are all required.
At its heart, barrel racing produces fast-paced excitement for viewers—but female cowgirls also make it a platform to show off their athletic ability and demonstrate how hard work yields reward. Whether you're looking for long-term riding goals or just starting out with your first pony, learning your way around a barrel race course can be an exciting way to test your skills as a rider—and earn extra prize money along the way!
Bull Riding
Bull riding is one of the most challenging and demanding sports in the rodeo arena. It takes skill, courage, and a lot of guts for a cowgirl to attempt this exciting event. The goal is to stay on the bull for as long as possible by grasping it around the midsection with their hands or feet while their body remains in a "seat" position. The rider must remain on the bull for eight seconds. If they make it to eight seconds, they have won the competition.
This sport is physically demanding and emotionally exhausting to prepare for and compete in. Riders must have a special mental toughness and deep courage that can't be taught—it is obtained through years of experience, training, and determination. In addition to landing well-tuned rides that are required to obtain a successful score, riders must also risk potential lifelong injuries every time they enter an arena due to falls or bulls stepping on them during their ride.
Furthermore, if competing among professionals, riders will additionally need an appropriate costume typically consisting of protective gear such as chaps made from leather or denim, vests located beneath jerseys; colorful regalia including bandanas; fringed chinks; matchy-matchy shirts tucked into their jeans; and lastly properly fitting boots often paired with spurs when riding bucking horses in random styles according to their preference or the type of bull they are riding (i.e., bareback bronc's). These pieces make up part of what corresponds with the Iron Cowboy look, which showcases traditional western-style clothing most rodeo participants demonstrate at some point in their career as a working cowboy/cowgirl or during performances today across multiple arenas, entertaining fans everywhere worldwide!
Cowgirls in Fashion
Cowgirls have always had an edge when it comes to fashion, from colorful rhinestones to classic cowboy boots. Cowgirls love to accessorize and create unique looks while remaining true to the traditional style of the American West.
Many modern-day cowgirls still incorporate old-style elements into their outfits, and some have created entirely new looks by mixing the classic cowgirl style with modern pieces. In this article, we will explore the history of the cowgirl look, the many variations of it, and some of the best fashion trends of the modern cowgirl.
Cowboy Boots
Whether you're a fan of country music, the rodeo circuit, or just love the look of classic Western wear, cowboy boots are an essential part of any wardrobe. While sometimes referred to as "cowgirls' boots," they are, in fact, worn and loved by men, women, and children alike.
Cowboy boots traditionally come in all sorts of sizes and styles – from classic work boot style with rounded toes and rugged treads to more modern takes like fashion boots with pointed or square toes and luxurious stitching designs. Generally speaking, though, there are three primary elements that make up a sturdy pair of cowboy boots: leather uppers, leather outsoles, and stacked heels.
While most cowboy boots feature both a sole that attaches to the outer layer of leather around the foot (known as "insole") and an outsole that supports your feet from underneath (or "midsole"), some styles feature an all-leather upper with no midsole for extra comfort. When looking for cowboy boots for riding, you typically choose those with thicker soles for added protection and comfort when mounting a horse or competing in rodeos.
When shopping for a new pair of cowboy (or cowgirl!) boots, it's important to remember that quality matters — look for thick, high-quality leather and durable, fireproof materials such as rubber on certain parts of the boot (like the heel). Additionally, don't forget to factor in additional accessories like belt buckles, hatbands, or other extras when setting your budget!
Cowboy Hats
The cowboy hat is an essential staple for cowgirls who embrace the classic Western style. Cowgirl hats are sometimes worn with a full ensemble, but a simple one-tone hat can accessorize almost any look, from urban to country, to create a unique fashion statement.
Cowboy hats come in a variety of shades and shapes, and they're made from different materials, such as felt or straw. Cowboy hats can either be store-bought or custom-made to fit your personality. Typically they come with an adjustable hatband which allows the size of the hat to be adjusted and customized easily. Additionally, some have special features like chin straps and beads that allow for further personalization.
Investing in a quality cowboy hat will give you plenty of wear over the years, so always go for quality workmanship and good materials when selecting yours!
Western Wear
Cowgirls come from all walks of life and from many ages, but one thing we all have in common is a love for Western wear. From the original time of rodeos to our modern style of rhinestone cowgirl, there's something about our traditional look that feels classic and timeless.
Western Wear includes comfortable but chic pieces like cowgirl boots, a fringed western shirt, and a long skirt. Couple these must-haves with contemporary fashion items such as fitted jeans or leather boot-cut pants to achieve a more refined look. You can also play up your style with other trending accessories like statement necklaces or designer handbags. Plus, don't forget the quintessential piece to put the finishing touch on your Western Wear: a white cowboy hat or black hat with ornate trim.
To further emphasize your Western Wear look, try tying one end of a cowboy bandana casually around your neck or wearing vintage costume jewelry—like large buckle belt buckles featuring silhouettes of horses—to add visual interest and textural contrasts to an otherwise basic winter wardrobe. Combining these elements will surely take your look from drab to fab in no time!
Cowgirls in Religion
Cowgirls are often thought of as wild and free-spirited. However, a lot of cowgirls also wear their faith quite literally on their sleeves and often find solace in their strong religious roots.
Since the days of the Wild West, cowgirls have relied on their religious beliefs to help them through hard times, much like they lean on the supportive community of their fellow cowgirls.
Let's take a closer look at the religious roots of the iconic cowgirl culture.
Christianity
As a Christian cowgirl, I am proud to be part of an incredibly rich and spiritually rewarding cultural heritage. No longer limited to rodeo arenas, we female cowgirls can now enjoy a wide variety of activities and approaches to our faith. We are blessed with an array of denominations that offer different interpretations of scripture, varied forms of worship, and diverse approaches to sharing our faith with others.
From Bible study classes held at the local library to intensive equine-facilitated therapy sessions in rural settings, there is something for every cowgirl seeking spiritual solutions in her life. Whether she chooses more mainstream churches or the hidden corners of camp meetings in the state park, she discovers a unique merging of ethics, principles, and spiritual guidance that enriches her life – and the lives of those around her – manyfold.
Beyond church services, I have found ample opportunity within Christianity to blend both my passion for rodeo events and my desire to explore new methods of worship with my beloved horse companion by my side. From cowboy services held in rigging houses on ranchlands deep in South Texas to dressy Sunday assemblies at large metropolitan churches sporting their own on-site rodeos complete with ranch-hand parades, there are myriad ways for cowgirls everywhere to embrace their spiritual side through Christ's teachings.
So if you're a humble country girl looking for answers beyond hay fields or if you're an up-town bell who needs a reminder that faith can still be part horseback riding along crisp country roads on autumn nights, I encourage you today (just as Christ did all those years ago), "Come unto me…all ye that labour and are heavy laden…and I will give you rest!" (Matthew 11:28 KJV)
Native American Spirituality
For Native Americans, being a cowgirl is more than simply horsing around and wearing fancy clothing. Cowgirls of the First Nations represent sacred spirituality, which honors and protects the natural world. In ancient times, Native American tribes living on the Great Plains would pray for the plentiful game and grazing lands as they migrated seasonally with their herds of buffalo. Even today, many who herd their own cattle enlist the help of spirit helpers to ensure that their animals remain safe and healthy.
The spiritual connection to nature has been shared throughout generations of Native American storytellers, songs, and ceremonies. The traditional clothing worn by modern-day cowgirls, such as moccasins, cowboy hats, and bandannas, harken back to this ancient practice. Some contemporary Native American women still have strong ties to traditional activities such as roping calves or riding bareback in rodeos – activities that celebrate both their cultural heritage and innate sense of freedom.
Cowgirls who work with horses or those from plains or ranch-raising families may also have a spiritual relationship with domestic animals, connected through the land itself or related ancestors. These home-grown cowboys may spend time in prayer for both their horses' health as well as keeping a therapeutic eye on Mother Nature herself. The serene yet fierce spirit within these compassionate caregivers is best expressed against the sweeping backdrop of an untethered sky – which Native American cowgirl poets know all too well how to observe even when it's darkening along a lonely horse trail home.
Frequently Asked Questions (About Cowgirl Heritage)
What is the significance of cowgirl boots?
Cowgirl boots are a symbol of the traditional Western lifestyle. They are comfortable and practical, and they provide protection from the elements. They also represent a kind of rugged individualism and independence, which is a key part of the cowgirl's cultural heritage.
What is the difference between a cowgirl and a cowgirl costume?
The difference between a cowgirl and a cowgirl costume is that a cowgirl has a personal connection to the traditional Western lifestyle, while a cowgirl costume is a more stylized, fashionable representation of the culture.
What types of cowgirl boots are available?
Many types of cowgirl boots are available, from classic white cowgirl boots to fancy rhinestones and embroidered cowboy boots. You can also find cowgirl boots in different colors, heel heights, and materials.
Conclusion
As you can see, cowgirls have left an indelible mark on American culture today. From rodeo events to the frilly white dresses, cowgirls have a strong cultural heritage that is more than just a costume. Their spirit and commitment to work, battle, and helping others are a source of inspiration for many.
As the old-timers would say, real cowgirls "ride for the brand, " which is what we should all strive for.
The Legacy of the Cowgirl
The Cowgirls' Cultural Legacy is important to our country's identity and history. From the earliest rodeo beginnings to modern-day fashion trends, cowgirls have influenced style, entertainment, and empowerment around the world.
Cowgirls of all ages have taken their unique approach to celebrate this iconic lifestyle as a tribute to the diversity among women. Some dress up in fringed suede and swallowtail coats, while others might opt for white go-go boots or denim shorts with a mini-skirt blouse and a wide-brim hat. There is no limit to what expressions and dreams can be expressed through costume when embodying the spirit of a cowgirl.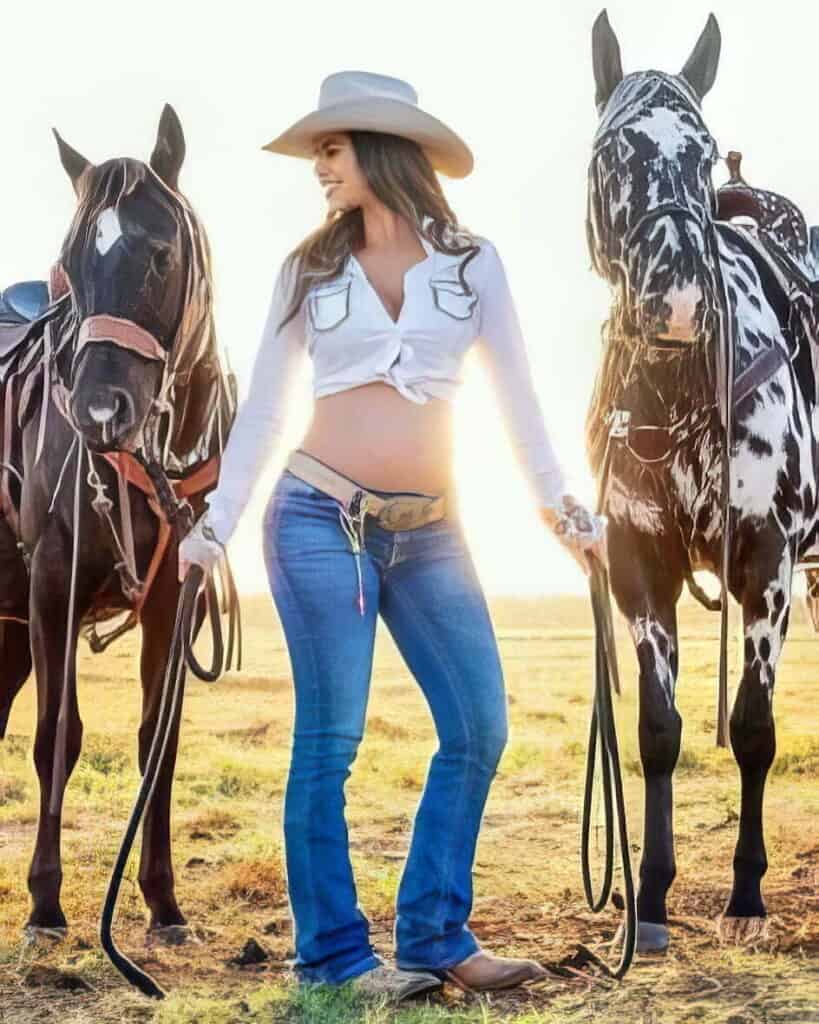 The traditional symbols associated with cowgirl cultures, such as cowboy hats, spurs, boots, and lariats, are popular fashion statements and often speak volumes about personal values for many enthusiasts who choose them. Whether it's faith in God, patriotism, or hardworking roots from which they come, countless stories can be found in details like the cut of Wrangler jeans, silver buckles, and wings on those beloved boots.
This legacy often follows generations of families, whether they live on ranches or stay rooted in their urban cities while still holding true to their heritage. From floor shows to Hollywood movie shootouts –cowgirls are sure to captivate audiences no matter where they find themselves, proving that livestock may eventually grow old, but real cowgirls never do!
And that is why today's females should draw inspiration from them no matter their livelihood: you don't need a horse between your legs –you only need self-confidence! So put on your dancing shoes or giddy up into full livery attire –and show them just how unbreakable you can be!