Ready to unleash your inner cowgirl while staying stylish and practical? Western fashion is timeless, versatile, and has the perfect balance of sex appeal and comfort. In this blog post, we'll guide you through essential Western pieces every woman needs in her closet, how to style them for different occasions, and tips for building a wardrobe that stands out.
Table of Contents
The Benefits Of Incorporating Western Fashion In Your Closet
Incorporating Western fashion into your closet has multiple benefits, including embracing heritage and culture, enjoying style versatility, and experiencing the durability and comfort of iconic pieces such as cowboy boots, denim jackets, leather belts, cowgirl hats, and fringe-trimmed tops.
Embracing Heritage And Culture
Incorporating Western fashion into your wardrobe is an excellent way to embrace your heritage and showcase your love for a unique and timeless culture. Rooted in the spirit of cowboys, pioneers, and trailblazers who helped shape America's history, wearing Western outfits pays homage to these iconic figures while adding a touch of contemporary sex appeal.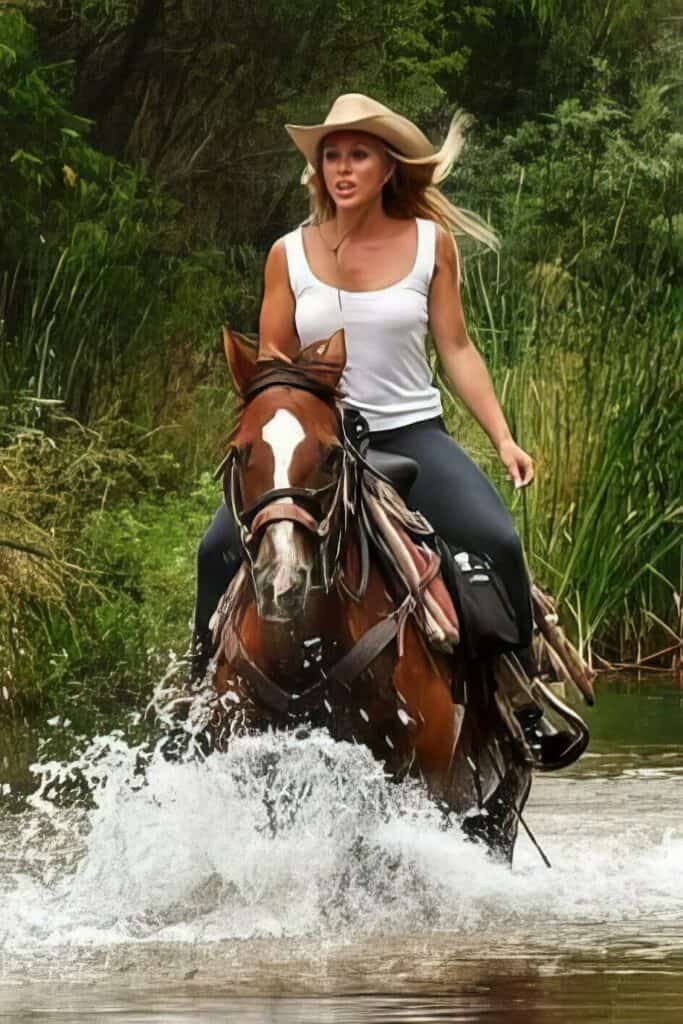 Furthermore, taking inspiration from Hispanic women – renowned for their strong ties to family values and preserving traditions – incorporating Western wear into everyday ensembles can create a powerful statement about identity.
Style Versatility
One of the truly remarkable aspects of Western fashion is its versatility. It effortlessly blends with various styles, giving women countless options to look sexy and stylish while staying practical.
For instance, you could pair a sultry lace crop top with high-waisted jeans or rodeo skirts for an alluring ensemble perfect for a night out on the town. Add some cowboy boots and fringe clothing as accessories, and you've got a trendy outfit that marries modern chic with Western charm.
Whether it's dressing up denim-on-denim looks or adding edge to flowy sundresses by throwing in bolo ties and studded belts, there's no shortage of intriguing combinations when diving into Western wear.
Durability And Comfort
One of the key benefits of incorporating Western fashion into your wardrobe is the exceptional durability and comfort these pieces provide. Western wear, known for its sturdy materials like denim, leather, and suede, ensures that your outfits can withstand daily wear and tear while maintaining a stylish appearance.
Furthermore, the design of many Western garments caters to both style and practicality. Picture a classic flannel shirt – it effortlessly combines sex appeal with coziness as it hugs your curves while keeping you warm during cooler months.
Similarly, fringed jackets made from soft suede offer both an edgy look and unmatched comfort for all-day wear.
Essential Pieces Every Woman Needs For A Western Wardrobe
To fully embrace the Western fashion trend, every woman needs classic pieces in her wardrobe, such as a timeless denim jacket, rustic leather belt, traditional cowgirl hat, sturdy jeans, iconic cowboy boots, and fringe-trimmed tops.
Classic Western Shirt
The Classic Western Shirt is a staple piece that every woman should have in her wardrobe. It's a timeless and versatile piece that can be dressed up or down depending on the occasion.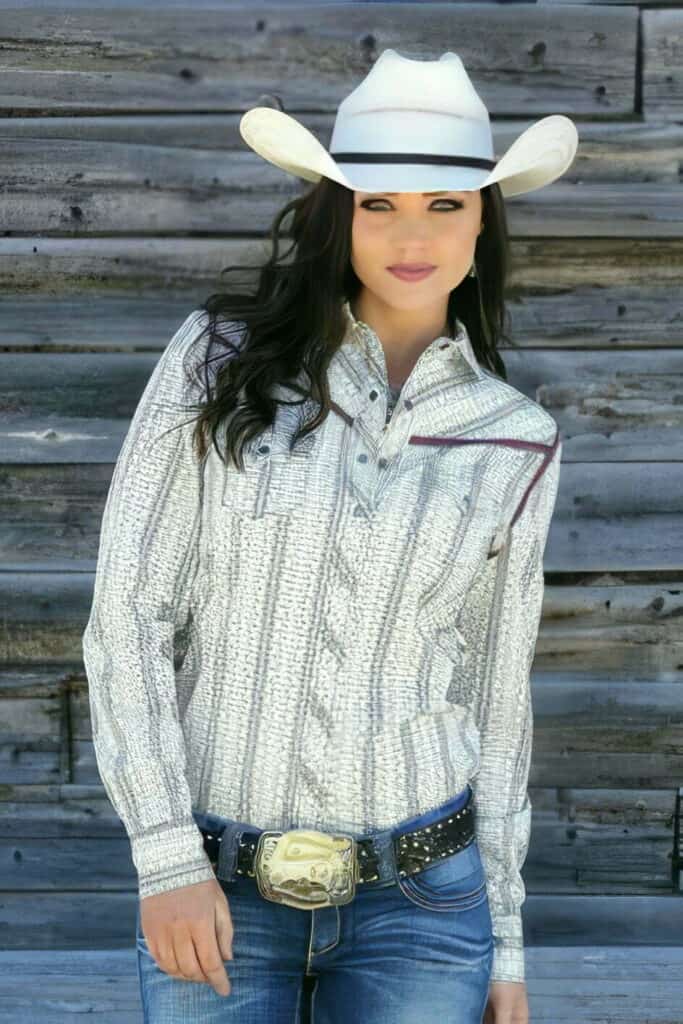 This shirt is made with durable materials and provides the utmost comfort while still looking stylish.
Incorporating the Classic Western Shirt into outfits has become increasingly popular among fashion bloggers and celebrities alike. In fact, the denim shirt has been hailed as a chic alternative to traditional white button-downs by fashion experts.
Iconic Cowboy Boots
No Western wardrobe is complete without a pair of iconic cowboy boots. These boots are not only stylish but also practical, providing comfort and durability for any occasion.
Whether you're dressing up for a night out or simply running errands around town, cowboy boots add an element of sophistication and charm to your look. Pair them with skinny jeans or flowy skirts for a trendy yet timeless ensemble that will never go out of style.
Timeless Denim Jacket
Every woman needs a denim jacket in her wardrobe, and it's no exception for those with Western fashion taste. It's an all-time classic that never goes out of style and is perfect for layering any outfit.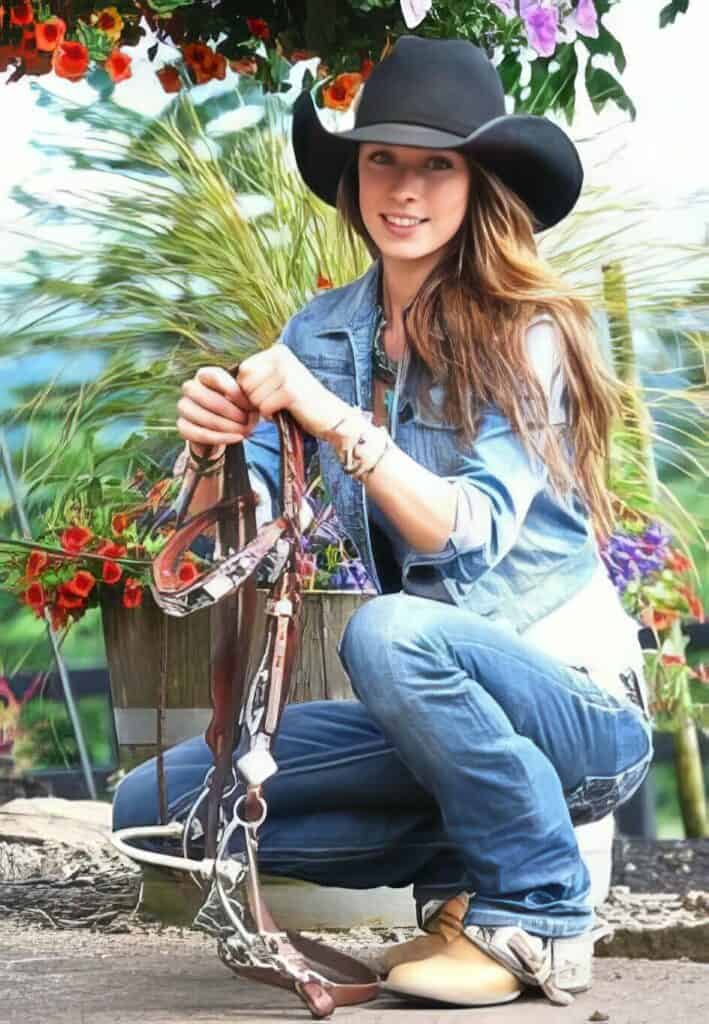 You can wear it over dresses or pair it with jeans to give you the ultimate cowgirl look.
A distressed, relaxed-fit denim jacket is versatile enough to go with anything in your fall wardrobe, from turtlenecks to cute boots. It adds an instant edge to any outfit while keeping you warm on breezy days.
Plus, its durability ensures that it will last through seasons of use without losing its shape or style.
Rustic Leather Belt
A rustic leather belt is one of the quintessential pieces that every woman needs in her Western wardrobe. Made from high-quality materials, a genuine leather belt can withstand wear and tear while adding an extra touch of elegance to any outfit.
Whether you're heading out for a day on the ranch or dressing up for a night out, a brown or black leather belt is the perfect finishing touch to complete your look.
Investing in a quality leather belt means you'll have this essential accessory for years to come. A handmade leather belt featuring unique designs adds sophistication and charm to any ensemble.
Pairing it with jeans or shorts with intricate detailing such as studs, buckles, or embellishments enhances the overall beauty of your outfit, giving sex appeal without being too flashy.
Traditional Cowgirl Hat
The traditional cowgirl hat is one of the essential pieces every woman needs in her Western wardrobe. This iconic accessory not only adds a touch of rugged sophistication to any outfit but also serves as a functional piece that protects you from the sun's rays during outdoor activities like horseback riding and farming.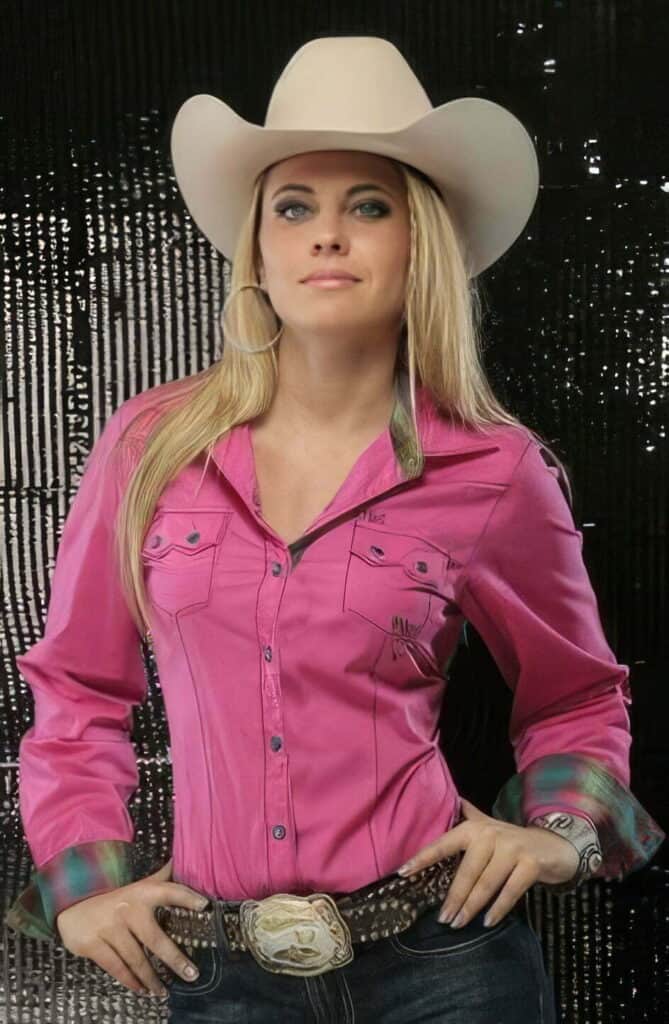 Western-style cowboy hats are available in different colors, such as black, brown, tan, and white, to complement any style preference. Whether paired with jeans and boots or dressed up with flowy sundresses and heels, the cowgirl hat helps complete an authentic Western look that exudes confidence and charm.
Fringe-Trimmed Tops
No Western wardrobe would be complete without a few fringe-trimmed tops! These versatile pieces can be dressed up or down, making them perfect for any occasion.
Fringe has been a staple of Western fashion since the 1920s when women first began to embrace rodeo culture. Today, fringe is still popular in both men's and women's clothing, adding an element of fun and playfulness to even the most serious of outfits.
Sturdy Jeans
Sturdy jeans are a must-have for any practical Western and fashionable wardrobe. Jeans are versatile and comfortable and can be easily dressed up or down depending on the occasion.
When it comes to creating a complete Western outfit, sturdy jeans will serve as the foundation piece. Your favorite classic Western shirts can be paired with high-waisted denim for a chic look while still maintaining comfort.
Dressing Sexy And Practical In Western Fashion
Get ready to turn heads with these sexy yet practical Western outfit ideas. From denim-on-denim looks to flowy sundresses paired with rustic leather belts, you'll find inspiration for any occasion.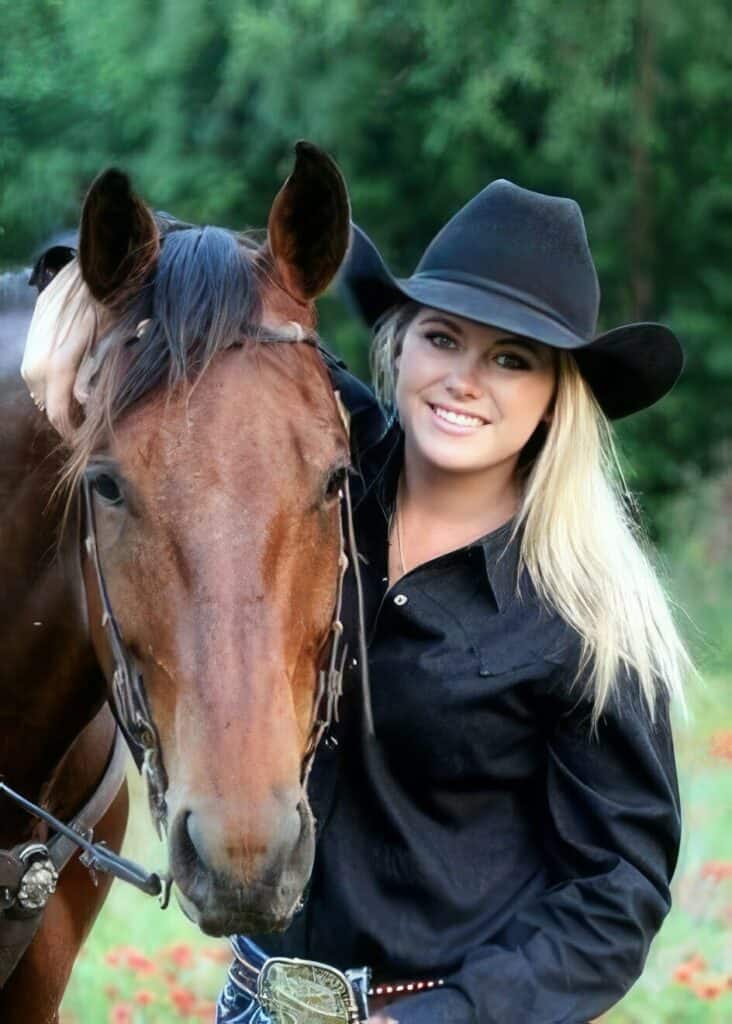 Denim-on-Denim Look
One of the sexiest and most practical ways to rock Western fashion is by embracing the denim-on-denim look. This iconic style features a denim shirt paired with jeans or a denim jacket worn over a pair of cutoff shorts.
Denim clothing has been tied to American culture since World War II, when women began wearing jeans as part of their factory work attire. Today, it remains an essential element of Western wear, appreciated for its comfort and durability.
When done right, the denim-on-denim look can be flirty and versatile – perfect for everything from brunch dates with friends to rodeo events in your community.
Cute Rompers With Cowboy Boots
Another way to incorporate Western fashion into your wardrobe is by wearing cute rompers with cowboy boots. This look is perfect for a casual day out or a summer festival.
The romper adds a touch of femininity, while the boots add an edgy and practical element. Opt for a denim or floral print romper paired with classic brown leather boots.
Not only do these outfits look cute and stylish, but they're also comfortable and easy to wear all day long. You don't have to sacrifice comfort for fashion when it comes to Western wear! With just a few key pieces like rompers and cowboy boots, you'll be able to create versatile looks that you can wear year-round.
Flowy Sundresses With Western Belts
Flowy sundresses are a staple in every woman's summer wardrobe, but you can take this classic piece up a notch with the addition of a Western belt. A stylish and practical accessory, the Western belt is both an accent to your dress and a functional tool for cinching in your waistline.
A perfect example is pairing a floral print maxi dress with an intricate tooled leather Western belt. The combination creates feminine yet rustic vibes that are perfect for outdoor events like picnics or barbecues.
Plaid Button-Ups With Skinny Jeans
One of the most iconic Western fashion staples is the plaid button-up shirt. Paired with skinny jeans, this look is both sexy and practical. Plaid shirts come in a variety of colors and patterns, from classic red to vibrant blues and greens.
They can be worn tucked into high-waisted jeans for a more polished look or untucked over skinny jeans for a casual vibe.
While head-to-toe plaid may be too much, incorporating a plaid shirt or accessory into your Western wardrobe adds just the right amount of country charm. And if you're looking to dress up the plaid button-up with skinny jeans, simply add some tights and a cute skirt or pair it with embellished accessories like statement jewelry or fringe-trimmed handbags.
Bold-Colored Leather Jackets With Fringe
One way to add some sex appeal and practicality to your Western wardrobe is by adding a bold-colored leather jacket with fringe. This trend has been popular in recent years, and for good reason – it's stylish, versatile, and perfect for year-round wear.
The fringe detailing adds some movement and personality, while the bolder colors make a statement. Plus, the durability of the leather material ensures that this piece will last you for many seasons to come.
If you're not sure where to start, take inspiration from fashion bloggers or celebrities who have rocked this trend uniquely – think Taylor Swift's red leather fringe jacket or Miley Cyrus' black fringe jacket paired with denim shorts.
Styling Western Pieces For Different Occasions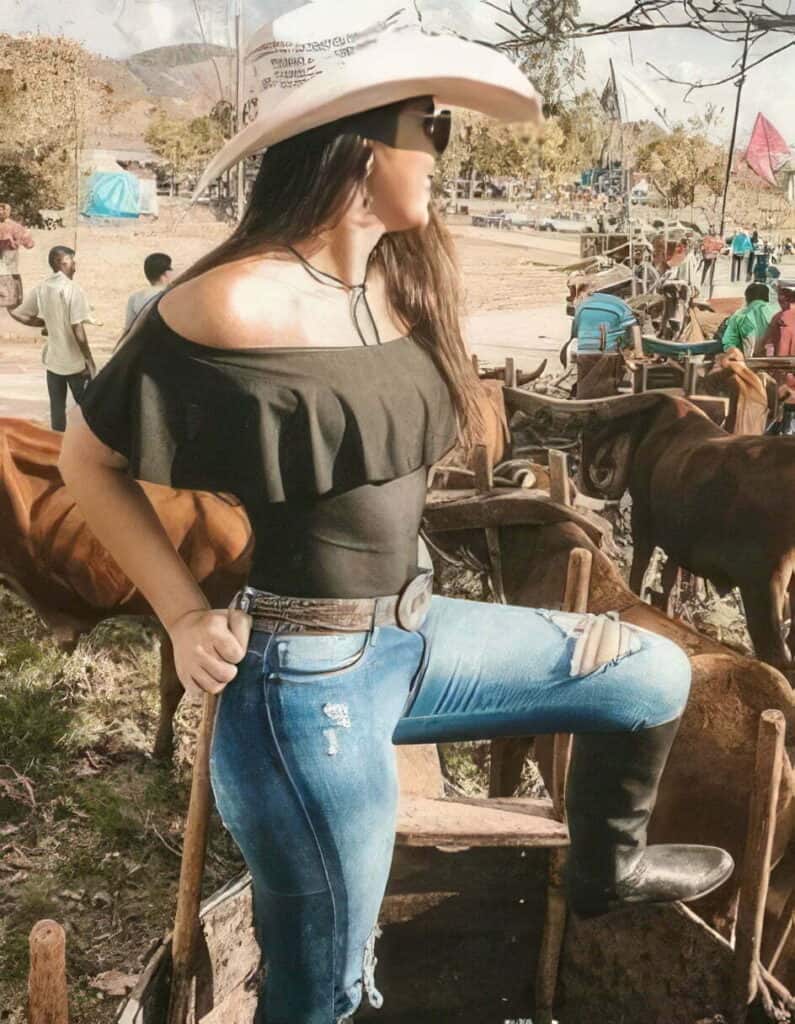 Dress up cowgirl boots with a skirt for workwear, or dress down a denim jacket with jeans and sneakers for a casual weekend look.
Workwear: Pairing Cowgirl Boots With A Skirt
Pair your cowgirl boots with a skirt for stylish work attire to create an effortless Western-inspired outfit. A knee-length denim or suede skirt paired with brown leather cowboy boots definitely screams "cowgirl chic."
You can also add a classic white button-up shirt and tuck it into the pencil skirt for a polished look suitable for any business setting.
It's important to note that when choosing the right cowgirl boot to wear at work, consider factors like comfort and durability. Look out for designs that feature low heels, cushioned footbeds, and high-quality leather uppers – these make walking around more comfortable while still looking fashionable!
Date Night: Dressing Up A Denim Jacket With A Skirt And Heels
For a date night, there's nothing quite like dressing up in a classic denim jacket with a skirt and heels. This combination creates the perfect blend of effortless chic and Western charm that is sure to impress your partner.
To achieve this look, start by selecting a fitted denim jacket that complements your body shape. Pair it with a flowy midi skirt in bold colors or prints for added flair.
One great thing about this outfit is its versatility – you can dress it up or down depending on where you're headed for your date night. Add some statement jewelry like hoops or layered necklaces for extra shine, or keep things simple with minimal accessories.
Festival Outfits: Mixing Prints And Layers With Western Accessories
Festival season is the perfect time to experiment with your Western wardrobe by mixing prints and layers with bold accessories. Start with a statement piece like a fringe-trimmed top or a pair of embroidered cowboy boots, then build your outfit from there.
Layering different textures and patterns can create an eye-catching, comfortable, and stylish look.
Don't be afraid to mix and match different styles when it comes to accessories. A bolo tie adds Western flair to any outfit, while statement earrings or chunky bracelets can add some sparkle.
If you're unsure where to start regarding festival fashion, sites like College Fashion offer great inspiration for trendy outfits that incorporate Western elements.
Tips For Building Your Perfect Western Wardrobe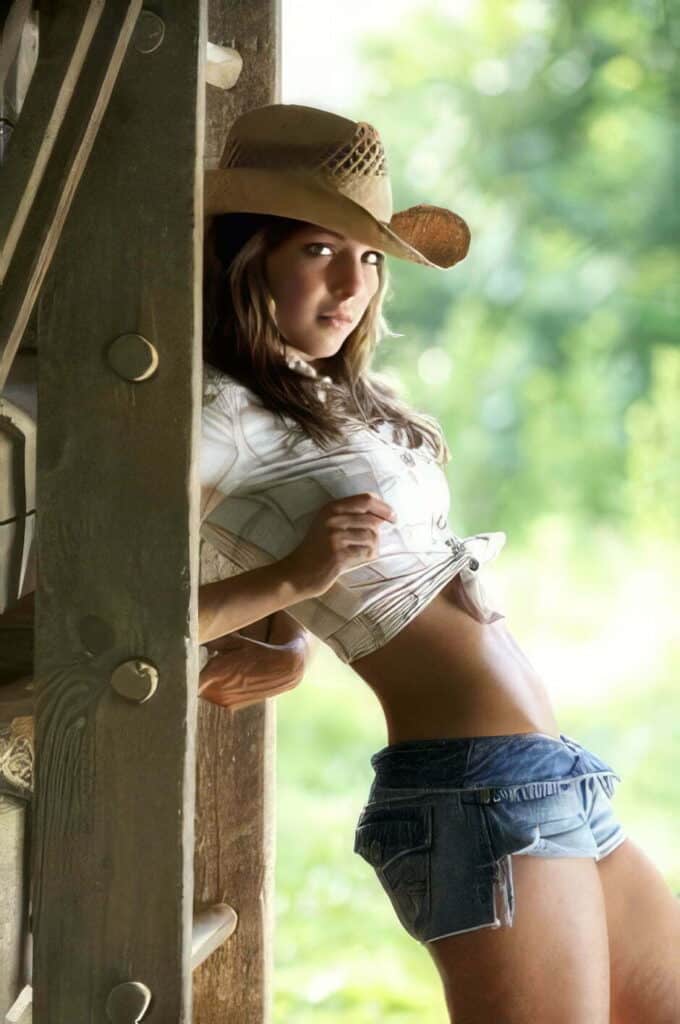 Invest in high-quality pieces that can last for years, mix and match different styles to create unique outfits, and get inspiration from fashion bloggers or celebrities who rock Western wear to build your perfect Western wardrobe.
Investing In Quality Pieces
Investing in quality pieces is essential when building a Western wardrobe that is both practical and stylish. Rather than buying multiple low-quality items, it's better to prioritize quality over quantity.
For example, a well-made pair of cowboy boots can last for years with proper care and maintenance.
Choosing pieces that fit well and flatter your body shape is also important. This means taking the time to try on clothes before making a purchase or looking for brands with detailed size charts online.
Mixing And Matching Styles
Building a Western wardrobe that is both sexy and practical involves mixing and matching different styles to create unique looks. One way to achieve this is by pairing classic denim jackets with flowy sundresses or plaid button-ups with skinny jeans.
You can also try cute rompers with cowboy boots for a playful yet functional look.
Invest in quality pieces that will last you for years to build the perfect Western wardrobe. Mix and match styles to find what works best for you while taking inspiration from fashion bloggers and celebrities who embody the modern cowboy aesthetic.
Finding Inspiration From Fashion Bloggers And Celebrities
Looking for some inspiration to help build your perfect Western wardrobe? Look no further than fashion bloggers and celebrities! Many influencers have embraced the Western trend, incorporating pieces like cowboy boots, denim jackets, and fringe-trimmed tops into their everyday looks.
In addition to following fashion bloggers on social media platforms like Instagram and TikTok, pay attention to how your favorite celebrities dress when they attend events or run errands.
Taking note of the different ways they incorporate Western pieces into their outfits can help you find new ideas for incorporating these timeless items into your own wardrobe.
Shopping For Western Fashion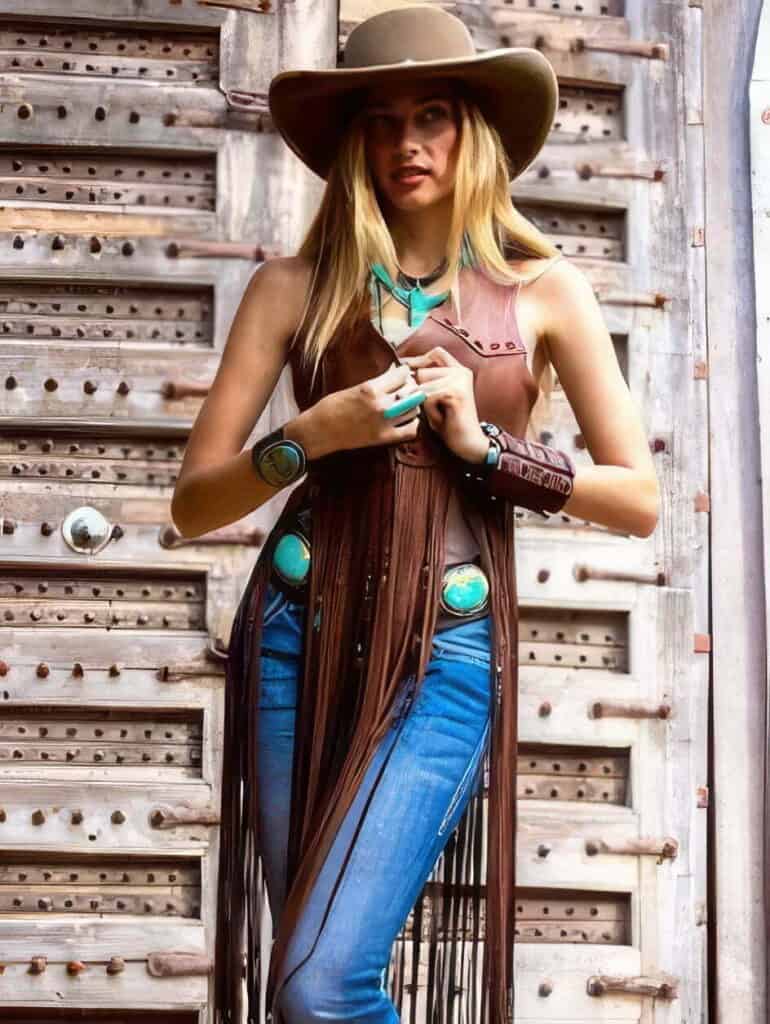 Discover your perfect Western look by shopping at online retailers, exploring vintage and thrift stores, and visiting local shops specializing in Western wear.
Online Retailers
Shopping for Western fashion has never been easier with the abundance of online retailers. You can find everything from classic western shirts to rustic leather belts on websites like Sheplers and Cavender's.
If you're looking for vintage or one-of-a-kind pieces, there are also plenty of online thrift stores like Poshmark and Depop that specialize in western wear. And if you want to support small businesses, check out Etsy, where many sellers offer handmade western fashion items like cowgirl hats and fringe-trimmed tops.
Vintage And Thrift Stores
Another great way to build your perfect Western wardrobe is by shopping at vintage and thrift stores. These stores offer original and unique clothing pieces that are often designer, retro, antique, or high-end styles.
Thrift stores were popular in the 1960s for buying second-hand clothing, which inspired fashion trends that still exist today. Additionally, there are Black women-owned vintage and consignment shops popping up across the country offering even more eco-friendly options.
Local Western Shops
When it comes to shopping for Western fashion, local Western shops are your best bet. These shops offer a range of styles and options that are not available in mainstream retail stores.
As an added bonus, shopping at these local shops supports small businesses that often specialize in Western fashion. This means that they have a wealth of knowledge on each piece's history and cultural significance, making them great resources for women looking to learn more about incorporating Western fashion into their wardrobes.
Frequently Asked Questions (About Western Outfits for Women)
What are some examples of Western outfits for women that are both sexy and practical?
Some popular options for Western outfits that combine style with functionality include denim jackets, high-waisted jeans, cowboy boots, and fringe accessories like vests or purses.
Can anyone wear Western clothing, or is it only intended for people who actually live in the American West?
Western fashion can be enjoyed by anyone regardless of where they live. In fact, many modern interpretations of traditional Western attire incorporate elements from other cultures or regions in order to create unique and innovative looks.
Are there any specific body types that look better in Western clothing than others?
No particular body type is required to pull off a stylish Western outfit – it's all about personal preference and choosing styles that flatter your individual figure. That being said, different outfits may work better on certain body shapes depending on their silhouette or design details.
How can I accessorize my Western outfit without going overboard?
To keep your look balanced when wearing a bold western outfit, try pairing it with simple jewelry (like hoop earrings or a pendant necklace), neutral-colored shoes or boots (brown works well!), and classic makeup like red lipstick or natural-looking eyeshadow shades. Additionally, consider incorporating subtle accents such as scarves, hats, belts, or bandanas into your ensemble to add just enough extra detail without overwhelming the overall aesthetic of your look!
Conclusion
Incorporating Western fashion into your wardrobe can add both sex appeal and practicality to your everyday style. From timeless denim jackets to classic cowboy boots, investing in quality pieces will ensure a versatile, durable closet that embraces heritage and culture.
Mixing and matching styles and finding inspiration from fashion bloggers and celebrities is key to creating the perfect Western-inspired outfits for any occasion.