Whenever we think of getaways for couples, we immediately picture a warm, cozy place with a lit path where one can stroll and buy touristy souvenirs. The Paris and Switzerland honeymoon formula, which involves typical love kindling activities, is no longer popular with young couples today. They'd rather explore adventurous getaways and experience exciting excursions.
There's no shortage of adrenaline-rush activities from hiking, trekking, mountain climbing to jet boating, bungee jumping, and snorkeling. And the journey will be unbeatable if experienced with a loved one.
Listed below are some adventurous, romantic destinations you can choose from.
1. Rio Secreto, Mexico
An exotic retreat, Rio Secreto, also known as the secret River, houses many activities you can partake in when you visit. Its rivers and caverns filled with stalagmites and stalactites are ideal for snorkeling and swimming, or you can explore its underground cave system. There is also the option to rent bicycles for exploring the surrounding jungles and pyramids, making it an ideal adventure travel destination for couples.
2. Pigeon Forge, Tenessee
The breathtaking views of the mountains and the fun atmosphere make Pigeon Forge the perfect romantic getaway! The Smokies have something for everyone, whether you're getting married, honeymooning, celebrating an anniversary, or just out to rekindle your love.
If you want to ditch the tourists and wish to spend some alone time with your loved one, the abodes here are a treat in itself. Surrounded by breathtaking natural scenery, you will enjoy several pigeon forge cabins with pool, Jacuzzi, game rooms, and other fun-filled amenities inside. You'll also be able to view majestic mountains right from your window, which is an unforgettable experience.
3. Iceland
The entire nation is a traveler's delight. The most prominent feature is the northern lights, where couples can hike through glaciers. As one of the world's most spectacular sights, the Northern Lights are also a gateway to scuba diving between fault lines walking through lava fields, caves, and black ash deserts. After having a long day of excitement and adventure, you can choose from many resorts and five-star hotels that offer magnificent rooms if you want to relax with your partner.
4. Park City, Utah
Imagine cozying up with your loved one in front of a fireplace in a snowy mountain lodge; isn't it a dream-come-true moment? Sipping local whiskey while eating chocolate is another delightful fantasy. Now turn all these ideal situations into reality by visiting Park City, a winter wonderland and a gem of a small town conveniently located near Salt Lake City International Airport.
Besides these romantic past times, you can also find a ton of adventure here. Explore two world-class skiing resorts: Park City Mountain and Deer Valley. These resorts offer some of the best skiing conditions in the world. Take a few pitstops on the mountain between snowy runs on fresh powder and savor delicious gourmet food. Get cozy with a hot chocolate, s'mores, and craft cocktail at the St. Regis Deer Valley, which is ski-in/ski-out.
Beyond mountain sports, Utah's historic mining town is like a holiday postcard come to life. It houses a flurry of romantic date activities, including ice skating, dog sledding, hot air balloon rides, and dining along Main Street, where many of the restaurants date back to the 1880s. Visit Ritual Chocolate for handmade confections and check out Park City's High West Distillery for a whiskey flight. Visit Riverhorse on Main for an excellent candlelit dinner with live music, followed by a nightcap at No Name Saloon. The place has so much to offer couples.
5. Cappadocia, Turkey
If you fantasize about spending an exciting night with your newlywed spouse, why not spend the night in a cave? It is exactly what the caverns at Yunak Evleri offer. During your visit, you will enjoy the caves' plush ambiance that has been updated to make your stay as pleasant as possible.
Additionally, in the national park, guests can ride a hot air balloon during sunrise and sunset or feel the wind blow through their hair with a horseback ride through vineyards and valleys. In addition to all the adrenaline-inducing activities, you also have the much-needed comfort at nearby lodgings. These abodes offer amenities like swimming pools, spas, and jacuzzis, making for an ideal adventure trip for couples.
6. Galapagos Island
If you love wildlife, the island where Darwin made his discoveries will be your favorite. There is kayaking with sea lions, swimming with Galapagos penguins, and searching for massive tortoises and marine iguanas. Staying in an extinct volcano crater is also possible while there. It is the perfect romantic destination.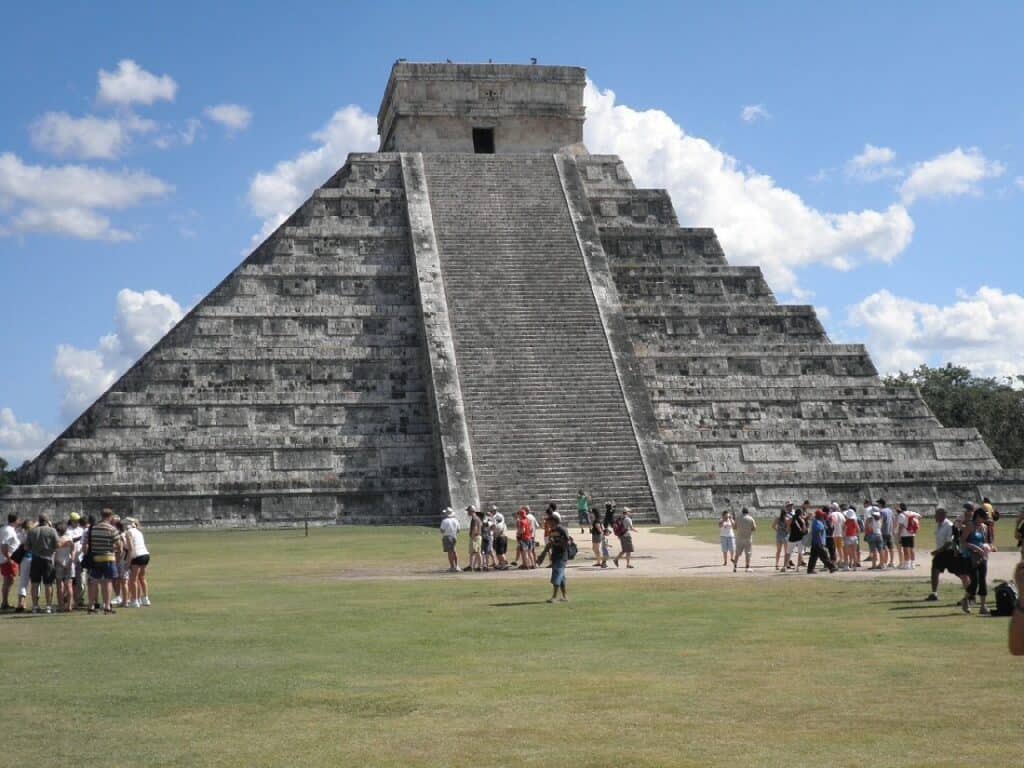 7. Belize
Belize is an overlooked honeymoon destination in Central America with stunning waterfalls and lush jungles, where you can go hiking. In addition to gliding down rivers and exploring ancient Mayan temples, there are other adventures you can enjoy with your partner. As a result of its incredible year-round weather, it is among the best adventure destinations for couples.
8. Grand Cayman, Cayman Islands
For couples seeking a Caribbean beach oasis at any pace, the Cayman Islands are the ideal destination. Early spring is a great time to visit Grand Cayman and its Seven Mile Beach since the weather is warm dry, and there are fewer crowds than during peak season.
In the sparkling turquoise waters of the island, you can enjoy a variety of water sports. A catamaran trip to Rum Point on the north coast is a must-see, or you can kayak through lush, tropical mangroves. For some privacy, you can relax by the pool, soaking up the sun or swinging in a hammock on a pink-sand beach.
There is no better backdrop to a passionate evening in Grand Cayman than the magnificent sunsets. View the fireworks at Kimpton Seafire, then enjoy a special Chefs' counter tasting at Avecita with special seasonal, wood-fired fare that is uniquely Caribbean. You'll only have one chance per night to snag two of the tens of available seats in advance.
9. Paracas, Peru
In Paracas, you can spend your honeymoon, which is an amazing place to visit. The activities available are sandboarding, driving through massive dunes, and boating through Ballesta islands to spot wildlife. Additionally, you can fly over the geoglyphs of the Nazca Lines, which date as far back as 200 BC. Among the most significant archaeological sites globally, these are among the most beautiful.
10. Walland, Tennessee
With a luxurious mountain retreat, you can combine your love of adventure with your love of luxury. In addition to Blackberry Farm, the owners of Blackberry Mountain just introduced a luxury resort ensconced in 5,200 acres of splendor in the Smoky Mountains.
Its rustic setting is balanced with active and wellness-oriented amenities. Get in touch with nature through hiking, mountain biking, candlelit yoga, and treetop meditation to relaxing forest baths, spa treatments, and relaxing forest baths. Two Blackberry Farm restaurants showcase their famed hospitality and culinary program after you've nourished your mind and body.
Conclusion
While looking for new adventures, you might want to check out some classic, exotic destinations. These include Malaysia and Singapore in Asia, New Zealand and Western Australia in the southern hemisphere, the Rocky Mountains and Colorado Rockies on the west coast, and almost the entire continent of Africa. You and your partner could start the rest of your life on a great note by setting a budget and heading out on an adventure vacation.