Purchasing elegant and sustainable furniture for your home can be expensive. But here's a secret: you can transform your living space with the help of budget-friendly dining room sets.
Effortlessly reinvigorate your dining room by checking out our extensive catalog of beautiful yet inexpensive dining room sets.
Choosing the right dining table starts by finding one that perfectly fits your space and budget. In addition, you'll want something that matches your style.
After all, your dining table is where the family sits together to enjoy delicious meals and fun conversations. Create a stylish dining room by learning the tips for choosing an inexpensive dining room set:
Ways to Choose the Right Budget-Friendly Dining Room Set
Choosing a dining set seems simple at first glance, but once you look deeper into the considerations, you might find the task quite impossible.
Here we've created a list of factors you should consider to purchase the perfect, inexpensive dining room set:
Use Your Measuring Tape
The first step to purchasing the ideal dining room set is ensuring it fits your dining area.
Here's the thing: dining tables are deceptively large pieces of furniture. To ensure it doesn't look awkward, you'll have to account for space around it.
To purchase an appropriately sized table, keep the following tips in your mind:
Use your measuring tape to determine the length and width of the area you want to dedicate to your dream dining set
Subtract six feet from the two measurements to pinpoint your ideal dining table length and width
Leave at least three feet of space around each side to ensure you and your loved ones can comfortably sit in a chair
Choose the Right Shape
Most homeowners believe dining room tables come in two shapes: square or circle. But once you compare different dining tables, you'll find many sizes and styles.
Your dining table can be oval, square, round, or rectangular. The shape of your dining table typically depends on the available space and the number of seats required.
For instance, an oval table can give you extra space to move around if you have limited space. But if you have an expansive dining room, choosing a rectangular dining room table can add elegance to your dining area.
Determine Your Budget
If you're looking for an inexpensive dining room set, it makes sense to curate a budget before comparing prices.
Dining room sets vary a lot depending on the price. Hence, setting a budget will help narrow down your options. Creating a budget also ensures you don't buy an overly expensive set.
So, once you set a budget, stick to that, and spend within your limits.
Pay Attention to Table Supports
An overlooked yet essential feature of dining tables is their table supports. Dining room table sets typically have legs, a pedestal, or a trestle.
Your table supports determine how many seats you can fit at a table. So, your goal should be purchasing a table whose supports don't invade your leg space.
When purchasing the ideal budget-friendly dining room set in person, consider sitting at it to ensure it doesn't hit your legs.
Determine whether the table offers you enough space to scoot your knees comfortably. Moreover, verify whether you can cross your legs underneath the table since the apron (the tabletop's frame) can reduce navigation space.
If you often have guests over, consider buying a table with thin legs to enjoy the flexibility of adding chairs. Or you can purchase tables with a pedestal or trestle to squeeze in as many people as you want.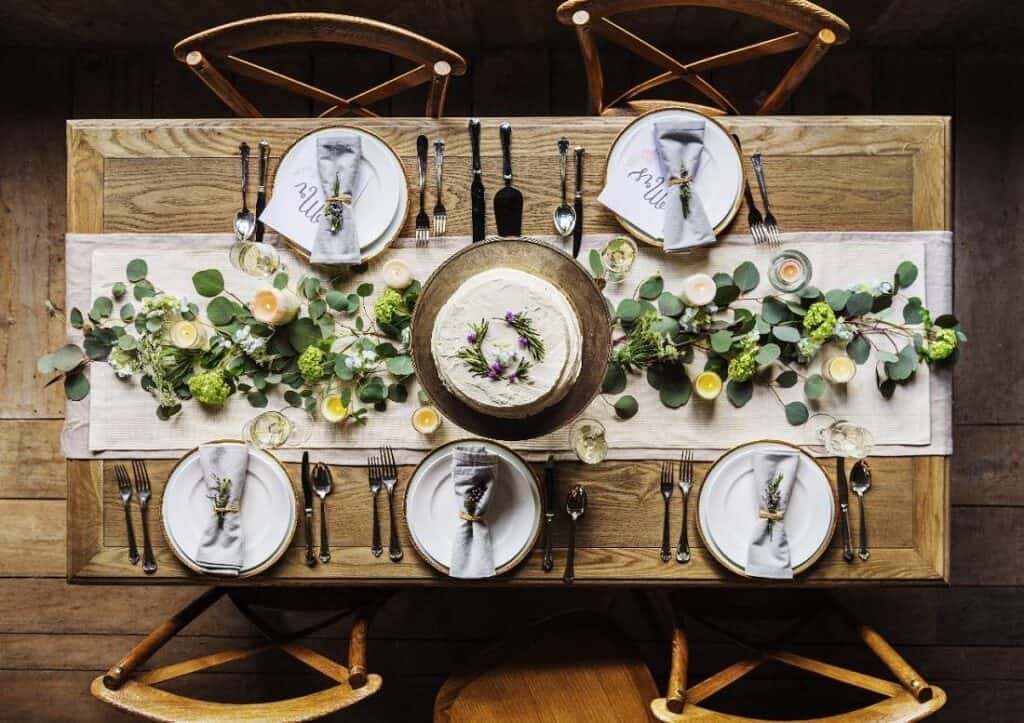 Choose the Right Material
Choosing the perfect dining table material can be challenging, especially when you're on a budget. You have to contemplate price, ease of maintenance, and personal choice to find a table you won't regret purchasing.
Here are a few of the best dining table materials you should consider:
Wood- It is a classic since it offers durability, ease of maintenance, and beauty. The downside? Wood dining sets are expensive and susceptible to scratches and contraction
Veneer- The perfect budget-friendly alternative to solid wood, a veneer is a sustainable and elegant dining room table material
Stone- Beautiful and durable, stone tables come in quartz, marble, and cast stone. Unfortunately, stone tables can crack, chip, and are difficult to repair
Glass- These tables create an open and beautiful dining room area. You can find glass tabletops in clear, frosted, or tinted versions
Find the Ideal Inexpensive Dining Room Set
Update your living space by investing in a beautiful and contemporary dining room set. From vintage dining sets to Mediterranean ones, dining room sets are available in almost every design, style, and shape to match your taste.
Avoid impulse buying; instead, carefully shop and compare dining sets to pinpoint the ideal dining room set. Before finalizing a dining room set, consider your dining space, household, home style, budget, and personal needs.