Kendra Rowe is a social media influencer who has made a name for herself with her creative content on YouTube and Instagram. With over 100k subscribers in just one month, Kendra has achieved remarkable success at a young age. In this interview, she shares her thoughts on her journey to becoming an influencer, her creative process, and her passions.
Kendra's journey started with a dream to do something extraordinary with her life. Kendra has not looked back since dropping out of university to pursue her passion for creating content. Her unique style and informative content have made her a favorite among her followers. However, her passion for body positivity has truly set her apart. Kendra believes in loving yourself and taking care of your body, and she uses her platform to raise awareness about these issues.
In this interview, Kendra shares her insights on her creative process, staying motivated, and pursuing a passion. She also offers advice for young people struggling to decide whether to follow a traditional academic path or pursue their passions. With the influencer industry constantly evolving, Kendra also talks about how she plans to adapt and grow as the industry changes.
Join us as we delve deeper into the world of Kendra Rowe.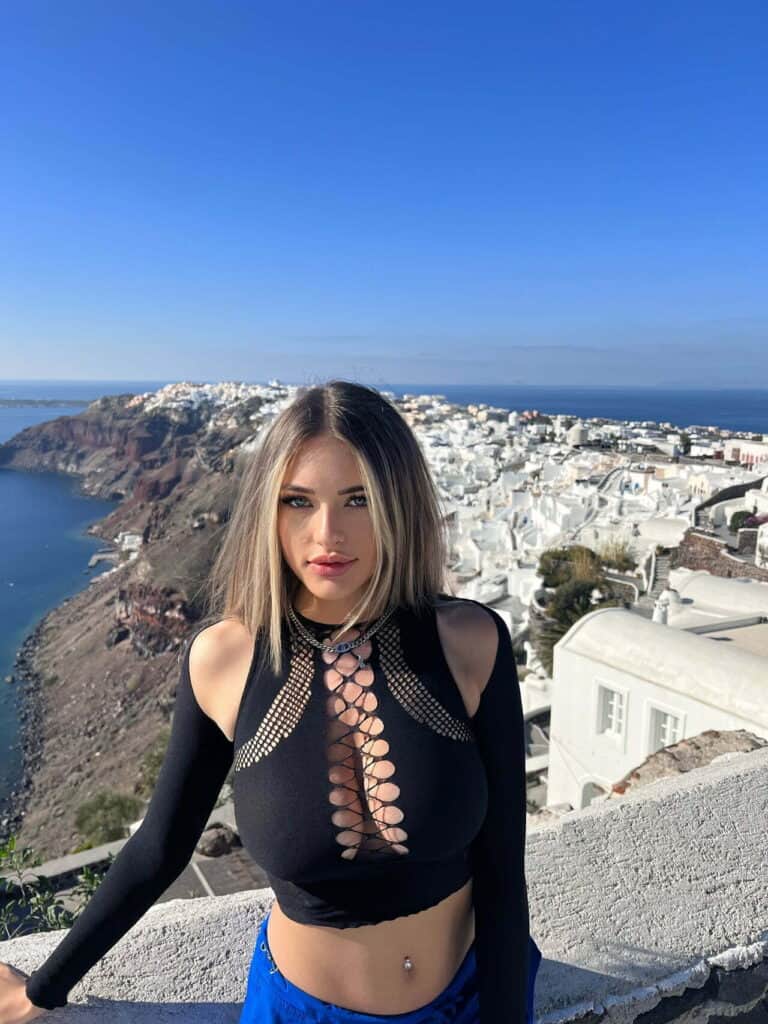 Kendra Rowe Q&A With Bourbon and Boots
Bourbon and Boots: What inspired you to become a social media influencer, and how did you get started in the industry?
Kendra: Growing up, and I'm sure many others can relate to this, I always loved watching creators and dreamed of doing it. Deciding to just go for it one day was the best thing I ever did for myself. I decided shortly after I turned 18 that I didn't want to do something ordinary with my life, and I am so grateful I found my way into YouTube. Youtube is the platform I amassed a following on, growing to 100k subscribers in about a month! I got started by making and posting try-on hauls with random pieces of clothing, and once they gained popularity, I was able to categorize my content going forward and make different hauls.
You've become known for your fashion and style content on YouTube and Instagram. Can you tell us about your creative process when developing content for your channels?
When it comes time for me to create my next video for YouTube, I like to lay out the pieces I've chosen and create outfits that I love. Choosing the pieces is easy; it's putting together fits the look good that I struggle with. It definitely takes some time & lots of switching things around. In regards to Instagram and Tik Tok, I look to other creators for inspiration, and when I'm feeling good, I'm ready to go! I mess around with poses, backgrounds, lighting, and fits until I find something that works, and then I roll with it.
You've achieved remarkable success at a young age. What motivates you to keep working hard and pursuing your goals?
Aw, thank you! I won't lie, though; I do struggle with staying motivated quite a bit. What really helps me is getting into a routine and creating lists of tasks I need to do per day. I wake up, get ready and have breakfast, either stretch/yoga or do a workout, and then I feel much better about getting into work mode! Seeing success is also so motivating for me, even if it's small. A video performing better than my last one really motivates me to keep going. I also set small goals that help toward my bigger ones, and accomplishing those keeps me inspired.
You've mentioned that you dropped out of university to pursue your career. Do you have any advice for young people struggling to decide whether to follow a traditional academic path or pursue their passions?
Personally, school wasn't for me. I always knew in the back of my mind I wanted to do something bigger, which is where I fell in love with creating content! In my eyes, school will always be there if you decide to go back and pursue a career. Life flies by so quickly; pursue your passions while you still can!
As a social media influencer, you have a platform to promote important causes. What are some social or environmental issues that you're passionate about, and how do you use your platform to raise awareness?
One of the biggest social issues women face today is the topic of body positivity. I am super passionate about loving yourself and taking care of your body. I try my best to be super real with how I'm feeling and portray my own views about my body throughout my posts. My followers know that my dm's are always open to chat about issues they're having with self-image as well.
You're known for being both entertaining and informative in your videos. How do you strike a balance between these two elements?
Honestly, I just always try to have fun with my videos! Showing off outfits and talking about the style and fit comes naturally to me, so it's pretty easy to be able to present my personality while still being informative about what I'm presenting. I try to be my natural self!
Can you tell us about a particularly memorable experience or milestone in your career as a social media influencer?
One of my biggest milestones happened early on, and that was hitting 100k on YouTube. I never imagined that in my first month, I would see a community that big supporting me. Once you hit 100k subscribers, YouTube mails you a silver plaque as recognition for your hard work. Mine sits right beside my coffee machine, and I'm reminded every morning of my success.
What do you see as the future of the influencer industry, and how do you plan to adapt and grow as the industry continues to evolve?
The influencer industry changes constantly, and creators always have to be aware of what's coming next so they can get on top of it. I plan on developing different types of content as we shift towards different trends that become popular! Staying in the relevant trends can really push you to new audiences. As more social media platforms begin to pop up, jumping on early to the next big thing would be really good as well for growth!
Wrapping Up
Thank you so much, Kendra, for sharing your journey and insights with us. Your story of pursuing your passion and achieving success at a young age is truly inspiring. We appreciate your honesty about the challenges you've faced and the strategies you've used to stay motivated and productive. Your dedication to promoting body positivity and using your platform for important causes is admirable. We wish you all the best as you continue to grow and evolve as an influencer in the ever-changing landscape of social media.