Essential oils are natural distilled aroma compounds extracted from plants, fruits, and flowers. When you first hear of them and what they represent, you don't think of wine, right? 
The first associations that come to mind are cosmetics and perfumery. Although it seems unusual, essential oils and wine make a delicious combination together. 
What's not to love about essential oils? Add a boost of flavor and aroma to a good glass of wine! You can either:
Inhale the paired essential oils by running a diffuser in the room;

Add a few drops of the chosen oil to your glass, bottle, or wine cocktail.
Before you dive into this new sensory experience, at Bourbon and Boots, we want you to learn more about:
A Comparative Study Of World Wine Consumption
How To Pair Wine With Essential Oils?
Whether you decide to use a diffuser or mix the wine with some essential oil in a fine glass set, you should know some basics beforehand.
When selecting wine, remember that there are several categories and terms, depending on the storage conditions, grape varieties, wine-making process, and generally, the region of winemaking. For taste and aroma, wines are oaky, fruity, floral, warm, crisp, and so forth. 
Essential oils are most effective at promoting an existing scent or profile of the wine, but can't introduce a new one. According to essential oils' company Galen-N a citrus-based oil complements a wide range of white wine. You should pick top notes that help to highlight the wine's flavor. Combining contrasting notes is not a clever idea, as they overpower the wine's aroma. 
Stress the flavor you like, especially if it is delicate or subtle:
Riesling—the king of white wines, pairs well with a fruity essential oil such as Lemon, Lime, Grapefruit, Jade Lemon, Tangerine, Mandarine, or a fruity blend such as Citrus Fresh;

Oaky wines combine with Juniper Berry, Black Spruce, Fir Needle, or Cedarwood;

Rose, Lavender, or Geranium essential oils wonderfully complement floral wines.
If you are more of an adventurous person or have it as a hobby with your loved one, then why not take some time to mix and match? As different food combinations alter your appreciation of a particular wine, so do essential oils. Find out what pairings you like the best! 
Follow those four steps:
Open the bottle and let the wine breathe for some time;

Pour yourself a glass of wine and sip to determine the wine's tasting notes and retain them;

Rub a drop or two of the essential oil on your wrist and take a whiff;

Sip wine again and enjoy the outcome;

Take delight in trying another type of essential oil with your next glass of wine.
For your experiment to be successful, stock yourself with a lot of water and coffee beans to neutralize scents. 
Tip: Choose wines that have a simpler profile, with no complex layers.
Essential Oil-Infused Wine Cocktails 
If you are still unsure that essential oils and wine can have a good relationship, here are some recipes a wine beginner can try out:
Romantic Twist
A few drops of Citrus Fresh and a glass of Port Wine are all you need to make the perfect Romantic Twist.
Romantic Aphrodisiac Wine
Add 1-2 drops of Rose essential oil to a bottle of sweet white wine. You'll get an exceptional drink to relish.
Pink Moscato Punch
Use a beverage dispenser to mix:
1 cup of frozen raspberries;

1 cup of halved strawberries;

1 slice of lime;

1 bottle of chilled pink Moscato (750 ml);

1 generous splash of Ningxia Red;

1 cup of lime/lemon soda;

5-10 drops of Jade Lemon Vitality.
Serve over a glass of ice or chilled.
Aromatic Mulled Wine
To make this special drink, you need:
5 cups of red wine;

1 drop of Cinnamon Bark Vitality;

1 drop of Cove Vitality;

2 drops of Orange Vitality;

2 drops of Tangerine Vitality;

2 tablespoons of honey.
Relaxing Bedtime Glass Of Wine
For a relaxing treat after a long day, add 1 drop of Myrrh essential oil to a glass of red wine.
Warm Spiced Sangria
Mix the following ingredients to make this delicious Sangria:
2 bottles of red wine;

2 cups of apple cider vinegar;

3 cups of fresh-squeezed orange juice;

½ cup of brandy;

3 drops of Thieves Vitality;

5 drops Cinnamon Bark Vitality;

3 drops of Orange Vitality;

1 apple, sliced;

1 orange, sliced.
Explore our other wine recipes for further inspiration.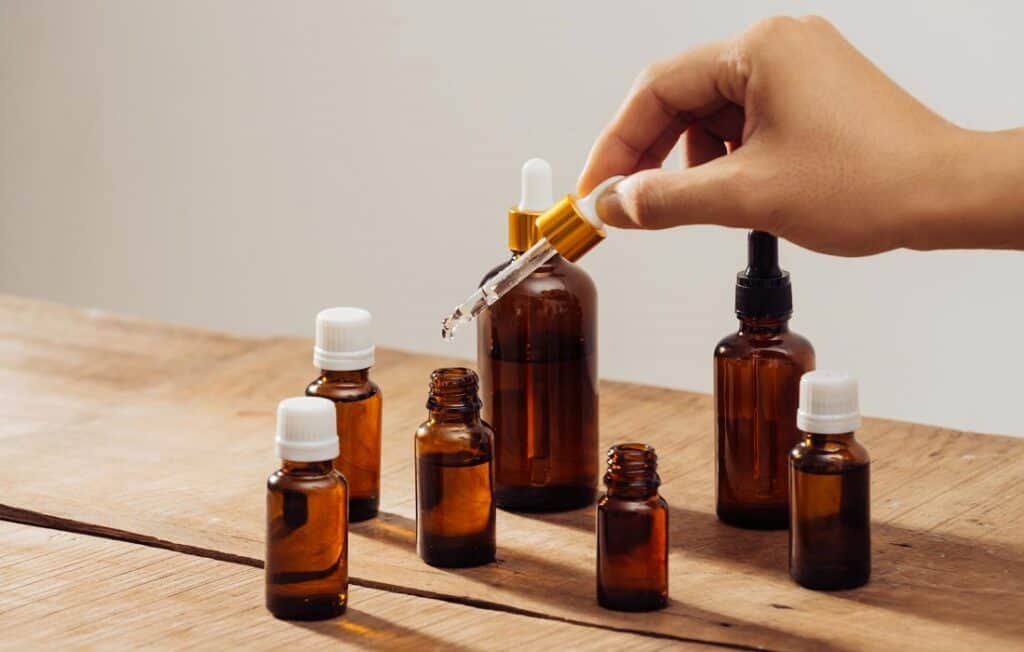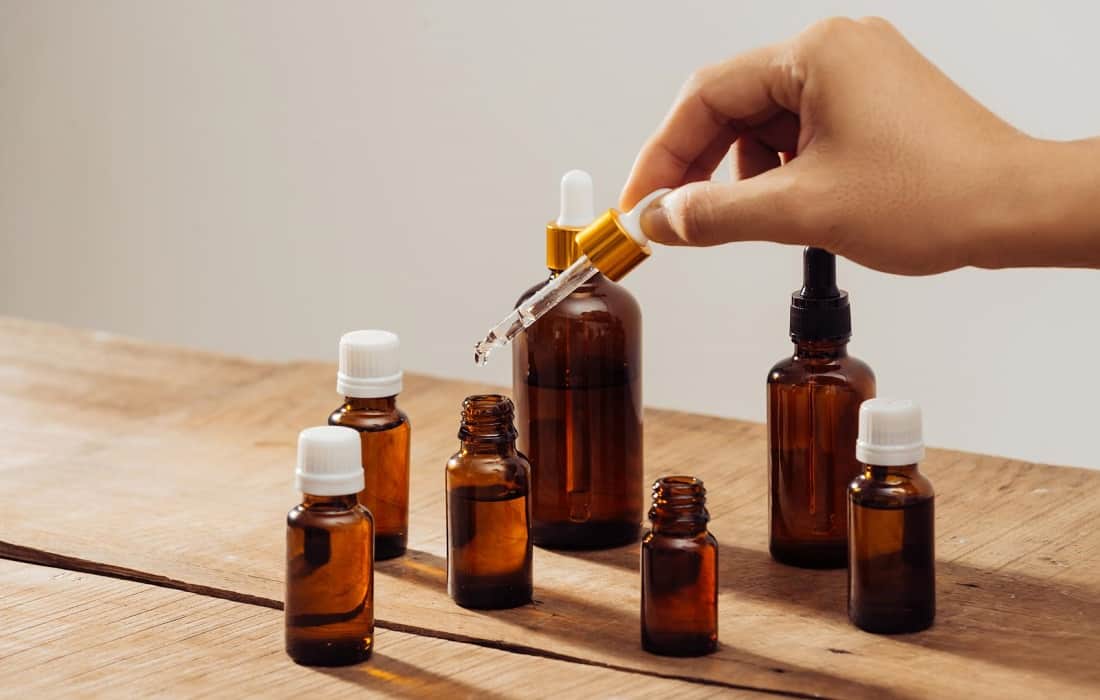 Mistakes to Avoid When Mixing Essential Oils & Wine
Before you make a wine cocktail to your taste, it's wise to know some specifics, so you won't ruin it:
Oil & Water Don't Mix
That's an adage that turns out to be a scientific fact. 
The low molecular weight of the essential oils prevents them from dissolving into the wine. If you add some drops to a bottle of wine or a carboy, then they will sit on top. You'll probably pour most of the oil off in the first glass, making that first sip quite unpleasant.
Essential Oils Are Volatile
Most essential oils are volatile. That's why it's not a good idea to pour them in your wine barrels. The oils will either absorb into the wood or evaporate into the air.
Oil Blends Are Risky To Experiment With
When it comes to oil blends, it's difficult to tell which ingredient makes a difference. You can identify too many scents, so it's challenging to decide what you like and what you don't like. You'll need to know the active components, which exist in the wine, and what essential oils enhance them. 
Unless they are close to each other (e.g. entirely citrus flavors or entirely floral), it is safer to bet on single oils.
Essential Oils & Wine, Conclusion
The good news is, essential oils are inexpensive and easy to find. 
Just check online or in health food stores. If you eventually decide that you prefer the original taste of wine, don't be quick to get rid of the essential oils. They are beneficial for health, so it's worth finding another use for them.
Hint: Mix some unscented olive or almond oil with some drops of lavender essential oil and you'll have a nice massage oil.
Impress your loved ones as you take dinner to a new, different level. Quality wine plus fragrant essential oils stands for a memorable evening!