National Red Wine Day is August 28, meaning it's time to crack open a bottle of vino and pour a glass. While a glass of red wine is great on its own, it is even better when paired alongside a lovely dish with a flavor profile that complements the wine, and vice-versa. Marlo Richardson, the owner of Braymar Wines and Top Drawer Distillery, says there is a secret to pairing wines with your dinner. 
Richardson is a lifelong red wine enthusiast. Her passion for wine and spirits began as a restaurant and bar owner, serving customers wines that she would have to purchase from other vendors. Knowing exactly what she loves in a glass of wine and what her customers look for in their wines, Richardson decided to launch Braymar, named after her daughters Brayli and Marli.
As National Red Wine Day 2022 approaches, Richardson shares her advice on how to best pair red wine with your dinner and why red wine gets the taste that everyone knows and loves.

Why do you love red wine?
I love red wine. I honestly prefer it over white wine because it makes me feel relaxed. A glass of red wine is excellent to enjoy with dinner or while sitting back at night winding down after a long day.

What is your favorite cut of beef to pair with red wine?
Tri-tip is my favorite cut of beef — period. It's juicy, tender, flavorful, and — of course — it pairs wonderfully with a nice glass of red wine. When deciding what drinks to pair with food, you don't want to pair a dry beverage with dry food. With dry food, you want to feel almost like you are washing the food down, and red wine doesn't do that. That is why juicy tri-tip is a perfect cut of beef to pair with red wine.

How do you pair red wine with pasta, like lasagna with bolognese?
Like a juicy cut of beef, pasta — such as lasagna — is a very moist food because of its heavy use of the sauce. In a lasagna, the meat is absolutely smothered with sauce, making it a perfect match for the drier qualities of good red wine. The same goes for any type of pasta with a red meat sauce. The wine can really help the flavors in the dish come out. Particularly when making a homemade bolognese sauce, and you have control over the flavor of the dish, it's important to pair it with a beverage that best complements the flavor profile you are creating.

Most people like to eat burgers with a soda, but can it go well with red wine?
It depends on what you're eating on your burger. If you're getting a burger from the drive-thru at McDonald's, those burgers aren't made with a complex flavor profile in mind. However, I like eating burgers that have toppings like bacon and avocado and are made with high-quality, juicy beef. The red wine can bring out all the flavors of the meat and other ingredients, and the unique combination of toppings on the burger can help accentuate the flavors of the wine.
Braymar's red wine has a unique flavor profile, including components like vanilla and coffee. Where did that come from?
When you think about the aromas of a wine, you usually hear about fruity or floral aromas, but there are plenty of other flavors you can bring out in wine, depending on the varietal. Our red blend is not too fruity and not too dry, giving it a lovely, smooth quality.
The flavor comes down to the varietal of grape you use to make your wine. Braymar's red blend uses a number of different grapes, but the most important for the flavor profile is probably the one known as the Grenache. Although this grape only makes up a very small percentage of the ingredients of our red blend, it's such a strong grape that its flavor really comes through in the final product. It's a deliciously sweet grape while being strong at the same time, making it a pivotal part of our wine's flavor.
The aging process can also significantly influence the flavor profile of a wine. Since we age our red blend in oak barrels, the wine will absorb some of that oak flavor. Although the oakiness isn't strong in the finished product, it's noticeable enough to be a pleasant addition to the wine's flavor profile.

Why should wine lovers experiment and try new wines rather than just sticking to their favorite varietal or brand?
Many wine drinkers have their favorite varietal of wine, but the great thing about a red blend is that it is agreeable to pretty much any red wine drinker since you can taste hints of several other red wines in the blend. That is why Braymar Wines started with a red blend rather than something like Pinot Noir or Cabernet. You can taste all your favorites, and maybe even find a new favorite.
We brought together all the different varietals of grapes to create a smooth and delicious blend. It's medium-bodied — not too heavy, not too light — allowing it to be a very middle-of-the-road, pleasant wine that will become many people's new favorite.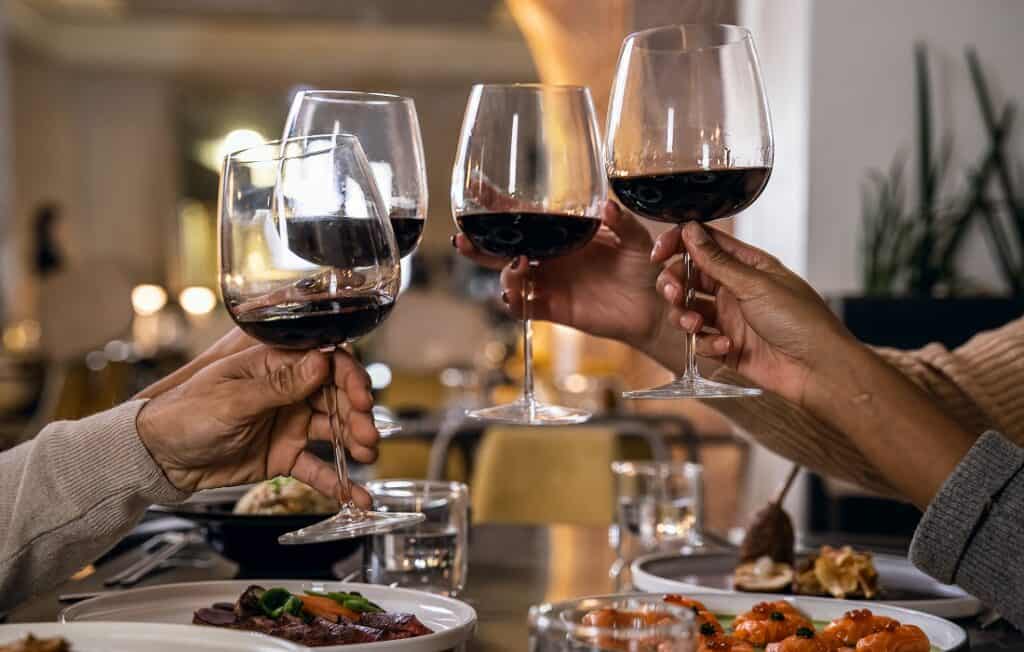 How can you celebrate National Red Wine Day?
The best way to celebrate National Red Wine Day is, of course, by drinking a great glass of red wine! Whatever you're eating on August 28, find a great red wine to pair with it. If you don't know what varietal of wine will pair best with your meal, a nice red blend is always a safe, delicious bet.
If you want to try the red wine blend we offer at Braymar, the easiest way to get it will be through our online store. We currently have partnerships with a few restaurants and stores in the Los Angeles area. For those looking to try Braymar's blend who don't live in California, you can get a bottle shipped right to your door.
BY SEAN BOELMAN