by Pamela Fusco, Founder of ZuluTails 
September is the time when the world gets back to their routines – children go back to school, fall festivities get underway and preparations begin for the upcoming holidays. September is also Responsible Dog Owner's Month and serves as a reminder to dog lovers everywhere about what being a responsible dog owner entails.  It includes caring for the health, safety, and enrichment of your dog (Pet Safety).
The American Kennel Club recommends many ways to help people be responsible dog owners:  exercise, regular vet check-ups, training, socialization, safety, and emergency preparedness.  These are all important because they all contribute to your dog's overall well-being.
Lost pets may be one of the most heartbreaking and stressful experiences for a family. The American Humane Association estimates over 10 million dogs and cats are lost in the US each year and tragically, only 15 percent of dogs and 2 percent of cats in shelters without ID tags or microchips are reunited with their families. To eliminate losing their pets forever, many pet owners opt to get their pets microchipped in case their pet is lost or run away.  However, as technology advances, microchip technology can elicit more risk than benefit.
Such risks associated with the microchip, according to Dogs Naturally Magazine, include tumors, migrating microchips in your pet's body, and no single national microchip registry database which makes scanning difficult or not possible. Microchips can also be defective, unpredictable, or not be found due to scanner error.
If this occurs, it can make it much more difficult for families to be reunited with their lost pets and puts animals at risk of euthanization due to crowded shelters and "empty" microchip results.
There are other alternatives to microchips for pet safety to include ID tags that have the owner's contact information on them or GPS trackers.  Combining the pros of the microchip and eliminating the associated risks is the latest cybersecurity technology, ZuluTails.  ZuluTails has revolutionized the industry creating the first Smart Pet ID that instantly and securely connects you with your pet safety without the use of batteries, charging trackers, or soliciting personal information.
Unlike microchips, ZuluTails offers 24-hour perPETual global on-demand access, granting you the flexibility to update and modify your account information and your pet's information without having to depend on any third parties or call centers.  This eliminates the hassle of changing your pet's microchip information which can take time to update.
Not only does ZuluTails connect owners with their beloved pet safety, it also does so safely and effectively. When we put up lost pet ads, we give away personal information such as our address, phone number and full name. ZuluTails was developed intentionally to keep the pet owner's personal information secure while also returning pets to their loved ones quickly.
We have moved beyond the electronic age and now live in the virtual digital realm. We must covet our personal and private information (PII). Perpetrators, phishing tactics, and automated exploitations are always lurking, taking advantage of situations when we are distracted and motivated by emotion to care for our loved ones.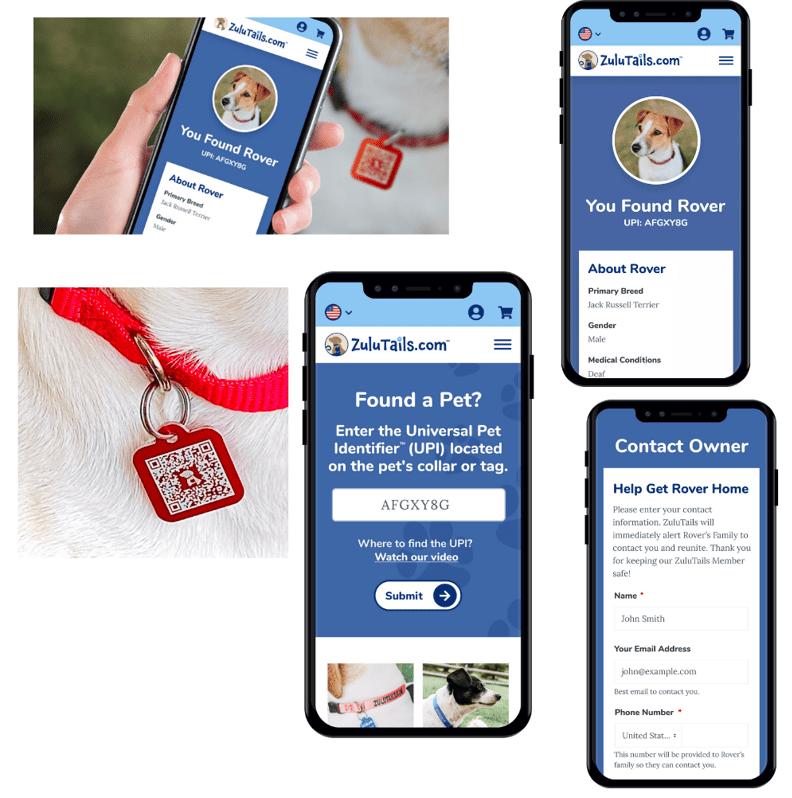 How Does It Work? (Pet Safety )
Each pet receives a unique 7-digit alpha-numeric Universal Pet Identifier (UPI) that links directly to the pet's personal profile (bio). The ZuluTails website address, the pet's UPI and also a unique QR code linked to that pet is conveniently added to the tag to affix to the pet's collar.  ZuluTails also offers collars to their members that come embroidered with the pet's UPI as well as the ZuluTails website address for ease of use by everyone.
With this UPI, ZuluTails offers the ability to communicate with the pet's owner instantly and securely without disclosing the owner's personal information. There is no need to download an app and anyone with a smartphone or device can look up a missing pet via its UPI and connect to the owner at the touch of a button. When you engage with a pet's UPI, not only can you connect with the owner, but you can also see the pet's bio that includes important information about the pet – its name, breed, gender, medical conditions, or behavior triggers. Many ZuluTails users are also using this service to communicate on the go with groomers, pet sitters and veterinarians.
For just $19.99 per year, ZuluTails offers pet safety AND owner security to combat the unpredictability of microchips.  Please visit our website:  Zulutails.com
As the proud Pet-Parent of five rescue dogs and a cat-U.S. Navy veteran and former advisor to the Presidential White House staff, Pamela Fusco has lived and traveled throughout the world with her family and pet safety. Pamela was imminently qualified to create ZuluTails, the newest disruptor in the Pet market. Not to mention her recognition as an internationally renowned Cyber Security Executive and Leader at Digex, Merck, Citigroup, Apollo Group and Splunk.