Does anyone else feel like this past year has flown by? It's already the holiday season, with just a couple more weeks until Christmas, and then it's on to 2022! This year, for the first time in a while, we're finally able to do a little bit more traveling as pandemic restrictions are eased. If you are like me you have been itching to start traveling again, so why not check out some destinations for this Christmas? With the holidays already underway, let's take a look at a few places you need to get to during this Christmas season!
Disney World in Orlando, Florida
Disney World is always a top destination for people whether you have children or not. While the Disneyland theme parks are great, there is nothing quite like the flagship theme park in Orlando, Florida. Christmas time at Disney World is always special, with daily parades, seasonal displays, and holiday-themed memorabilia. It's called the happiest place on Earth for a reason, and Disney World hardly ever disappoints. But this year, there is yet another magical reason to head to the house that Mickey built.
This year marks Disney World's 50th anniversary, and Disney is pulling out all the stops for this one. The pandemic actually provided the company with time to fix and upgrade its parks, so Disney World is in tip-top shape for its 50th birthday. Raid the gift shops for holiday memorabilia with the special 50th-anniversary logo on them, and enjoy the concerts and shows that are being held throughout the day. It is always a magical place to be, but this year, Christmas at Disney World is just a little bit more special.
New York City
Is there anywhere more romantic than New York City during Christmas? Take a snowy stroll through Central Park, take in the sights at Times Square, and get in your holiday shopping on Fifth Avenue. Or maybe you prefer the classic New York Christmas activity: ice skating at Rockefeller Center under the Rockefeller Christmas tree. Whatever your preference is, New York has it all, including taking in the view of the city from the observation deck at the Empire State Building.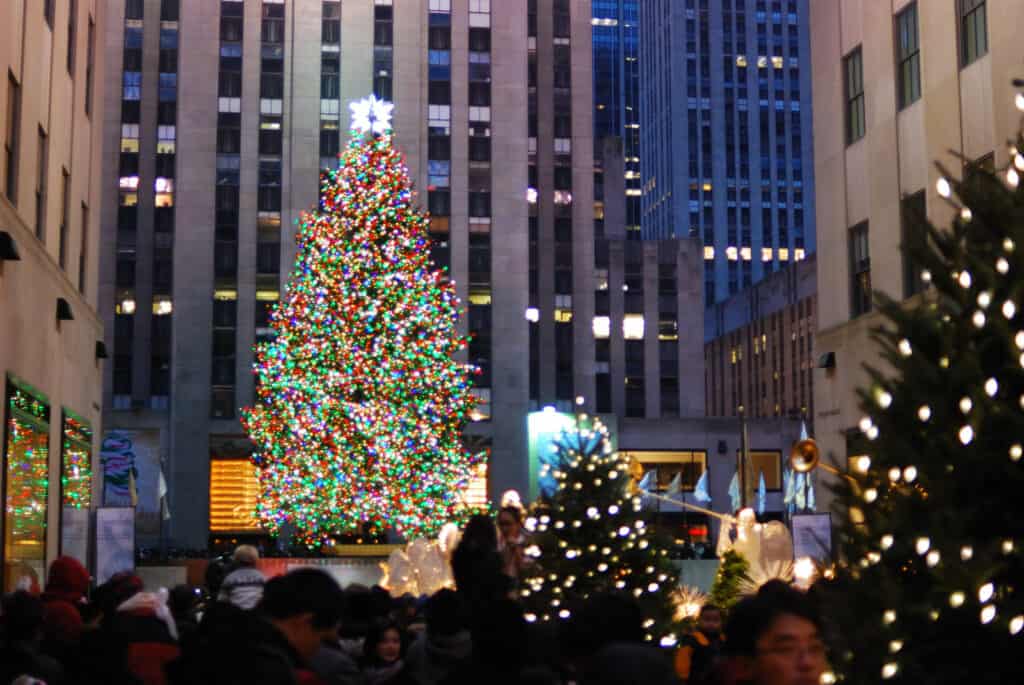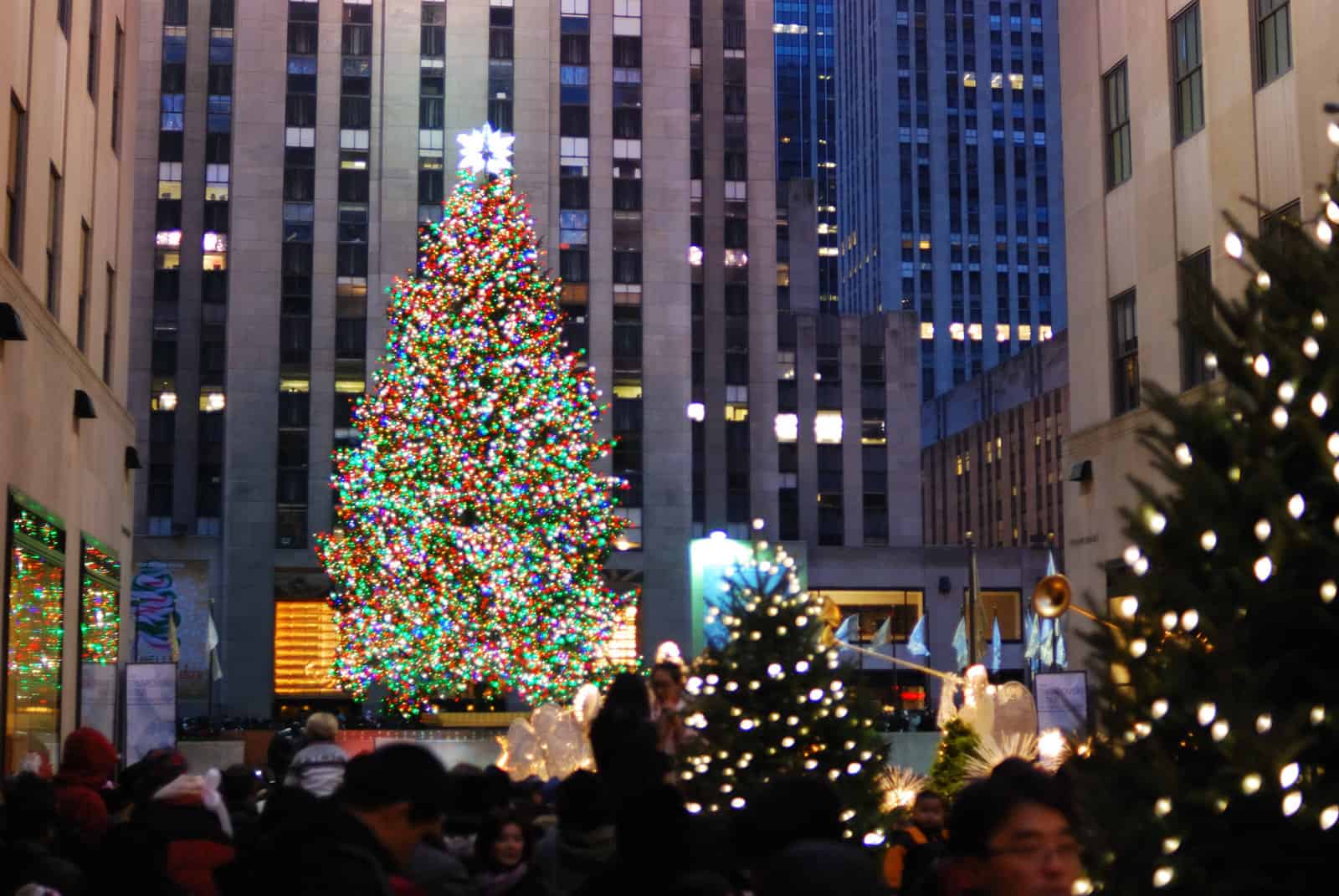 Michigan 
Okay, hear me out here! It may not be New York City, and it certainly isn't Disney World, but this year the state has an extra skip in its step. The beloved University of Michigan Wolverines are headed to the College Football Playoffs after beating Iowa in the Big Ten Championship game. The Wolverines are set to take on the Georgia Bulldogs on New Year's Eve in the Orange Bowl, for the chance to play for the College Football Championship. This has led the entire state to be in an extra festive mood for the holidays. Michigan itself is one of the most wintery states in the country, so for people who are looking for a White Christmas, there are few places that are better at invoking the holiday spirit. 
While you're in Michigan, we definitely recommend checking out some of the state's newest tourist attractions. No, we're not talking about the Motown Museum or the Ford factory tour. Michigan's hottest attractions are its casinos which are located all around the state, including in popular tourist areas like Greektown in Detroit. Even better, you can visit Michigan casinos and appreciate their amazing Christmas decorations but you also have the option to relax at home and play at the online casinos that are legal in this state. A White Christmas is nice, but sometimes you just need to stay in and stay warm, while playing your favorite games at a Michigan online casino! 
Maui, Hawaii
This seems like a no-brainer doesn't it? Maui is one of the most popular tourist destinations in the world, especially during the cold, dark winter months. While places like New York City are great to get into the Christmas spirit, there is also nothing wrong with spending the holidays on a warm sunny beach. But it's not all just snorkeling and suntan lotion when you visit Maui. The island is rich in culture and even though you won't get a white Christmas there, it doesn't mean the locals don't get right into the Christmas Spirit!
While you're in Maui during Christmas, your first stop needs to be at the famous Banyan Tree in Lahaina. The tree is the size of a city block and they are wrapped in tens of thousands of lights every Christmas. We also recommend checking out a Christmas Day Luau, where you can have a traditional Hawaiian feast right on the beach. Finally, there is no better place to enjoy Maui's wildlife and beautiful crystal blue oceans, than at Molokini Crater. This winter, instead of packing your jackets, why not head to Maui where Christmas is a pina colada on a beautiful beach. 
Portland, Oregon
We have taken you to all corners of the country, and it's time to finish off our list in the Pacific Northwest. Portland is one of the quirkiest cities in America and even lives by the slogan 'Keep Portland Weird. Well, Portland is home to some of the best bars and restaurants in the country, with a thriving dive bar scene. Enjoy the Christmas festivities in Downtown Portland, and take advantage of the tax-free shopping to load up on gifts for your loved ones. The massive Christmas tree at Pioneer Square is always great for photos!
Other than that there are tons of fun things to do in Portland. Head to the Woodburn Zoo to see Christmas festivities all around the park. Check out one of Portland's many farmer's markets as well as its super funky holiday night market. Finally, no trip to Portland is complete without stopping in at Powell's Books, which is the world's largest independent bookstore. The flagship location on Burnside takes up an entire city block and is the perfect place to pick up some old favorites for a nice Christmas gift to yourself!