Experienced divers know the world is full of extraordinary wonders just below the surface of the water, an undiscovered world of beauty and remarkable life just waiting to be found. As most of the world is covered with oceans, seas, lakes, and bodies of water, there is no shortage of places to get your diving kicks.
But even with such riches and such variety on hand, it is useful to get a few hints and tips on where to go and what to see. I've compiled a shortlist of some of the very best spots on Earth for experienced scuba divers with the most remarkable diving experiences around.
Great Barrier Reef, Queensland, Australia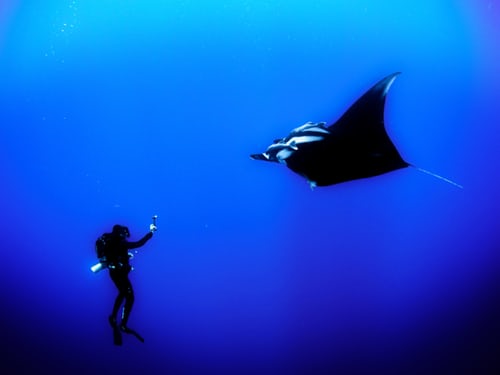 Probably the most famous diving location in the world, and without question the best, the Great Barrier Reef is an unbelievable site for experienced divers. With over 1,400 miles of coral, the reef is home to over 1,500 species of fish, as well as rays, sharks, dolphins and so much more. A truly unique diving spot with endless marvels and out-of-this-world sights to see, it is also worth visiting as soon as possible, as mass coral bleaching means that this wonder of the natural world might not have long to live.
Galapagos Islands
Depart on a Galapagos cruise and unlock a world of natural beauty above and below the waves that is hard to equal anywhere else in the world. The ecosystems and species that call these islands home are mysterious and beautiful, and dives here can include penguins, sea lions, sharks, and an incredible variety of fish life, as well as remarkable underwater geology and rock formations. On non-diving days you can experience the incredible bird and animal life that led to Charles Darwin's Theory of Evolution.
Jardines de la Reina, Cuba
For a very different diving experience, try the Jardines de la Reina in Cuba. This archipelago off the coast of southern Cuba offers one extraordinary, and terrifying diving experience – saltwater crocodiles. Mangroves cover much of the reef, and swimming alongside these vast, prehistoric monsters is one of the most amazing, thrilling and downright unnerving experiences you are ever likely to have. An absolute must for diving daredevils. The archipelago also offers excellent cave diving, as well as regular sightings of silky and reef sharks.
Sea of Cortez, Mexico
Jacques Cousteau described the Sea of Cortez as 'the world's aquarium', and it is not hard to see why. From whale sharks in La Paz, and the remarkable life in the national marine park at Cabo Pulmo, to sea lions and grey whales in Los Cabos, a dive in the Sea of Cortez always delivers the goods. Cabo Pulmo, in particular, is home to the oldest of only three coral reefs in North America and is one of the most successful marine parks in the world. The ecosystem here is a paradise for divers, with whale sharks, hammerhead sharks, dolphins, manta rays, tortoises, and humpback whales sighted almost daily.