Visitors are flocking back to Vegas after the Covid disruption. News3LV reports that 2021 saw 32.2m tourists hit the Strip in 2021 – still a little down on the pre-pandemic peak of 42.5m in 2019, but up massively on 2020's 19m. Sin City markets itself as the entertainment capital of the world. Today it is no longer simply casinos and card rooms, as it is one of the top global destinations for celebrity chefs and music.
That said, casinos do still somewhat dominate Las Vegas. The biggest hotels all have them, and they're where you'll find many of the gastronomic meccas and nightclubs that have reshaped the city's culture over the past couple of decades. Casino gaming remains a big attraction, particularly for American visitors where their own state may not permit the pastime. The Vegas experience, however, can be whatever you want it to be. There's enough to satisfy everyone from folks who seek thrills to those who'd rather chill. Let's take a look.
Outdoors
Let's preface this by noting that between June (average high 102F) and September (96F) outdoor activities should be kept to sipping a drink poolside. For the other nine months of the year, though, Vegas offers a plethora of options. While you wouldn't expect Las Vegas to make our list of 10 cheapest vacation spots in the US , it makes a great base for the Grand Canyon, which is our top pick. If you want to go big, take a chopper tour across the desert to the Canyon and Hoover Dam. Red Rock Canyon offers hiking, mountain biking, and rock climbing less than 20 miles from the Strip. Nearby Henderson is the launch point for desert ATV tours and whitewater rafting tours on the Colorado River.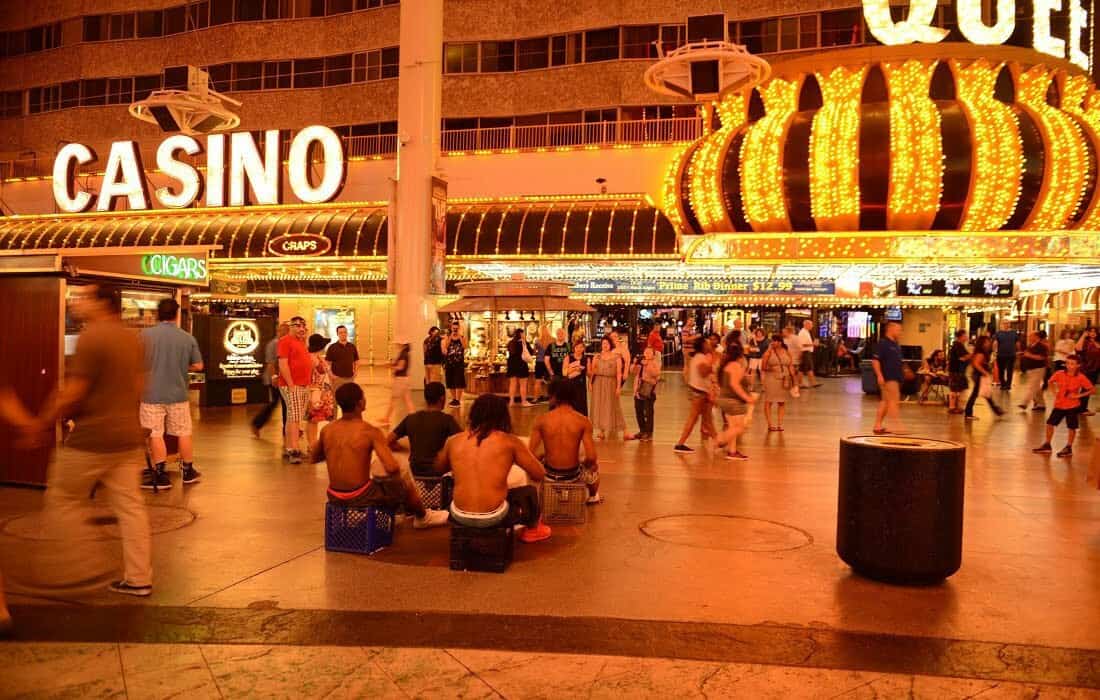 Casinos and poker
Back in the great indoors, most visitors to Vegas will indulge in some form of gaming. For the big blockbusters, you'll find most of them on the Strip. It's easy to have a night of roulette and music as most big acts play in casino hotels – Adele, Rod Stewart, and Sting will be at Caesars Palace this winter while The Scorpions and John Legend can be found at Zappos Theater inside the Planet Hollywood resort. For more low-key affairs, there are also some great Las Vegas poker rooms to visit, which might not have the prestige of a casino, but are well worth your time. If you're tired of tourists, join the locals at Red Rock Resort's poker room in Summerlin. You can also head down Fremont Street for a comparatively relaxed time at the Golden Nugget. Nearby Oak & Ivy in Container Park was ranked the second-best whiskey bar in America by Yelp. There are unique barrel-aged cocktails for celebrating, and happy hour Jameson picklebacks if you've lost your shirt.
Good eats
Sat halfway between the beef farms of Texas and the Pacific coast fisheries and vineyards of California, Nevada has some of the world's best produce on all sides. It is little wonder celebrity chefs have flocked to open spots. Gordon Ramsay has his Hell's Kitchen at the Paris Casino, while Restaurant Guy Savoy serves the most decadent French fare at Caesars Palace. To regain a little virtue in Sin City, hit up Bazaar Meat or é by José Andrés. The humanitarian chef might not be in the kitchen – he's currently helping out in Florida after Hurricane Ian – but keeping his restaurants busy while he's in the field with his World Central Kitchen organization is no sacrifice.