Bowmore 12 Year Old has been produced and distilled on the Scottish isle of Islay since 1779. It is an iconic scotch that is known for its smoky and peaty flavor and is a favorite of many whiskey connoisseurs around the globe.
In this review, I will discuss what makes Bowmore 12 Year Old such a distinctive scotch and will explore the unique attributes that make it a beloved whisky for many.
Table of Contents
Overview of Bowmore 12 Year Old
Bowmore 12 Year Old is an iconic Scotch whisky distilled in Islay, Scotland. It has been a part of the Bowmore portfolio since 1964 and is widely considered to be one of the most popular single malts on the market. This blended whisky is aged for 12 years in premium Spanish ex-Sherry oak and contains a blend of Scotch malt, lowland grain, and some other malts from Islay and the surrounding islands. The result is an exquisite whisky full of flavor nuances that cannot be found anywhere else – making it one of the most sought-after malts on the planet.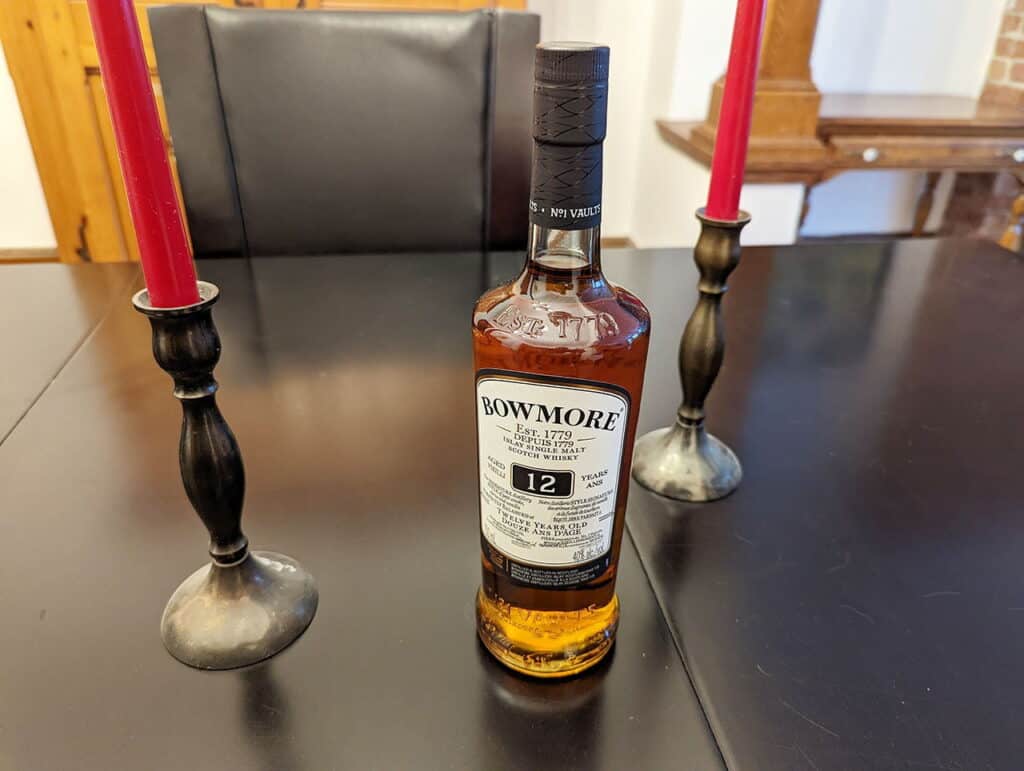 The distinctive flavor profile of Bowmore 12 Year starts out with subtle smoky notes on the nose with hints of brine, peat, and dark fruits. Oaky sweet spices mix together with a hint of heather, leading to a smooth finish. There are also hints of sweet sherry announcing themselves as you take another sip. The complexity present here makes this whisky ideal for any occasion (or just when you want to relax).
Bowmore 12 Year stands out as something truly special – not only as an exceptional expression from one of Scotland's greatest distillers but also as an accessible dram for those looking to explore their first 'proper' bottle of Scotch whiskey. Its quality makes it desirable for collectors or connoisseurs. Yet, its reasonable price point makes it ideal for someone new to single malt whiskies and just starting out their journey into Scotch appreciation!
History of Bowmore Distillery
Bowmore Distillery is the oldest distillery on the Isle of Islay and dates back to 1779. This Islay single malt Scotch whisky is the first legal distillery in Islay and is famed for its rich, complex smoky flavors. Bowmore Distillery has played a part in over two hundred years of whisky-making history.
Bowmore itself was founded by David Simson, who bought the land from Sir James Stirling in 1779. The waters of Laggan River, which Bowmore has been surrounded by since its creation, are at the heart of the whisky's flavor. These soft waters take their time meandering down through the peatlands towards Lagavulin Bay, where they eventually meet the sea. The peatiness adds notes of greenery and complexity to Bowmore's Scotch whisky – imbuing it with a unique personality that has been revered for centuries.
Bowmore Distillery remains much unchanged today since it was first built over two hundred years ago – still containing many of its original features from when it opened as an illicit still all those years ago! The distinctive white paint job found on most Bowmore buildings sought to spread brightness amongst a predominantly grey landscape. To this day, this beautiful whitewash still stands in contrast to the often grey weather experienced on Islay's West Coast!
Tasting Notes
Bowmore 12 Year Old is one of the most iconic and celebrated single-malt Scotch whiskies in the world. It is made on the Isle of Islay, Scotland – the birthplace of the Scotch whisky industry – and its distillery is the oldest on the island, having been established in 1779.
In this review, I will share with you my tasting notes for this exquisite single malt, as well as offer some personal anecdotes and insights into why Bowmore 12 Year Old is such a beloved whisky.
Appearance
The Bowmore 12 year old scotch I am reviewing today has a medium to a deep dark golden hue. Swirling the glass reveals thin legs that slowly travel down the side of the glass. It's inviting, and I found myself looking forward to tasting this fine single-malt Scotch whisky.
The nose emanating from the glass is subtle yet complex – aromas of dried fruits, spices, and oak wood blend together with peat smoke in a cohesive and balanced way. There's no one aroma that stands out, but they all work together nicely. The scotch has a surprisingly sweet smell despite its deep golden color suggesting a much more robust flavor profile.
Tasting Bowmore 12 year old reveals peppery notes on the tongue with hints of sweet caramel, lemon zest, and light smokiness playing in the background. The smoke is more delicate than expected, given its peaty nose, and this works well because it doesn't overpower the other flavors in the whisky. Its bitterness adds depth to an otherwise richly textured malt finish – lingering on my palate even after swallowing it down!
Aroma
The Bowmore 12-year-old whisky has a distinct aroma that will stay with you long after taking a sip. It has been consistently described as smoky, sweet, and a bit salty. Upon the first sniff, strong hints of intensified oak will jump out at you, along with sensations of dark chocolate and licorice intertwined amongst the smokiness.
There are also undertones of citrus fruits and honey that round out the aromatics of this scotch, giving it an inviting depth and complexity. This whisky is best described as a complex blend that captures the essence of Islay's countryside in every sip.
Taste
The Scotch from Bowmore's 12-year-old expression is deep, complex, and sophisticated. On the nose, you can pick up distinct aromas of smoke, vanilla, toffee, and leather. On the palate, it has a very good initial sweetness with notes of citrus, honey, and lightly toasted oak. The finish is spicy with hints of pepper and just a touch of peat. All in all, this is a great example of Islay whisky, rich in flavor with an exquisite balance between the smokey elements and sweetness.
Finish
The finish of the Bowmore 12 Year Old is remarkable and considerable. It begins with light and slightly smoky flavors leading to a sweet caramel taste that's both smooth and lingering. It leaves a good amount of warmth spreading from your throat, fading into a gentle oak flavor that continues to build throughout the length of time between drinks.
Its finish is unbelievable and definitely on par with the best single malts in this price range. I would go as far as to say it might even rival some of the world's premier blended Scotches like Chivas Regal or Johnnie Walker Blue Label in its classiness.
Overall, the Bowmore 12 Year Old truly stands out with its balance of smoky, Oaky notes combined with sweet and delicate caramel undertones.
Food Pairings
Bowmore 12 Year Old Scotch is an iconic whisky from Islay's oldest distillery. An incredibly smooth, peaty whisky, it's perfect for sipping on its own or as part of a cocktail. However, it should also be paired with food to bring out its full flavor.
Here, we'll explore some of the best food pairings for Bowmore 12. From sweet and savory dishes to rich desserts, there are so many possibilities when it comes to pairing Bowmore 12 with food.
Smoked Salmon
Smoked salmon is an ideal accompaniment from the sea that pairs perfectly with Bowmore 12 Year Old. A few pieces of perfectly smoked salmon is a great appetizer for any meal, and its light smokiness compliments the terroir found in Bowmore's Island whisky. When selecting smoked salmon, it's important to look for wild-caught salmon or higher-quality farmed fish. If you are preparing cold-smoked salmon, make sure that the flesh is pearly pink and firm to the touch; avoid any yellow or discolored pieces.
The combination of fresh smoked salmon and Bowmore 12 Year Old provides a harmonious experience as both elements bring unique tastes to the table. Freshness and texture play a big role in this pair, so be sure to select high-quality components and enjoy them together!
You can also spruce up your pairing by adding some finely chopped shallots or parsley for an added layer of flavor – these classic ingredients bring out brightness and complexity to the whisky and enhance its smoky character.
Grilled Steak
When it comes to whiskies and steak, Bowmore 12 has a particularly great pairing. The distillers recommend using a well-marbled cut of steak, such as ribeye or sirloin, with a heavy dose of pungent black pepper. Grilling the steak on a charcoal grill will further bring out the smoky notes in both the whisky and the meat. This is an incredibly satisfying combination that allows you to enjoy two Islay staples in tandem.
It's even more delicious if you brush your steak with butter just before removing it from the heat – this will help amplify Bowmore 12's Sherried flavors. Finally, you can't forget about potatoes: mashed potatoes, boiled potatoes, or oven-baked potato wedges pair beautifully alongside this whisky and steak combination.
Roasted Vegetables
If you're looking for a delicious side dish to complement your Bowmore 12-year-old, you can't go wrong with roasted vegetables. Roasting vegetables unlocks their full flavor and creates unique layers of sweetness and depth. Start with fresh vegetables, like asparagus spears, bell peppers, carrot chunks, or baby potatoes. Toss them carefully in olive oil, salt, and whatever herbs or spices you choose. Place the vegetables on a lined baking sheet in the upper third of your preheated oven and roast for 10-15 minutes until golden brown.
Serving roasted vegetables alongside your Bowmore 12-year-old gives you an opportunity to explore some of its more subtle notes while adding a finishing touch to the meal. For lighter scotches like Bowmore 12 years, pair them with light fares such as roasted root veggies, lightly flavored greens, or a light salad made with seasonal fruits like apples and pears. For richer whiskies such as this one, try pairing it with roasted butternut squash or mushrooms for a savory bite that will help bring out the whisky's complex flavors. Enjoy!
Dark Chocolate
Dark chocolate pairs perfectly with Bowmore 12 Year Old. This whiskey is robust and smoky, with subtle undertones of sweet fruits and honey. The complex flavor profile of Bowmore 12 is complemented by dark chocolate's richness and depth of flavor. Dark chocolate also enhances the aromatic smokiness of the whiskey, making it a perfect food pairing for whisky lovers looking for an added layer of complexity.
When pairing Bowmore 12 with dark chocolate, it's important to note that each experience will be unique based on the type of dark chocolate used. Choose a single-origin bar or one that contains a blend of unique ingredients to create an individually tailored experience.
One key tip when selecting the right type of dark chocolate is to try to match its flavor intensity with that of Bowmore 12 Year Old – choose one with a cocoa content somewhere between 70% – 85% if you're looking for an even match in terms of taste and strength. A key factor in gaining the most out of your experience when combining these two flavors is having proper portion control as well; 1 ounce (28 grams) per serving should suffice in order to appreciate all nuances from both components equally.
My Experience
It was the smell that gave it away. When I first laid eyes on the Bowmore 12 Year Old Scotch from Islay's oldest distillery, I knew I was in for a treat. I had heard about the Bowmore distillery from a friend and was excited to try one of their most famous products. After uncorking the bottle and taking in the aroma, I was left with no doubts: this was a whisky that was sure to deliver.
In the following paragraphs, I will share an in-depth review of the Bowmore 12 Year Old Scotch and provide my personal experience and thoughts.
First Impressions
As a novice whisky drinker, I had done some research and heard that Bowmore 12 Year Old single malt Scotch whisky is an iconic whisky. This scotch is made in Islay, Scotland, at the oldest distillery on the island by the same name. It is made from malted barley dried in an open-air kiln over a peat fire. The aging process occurs primarily in Oloroso sherry casks and ex-bourbon barrels.
When I first opened the bottle of Bowmore 12 Year Old, a wave of peaty smoke and gentle briny notes overwhelmed my senses right away. The nose also held hints of honey, sweet cooked fruit, and citrus aromas, including orange peel and lemons. There were also some light floral notes along with subtle touches of pepper, nutmeg, and oak woodiness. As promised by those who recommended this scotch to me, it was very balanced — definitely smoky yet surprisingly mellow in its sweetness and aroma.
The spirit was a medium amber/golden color, which hinted at its complexity without trying too hard. All things considered, for such an affordable single malt scotch whisky — under £40 (45 USD) — this was great value for money!
Anecdotes
As a lover of Scotch whisky, I have tasted many great whiskeys over the years, but one of my favorite experiences was trying Bowmore 12 Year Old Scotch. This whisky is made at Bowmore Distillery in Islay, Scotland, making it one of the oldest distilleries in the country. It's well-known for its peaty flavor, and it's a popular choice among whisky drinkers with more adventurous palates.
I was first introduced to Bowmore 12 Year Old by a friend who brought it along for a drinks get-together. I was apprehensive at first because I'd never heard of Bowmore before and didn't know what to expect from the scotch. However, after trying it out and discovering its unique smoky flavor and dryness that linger on the palate even afterward, it quickly became one of my favorites.
The unique taste of this whisky reminds me of long days spent fishing in Scotland's seaside village or hiking in misty forests surrounded by bonfires on campgrounds. Every sip takes me back to past experiences and gives me a chance to enjoy them all over again—in part thanks to Bowmore 12 Year Old Scotch!
Final Thoughts
After my experience tasting this iconic Scotch, I am now a devoted fan of Bowmore 12 Year Old. While the whiskey is definitely a bit more expensive than basic blends, the unique taste makes it worthwhile. The subtle peaty and smoky notes linger and add complexity to the flavor profile, creating an entirely different atmosphere and experience. This whisky is by far one of my favorites and has definitely become a staple when entertaining friends.
In conclusion, Bowmore 12 Year Old is an excellent whisky choice for those seeking a premium Islay single malt expression from one of Scotland's oldest distilleries. Sit back with a glass of this epic whisky and enjoy its delicate balance of peat smoke, black cherry sweetness, and coastal influence for a truly transcendent drinking pleasure that can't be found in any other Scotch whisky!
Conclusion
The Bowmore 12 Year Old is an excellent scotch, both in terms of its flavor and its history. It's a great whisky to have if you're a fan of Islay-style whiskies, and it has a surprisingly smooth finish.
The fact that Bowmore 12 Year Old has been in production since 1779 makes it clear that it has stood the test of time and proves that it will be enjoyed by whisky connoisseurs for years to come.
Summary of Bowmore 12 Year Old
Bowmore 12 Year Old is an iconic whisky from Islay's oldest distillery. It has a complex flavor profile with subtle smoky overtones, making it an excellent addition to any whisky lover's collection. On the nose, you can detect notes of honey and honeysuckle, as well as an aroma of sweet peat smoke. The palate is quite smooth, with hints of fruitiness, licorice, and a pleasant finish of smoked oak. Overall, this delightful Scotch whisky is a must-try for any fan of spirits. It is luxurious without being overstated and adds a touch of elegance to any special occasion.
If you are looking for the perfect addition to your liquor cabinet or to make your next cocktail or special occasion even more memorable, Bowmore 12 Year Old should be on your shortlist. This timeless favorite will continue to impress your guests and make them come back for more time and time again!
Recommendations
Based on my experience with the Bowmore 12 Year Old, I highly recommend this iconic whisky. It's a classic that should be savored and enjoyed by everyone looking to add some depth and complexity to their whisky-drinking experiences. Whether you are a whisky enthusiast or a beginner, the Bowmore 12 Year Old can provide an unforgettable taste that is sure to linger in your memory for years to come.
The classic smoky taste always shines through in every sip of this award-winning whisky due to its Islay air-dried peat moss used in the malting process. The lightly salted finish refreshes your palate and leaves you longing for just one more sip! Serve either neat or add some water for those of us who like our scotch less potent.
Experience all the layers of the ultimate classic whisky when you purchase the Bowmore 12 Year Old; your taste buds won't regret it! Discussing this amazing spirit and sharing it with friends will make any gathering an enjoyable one, especially during whisk(e)y tastings!
Frequently Asked Questions
What is Bowmore 12 year old?
Bowmore 12 year old is a single malt scotch whisky from Islay's oldest distillery. It is a full-bodied, complex whisky with a peaty aroma and smoky, citrusy flavor.
What is the flavor profile of Bowmore 12 year old?
Bowmore 12 year old has a full-bodied, complex flavor profile with a smoky, peaty aroma, notes of citrus and oak, and a hint of sweetness.
What makes Bowmore 12 year old unique?
Bowmore 12 year old is unique in its flavor profile, which is a combination of smoky, peaty notes, citrus, and oak. It is also unique in that it is aged in oak casks for 12 years, giving it a rich, complex flavor that is unique to Bowmore 12 year old.