The Middle East has always been a popular travel destination for travelers around the world, yet in recent years some countries have become more popular than others. While certain parts of the region are experiencing civil war and international conflicts, such as Israel or Syria, other countries such as Jordan have managed to maintain peace, safety, and a welcoming culture. For these and many other reasons, Jordan is one of the best exotic destinations for every man who's seeking adventure and action, but also wants to enjoy the finer things in life.
Between the numerous cultural wonders scattered across the map, the bustling cities and the crystal-clear waters of the Red Sea, there's no shortage of adventure and excitement in this gem of the Middle East. Here are the most important tips you need to know in order to organize yourself a trip of a lifetime in Jordan, whether you're there for work, pleasure, or both.
Prepare for the weather
So, Jordan is in the Middle East, and this region is thought to be pretty dry and warm all year long, right? Well, it all depends on the altitude of certain areas, which is typically what makes Jordanian weather unusual and quite counterintuitive. Jordan is a year-round tourist destination, and of course, it boasts a warm climate during the day, while the deserts and the coastlines can get scorching hot. However, once you move into the cities, and especially as you're visiting the capital of Amman or one of the seven world wonders, Petra, you will notice a distinctly different climate.
This is because most of the urban environments in Jordan are situated at relatively high altitudes. Amman sits at a comfortable 850m and Petra at around 1100m above sea level. This means that, yes, you should pack light clothes, but you have to bring layers. This is especially important at night, because nights in Jordan can get very, very cold. Yes, even in summer. If you plan to venture down to the coast and the city of Aqaba (which you should), keep in mind that the temperatures can soar to the extreme during summer so take every precaution.
Adhere to the local customs and dress code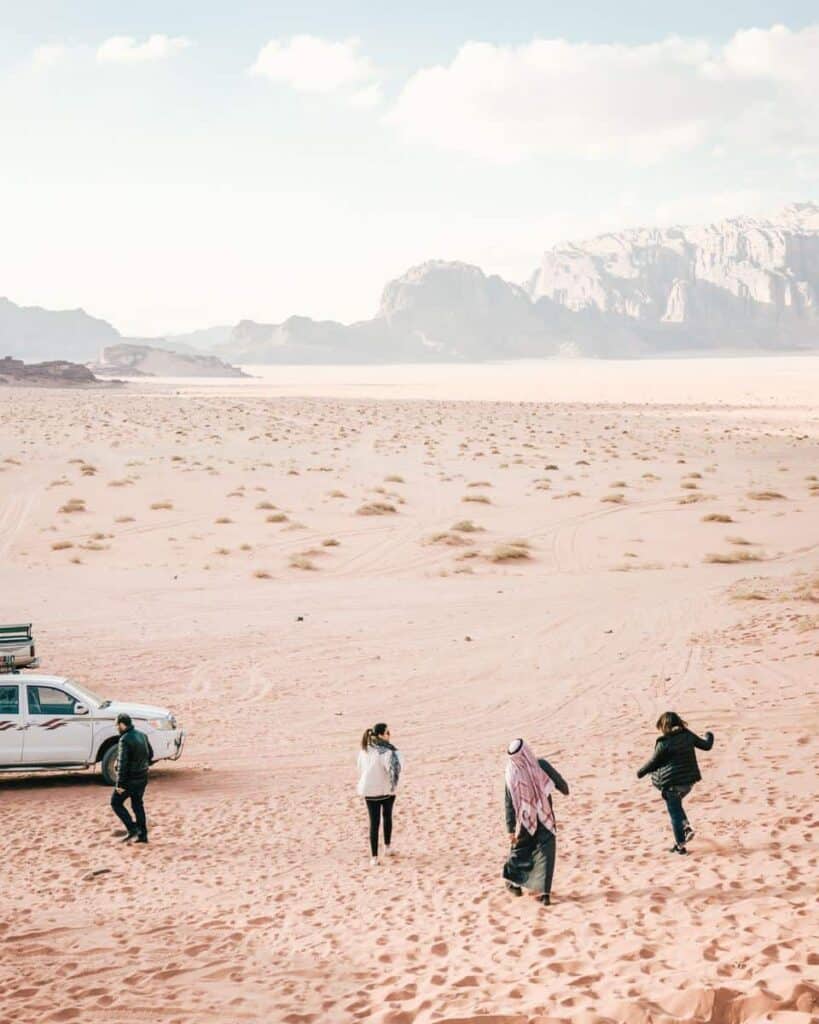 Whether you're traveling alone or if you're bringing your spouse with you, it's important that you're aware of the local customs, codes of conduct, and that you know which clothing options are acceptable. Yes, this goes for men as well. Even though Jordan is still a patriarchal environment, men should also be mindful of the way they dress, especially when visiting historic, cultural, and religious landmarks.
This doesn't mean that you need to dress conservatively, or that your wife needs to wear a hijab because luckily Jordan is a pretty liberal country when it comes to everyday attire. So, stick to your jeans and shirt, but make sure that your legs and chest are covered when entering more conservative regions. Women should wear loose-fitting clothes that cover their arms, torso, and legs.
Immerse yourself in the digital nomad culture
Many people nowadays travel to the Middle East in search of work, especially to those wealthy regions such as Dubai or Abu Dhabi, but Jordan is particularly interesting and appealing for its digital nomad culture. This is a country where you can work seamlessly from the comfort of your laptop, and now that fast fiber optics in Jordan have become commonplace, you will be able to find reliable internet whether you're working form a café, a designated coworking space in the city center, or from your apartment. But a stable internet connection is just a part of Jordan's nomad-friendly culture.
It's also important to know that Amman, the capital, has become one of the region's top business hubs that attracts business leaders from all over the world, which creates some truly unique networking opportunities if you're looking to connect with partners and potential clients. You can also feel free to bring your best gadgets with you on your trip, because unlike some of its neighboring countries, Jordan is a pretty safe and tranquil place.
Sample the finest dishes in the land
When a long day of being a digital nomad is finally over, you'll want to sit back and relax at a traditional restaurant in a nice little part of town and sample some of Jordan's finest specialties. Now, keep one thing in mind, vegetarians and vegans might have a difficult time finding eateries that serve dishes that don't contain animal products or byproducts such as dairy or eggs, so you will need to do some research beforehand if you're not an omnivore.
For everyone else, get ready to taste some culinary masterpieces. The two most iconic dishes you should be hunting for are Mansaf and Zarb. The former is Jordan's most popular rice-based dish served with lamb and fermented yogurt, and of course, various exotic spices to give it a unique kick. The latter is a dish that goes through a special preparation process, as the meat (chicken or lamb) is lowered into an underground oven where it slowly cooks and marinates for hours on end. The final product is tender, juicy meat that falls off the bone all on its own – a true slice of heaven for all meat-eaters.
Bathe in the clearest of waters
We mentioned earlier that Jordan has a coastline, and while it's not a lengthy one, it's still one of the most pristine coastlines in the world. To the south of the country, you will find the coastal town of Aqaba. This is the base of operations for all travelers looking to bathe and swim in the crystal-clear waters of the Red Sea. But beyond the prospect of lazing about all day, you can also partake in some adventure sports such as windsurfing, kayaking, snorkeling and diving, and you can even take a guided tour of the sea floor if you want to meet and fraternize with the underwater flora and fauna.
Visit some cultural landmarks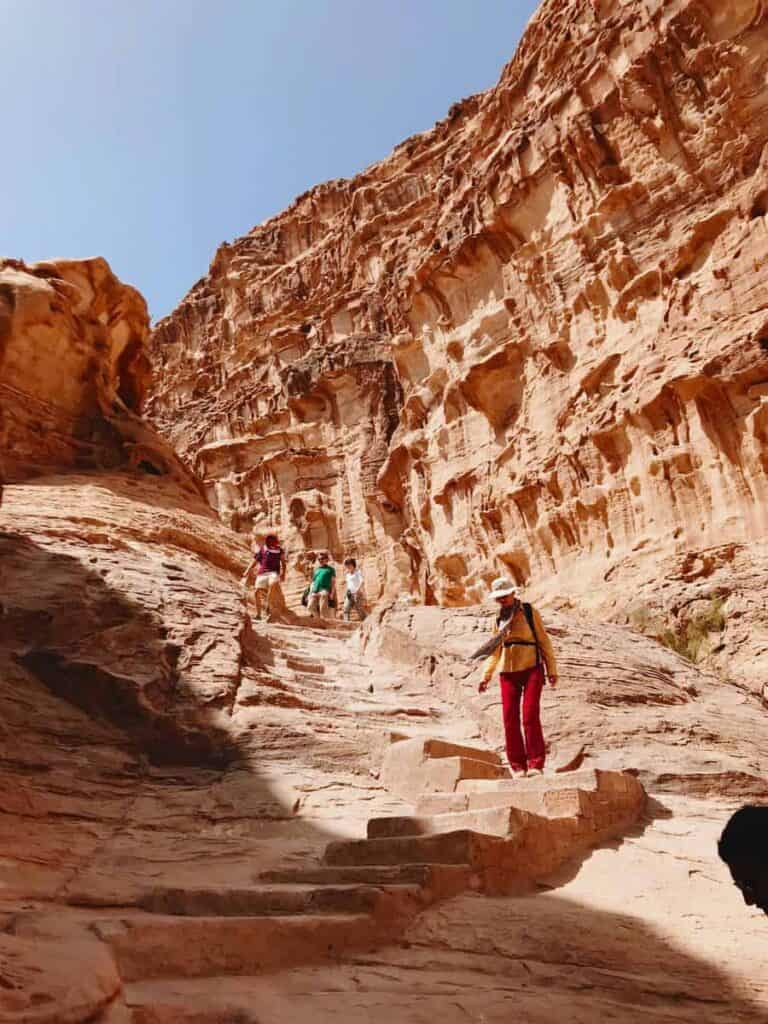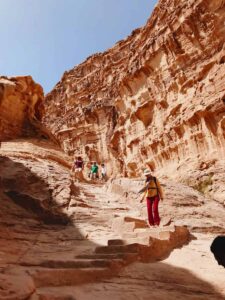 The Red Sea might boast captivating beauty, but so does the Jordanian desert, as well as its numerous historic and cultural landmarks scattered throughout the country. Jordan is home to the famous Wadi Rum desert, a place where you can visit the movie sets of the famed movie Lawrence of Arabia, for example. That said, you can also venture deeper into the desert and take a guided tour of the Bedouin settlements, and immerse yourself in their culture.
As you're exploring the map, be sure to visit the famous city of Petra, one of the seven wonders of the world. Being a religious country, many of Jordan's regions have been considered as sacred grounds by the Jews, Muslims, and Christians throughout the centuries, so be sure to visit the religious landmarks such as the St George Church in Madaba, and the tombs of the Prophet Muhammad's companions in Mu'tah.
Learn some local words and phrases
And of course, it's always a good idea to arm yourself with some of the local words and phrases that will make getting around a bit easier. When you're exploring the cities, you will have no problem conversing in English, but as you start to navigate the more rural regions, you might need to use some of the common phrases – which will undoubtedly delight the locals in the process.
Parting words
Jordan is an exciting place to be, no matter if you're a history buff, a foodie traveler, or if you're a digital nomad looking for a place to work while exploring new cultures. Keep these tips in mind when organizing your trip to Jordan and you're bound to have the time of your life.
So what are you waiting for? Include Jordan to your list of best Asia destinations now!