A designer man cave: Ultimate design ideas for your man cave
A family man has many duties and obligations that he absolves with energy and resolve. At the end of a long day, after the kids are in bed, sometimes he feels the need to retreat to his own sanctuary, a space that doesn't belong to everybody else as well but that is truly his own.
The man cave has been sometimes derided as cliché, the space where men sit together to play poker, watch sports on TV, drink beer and eat take away pizza. Many commercials, often airing during the Super Bowl or at major sporting events reinforce this image. The design of this man cave is of a cement basement, badly decorated with some posters or left unfinished.
The reality of a man cave is more complex than that, it is a sanctuary where men, unlike in the rest of the house, don't have to compromise or the way it looks or feels and has many functions. For some it's a place to tinker, where to pursue a hobby, holding items that don't necessarily belong in the rest of the house.
Men understand that their hobbies, so important for their well being as we cannot live a life devoid of interests besides work and family, don't necessary fit with the décor and the hustle and bustle of a family household, so they move them to a space dedicated to them, where they are not a burden and where they can truly unwind.
Where it comes to the décor, much has changed in the recent years. The modern man has evolved from those trite clichés that Budweiser commercials try to reinforce and wants a space able to reflect his own style. This can take many different forms. For some man, a man cave should be a clear reflection of their sophistication, with classy mahogany furniture and an area where to drink fine bourbon and smoke a cigar in the company of a few trusted friends.
As the 70s visionary designs and aesthetics are coming back into fashion, we see more and more spaces decorated with vintage design object and décor. Those space age designs are often aided by a fitting wallpaper, as those decades where a defining moment for this time of wall décor.
There are those who seek in their man cave a space to retreat in their childhood fantasies, decorating their walls with classic Walt Disney motives and fitting the area with miniatures, collection pieces and computer games. As today's men grew up when arcades were all the rage, it is not uncommon to see old arcade games like Space Invaders or Pac Man, refitted and placed in these basements with the dual functionality of decoration pieces and toys to play with and reminisce the times gone by.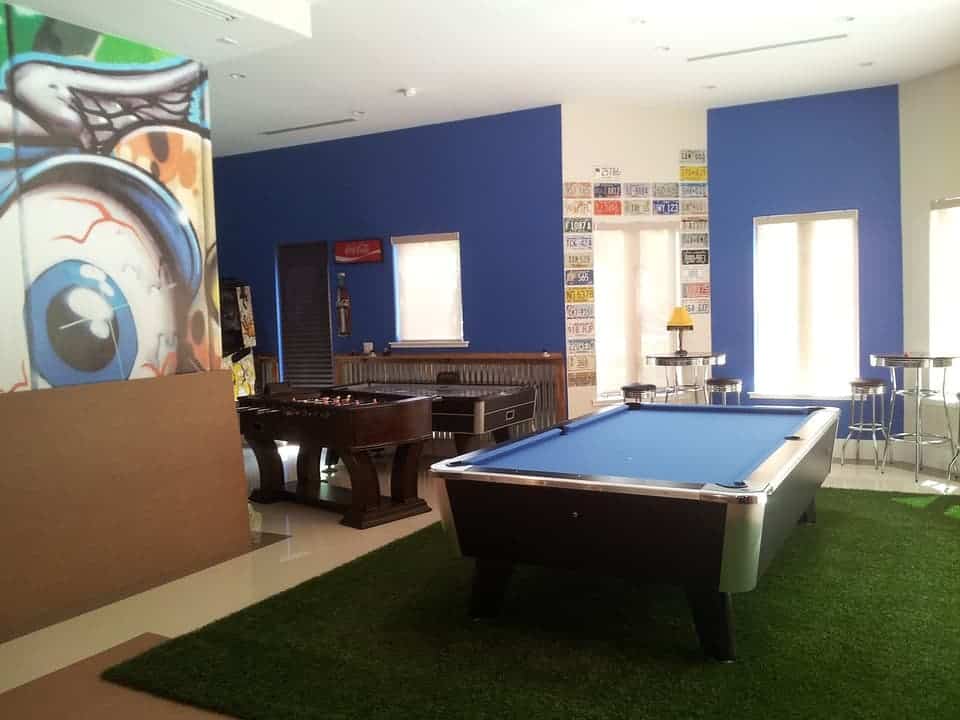 These are just a few examples of contemporary man caves, there are many more out in the wild, but they are share a common element: they tend to have a theme and a style that is clearly defined. The best way to achieve such goal, one that is often underestimated, is to decorate the man cave's wall accordingly. Online wallpaper retailers, such as Wallpaper from the 70s offer a vast range of wall décor that can fit almost any type of style. Clearly defined filters can help you choose a wallpaper that can perfectly complement your style choice and bring all those elements that you want to fit in your own man cave together.
If you are about to set up your man cave, our suggestion is to first define what purpose you can imagine, then decide what should be in there and what image you seek to project. Once this is clear, choose a wallpaper that complements these criteria. Remember, nowadays you are not necessarily expected to decorate all four walls with wallpaper. Often a feature wall is enough to bring the look you seek together. Once that decision is made, recruit a friend to help you out so that you can spend a fun weekend wallpapering together. Decorating you space together with a friend, sharing laughs and a few drinks, it's the best way to get started!