First-Time RVersWide open spaces, and the freedom to travel whenever or wherever you want. It's a classic dream many people share around the world. It's no wonder. There's something extremely romantic about touring the country at one's own pace.  Furthermore, RVing poses a lot of conveniences such as savings on lodging, the ability to take your beloved pets on a trip, or even avoiding unsavory restroom stops.
While RVing is a grand way to travel, it can also kick up some challenges – especially if you're new to the RV scene. With this in mind, here are some helpful tips for first-time RVers that will come in handy for your first adventure in your home on wheels.
As with any type of travel, sometimes things go wrong.  But when things go haywire on the road, it could be a lot more hazardous than a case of missing luggage while taking an airline trip.  That's why you should invest in a reliable RV generator. These generators are specially designed to power appliances in your RV as well as keep the lights on and charge the RV's house batteries. Buying the right RV generator can also be a life-saver as a backup emergency power source.
Use Caution With Waste Disposal
If your RV has a toilet, you're going to have to dump that waste (also known as black water) at some juncture on your trip.  Whatever you do, make sure the dump valves are closed.  As a first-timer, you might not fully realize the gravity of this suggestion. But trust us, be sure those latches are closed when you go to connect the sewer hose in order to dump your waste in the holding tanks. This will keep you from getting into a stinky situation by avoiding waste spilling on you. Yuck!
Get Leveled
RVs need to be level in order for certain systems to work properly.  For instance, an RV fridge won't work if it isn't level which could mean spoiled food or a broken refrigerator down the line.  You might also experience wonky plumbing issues or false readings in your tank sensors in an uneven First-Time RVers. Therefore, you should use leveling blocks to even out your RV.  You can utilize a bubble level to confirm when your RV is properly aligned.
Be Prepared
We realize this is an obvious tip and it's also a blanket statement because your needs will differ from other RVers.  However, all RVs should be equipped with items that are essential in case of emergencies.  Some of these prep items include A first aid kit, fire extinguisher, tire changing equipment, batteries and a tool kit.
You might also want to think of other precautionary items to store in your RV such as extra fuses, a tire pressure gauge, and a roadside safety kit. If you travel with pets, pack a pet first aid kit too.  You should also make sure your RV is equipped with standard alarms such as smoke alarms and CO2 detectors with fresh batteries installed.
Follow the Rule of Three
If you're new to RVing, you might not be aware of the rule of three known and followed by many veteran road warriors.  It's more of a helpful guideline than a rule and easily remembered by the "three" in each tenet.  Experienced RVers have learned that abiding by three guidelines can lead to a far more pleasurable RV outing.  The 3/3/3's are: Try not to drive over 300 miles a day. Arrive at your destination no later than 3:00 pm. Lastly, stay at your destination for at least three days.
While you don't have to follow these guidelines, they are good to adhere to if you want to reap the best from your trip.  Why? Because driving for too long can be exhausting.  Most seasoned First-Time RVers know that arriving at a destination before nightfall can be extremely inconvenient and even dangerous (hence, arrive by 3 pm).  Finally, the "stay three days" rule is to ensure that you give a location a fair shake and explore all the hidden treasures it has to offer.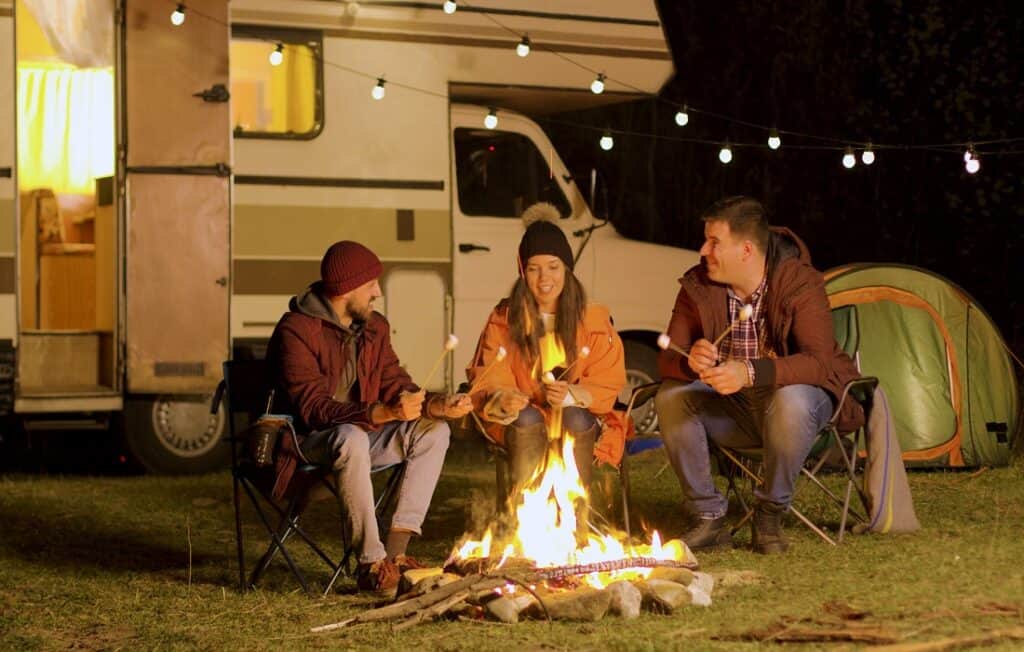 Make Friends and Have Fun
As a first-time RVer, you're joining the ranks of over 11 million RV owners in the US alone.  What's more, RVers tend to be a tight-knit group and are typically very generous in helping out new timers.  So, while you're enjoying the great open road, try to make friends, and don't be afraid to ask questions if you get stumped along the way. Ultimately, RVing should be an amazing way to relax, travel, and have fun.  We hope these tips help you have a thrilling maiden voyage, and get to your first destination safely.