Being in a long-distance relationship comes with a set of unique challenges. Celebrating anniversaries may not be the biggest one, but being apart on that special day can be disheartening, as it's an occasion that most people associate with intimacy and spending time with each other. These may be hard to achieve if your better half lives hundreds of miles away.
Luckily, there's no need to feel down if your anniversary is coming up and you won't be able to spend that day in the arms of the person you love the most. You can be in two different cities or countries and still have a wonderful time celebrating your love and the time you spent together.
Instead of dwelling on the negative, try to look at the positive. For instance, you can organize a romantic date on a video chat or write your partner a long love letter. You can even make an anniversary video to impress your loved ones.
Need more ideas? Keep reading the article for more LDR inspiration!
Exchange Gifts
If gift-giving is your love language, you can celebrate your anniversary by encouraging your partner to exchange special gifts. Flowers, sweets, or jewelry are always a good choice, but if you want to opt for something more original, the possibilities are virtually endless.
For instance, personalized gifts such as an anniversary star map showing the stars' alignment on the day you met in the chosen location can be a really touching present. You can also gather your favorite couple's photos and make a collage or put together a photo album. "Steamy" gifts, such as sex toys or full-size sex dolls, can also be an excellent surprise, provided your partner enjoys such ideas.
Of course, shipping can get pretty expensive if your loved one lives on the other side of the world but don't worry — there are plenty of things that don't require to be packed in a box. If your partner is into nature, you can adopt a shark in their name or book an excursion for them. Just make sure to find one in their location, not yours!
Set Up a Virtual Date
Sometimes, going on a date is all you wish for in a long-distance relationship. However, when it's not possible on your anniversary, you can always utilize the power of modern technology and organize a virtual date using Zoom, Skype, or FaceTime.
To ensure everything goes smoothly, let your partner know about the plan well ahead, and don't surprise them with a video call out of the blue. Of course, that's not to say they will certainly forget about your anniversary, but it's simply better to always schedule such events. Once the date comes, dress up nicely, turn off any distractions, and focus on the time you have with your partner.
If it's a dinner date, you both can cook your favorite meal beforehand or order some takeout. Eat, enjoy each other's company, talk about your plans for the future, and show your heartthrob how much they mean to you despite the distance.
Send a Love Letter
In today's day and age, most people don't write letters anymore, so it can make this way of celebrating a long-distance relationship anniversary even more special. Head to your local craft store and get some nice stationery. Then, sit down at a desk and start writing what's on your head.
Remember that you don't have to overthink this process. After all, it's a love letter — it's supposed to be filled with emotions. You can write about anything, including how much you long for your partner and how you appreciate the love you share. You can also share your favorite moments in your relationship or elaborate on everything you've been through as a couple.
Pouring your heart out when writing a letter can be quite challenging at first, but after a few sentences, you should get the hang of it. If you want to, you can create a rough draft or a mind map to help get your thoughts together, but it's still better to write without much preparation. This way, the love letter will be much rawer and more touching.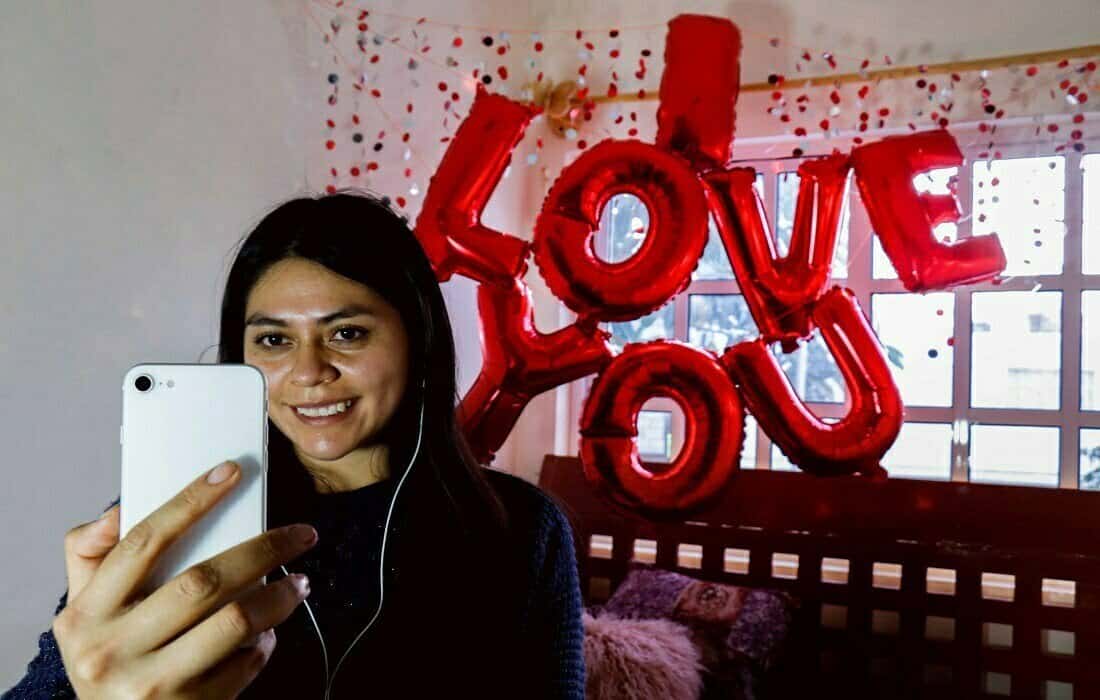 Talk for Hours
Life tends to get busy, and finding the time to have a long discussion may be tricky, especially when both you and your partner work full-time or live in different time zones. Therefore, you can use your anniversary as an excuse to get a day off, clean your schedule, and spend hours talking with your partner on the phone or via video chat.
This may not be a good idea if neither you nor your partner considers themself to be chatty people, but if talking has always been your strong suit, then why not try it? Just like with writing a love letter, don't overthink it. Simply chat about anything that's on your mind, and make sure to be an active listener.
In Conclusion
There's no denying that staying in a long-distance relationship can be a challenge. However, there are many things you can do to make sure the flame never dies out, even if you have no other choice but to spend your anniversary in different parts of the world.
You can do many things to make your partner feel like there's nothing keeping you apart. All it takes is a little creativity and some effort. The great thing is that you don't even have to plan something extraordinary. For instance, you can exchange gifts, have a virtual date, write each other love letters, or talk for hours and enjoy the sound of your voices.
Remember, the key to a successful long-distance relationship is to make your partner feel loved and remember what they mean to you.
Useful Links