Guys, we know.  Buying gifts for your lady isn't easy.  Getting that perfect anniversary gift for her can be even more challenging. Why? Because commemorating an anniversary with your paramour can be riddled with implications.
The wrong gift could backfire on your special milestone.  However, a well-thought-out, sensitive gift could renew your woo, and make your beloved swoon.  With this in mind, here are a few tips on what women really want when you're thinking about getting the perfect anniversary gift for your lady love.
Is Lingerie Really an Appropriate Anniversary Gift These Days?
Ask any man (or woman, for that matter), and you're going to get a slew of polarizing opinions about giving lingerie as an anniversary gift these days.  What's important about making the decision to give intimates to your beloved is factoring in the status of your relationship.  If you both are still on board with keeping the bedroom spicy and sexy, then giving her a classic, elegant array of gorgeous black lingerie is definitely an appropriate anniversary gift.
Just be sure that she will love it as much as you do.  If you're buying frilly, lacy outfits for your gal for your own pleasure – that might be construed as a selfish motivation for an anniversary gift.  In other words, if your lady adores lingerie, and it's something you both savor in your relationship, then yes – lingerie can be very appropriate as an anniversary gift.
Are Diamonds Really Forever?
In a word, yes.  Of course, your lady might have different ideas about jewelry and diamonds.  However, by and large, women are absolutely receptive to receiving diamond jewelry. Symbolically, diamonds represent purity in a relationship. Diamonds also signify the strength and undying love that you two share in the partnership.  As such, a well-crafted diamond broach, pendant, bracelet, or ring is a true statement that says "forever" to your beloved.
On the other hand, you've got to consider your budget. If a diamond is going to set your mutual married budget back, then that's definitely not going to put a smile on your lady's face.  If this is the case, consider buying a semi-precious gemstone that she loves. This is a less expensive option that still holds deep meaning. Perhaps select a birthstone or a personalized piece of jewelry that is both affordable yet sentimental with an engraving or a stone that is meaningful to her.
What About Household Appliances?
In general, household goods such as vacuum cleaners, blenders, bread makers, etc. are not ideal gifts for an anniversary present.  This, of course, is contingent upon your mate's preferences.  If she cherishes domestic life and is always looking for the newest tech marvel to keep the home or kitchen functioning seamlessly – then a household appliance might be a superior gift.
Nonetheless, remember that an anniversary is a once-a-year event.  This implies that a household appliance might be better given at a different occasion.  Just be thoughtful about what your anniversary means to you and her.  Consider how she might feel getting a toaster oven on your 3rd year anniversary.  No matter how much she loves her kitchen gadgets – a toaster might not be the most romantic gift that says, "I honor our bond today and for all our years to come."
Are Gift Cards Acceptable Gifts?
There are pros and cons to giving gift cards to your lady.  If you're thinking about a gift card as an anniversary gift, you might want to think again. As mentioned, this is supposed to be a milestone moment – an epic event that celebrates a certain amount of time you've shared your life with your beloved.  And while you might appreciate a gift card to a hardware or clothing store, your partner might appreciate something a bit more thoughtful.  Of course, we recognize that every relationship is different, but just bear in mind that a gift card might be received as a bit sterile or thoughtless.
Having said all that, we're not canceling out gift certificates.  That's where you could earn some major winning points with your loved one.  Considering a gift certificate for a spa, massage, manicure, pedicure, or something she will seriously enjoy – might put you on the right track.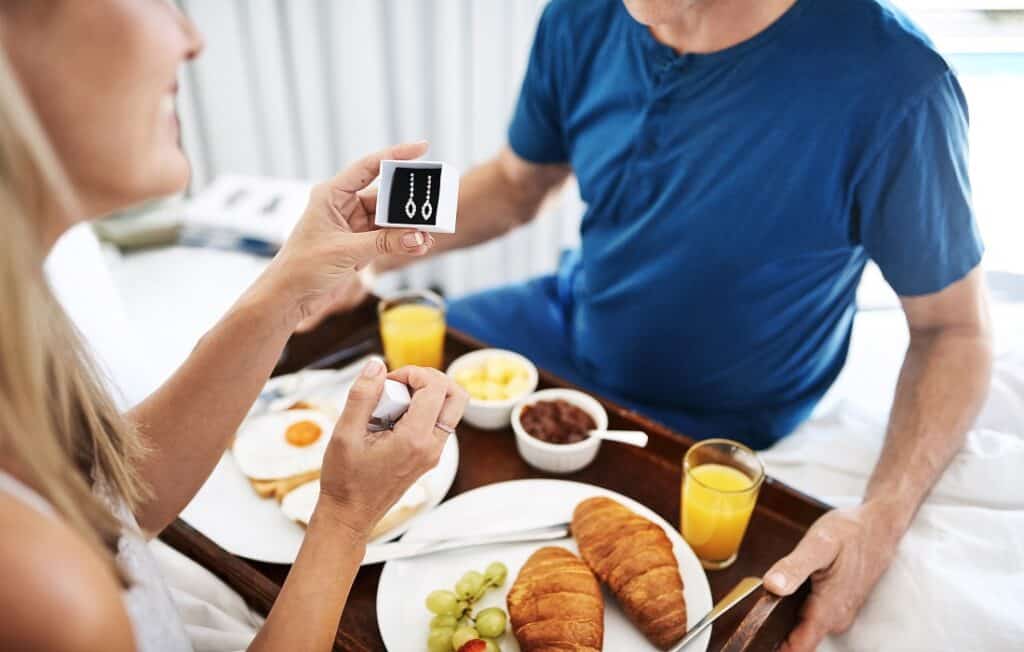 The Last Word on Anniversary Gifts for Women
In conclusion, what you choose to present your partner as an anniversary gift is 100% contingent upon her personality and the nature of your relationship.  Is it easy to pick out the right gift? No.  But hopefully, these tips on debunking myths about anniversary gifts will guide you through the buying process.