We all look forward to some much-needed time away from the hustle and bustle of daily life. Swapping the mundane office routine and city life for some rest and relaxation by the sea is what we daydream of. For those who have booked a luxury beach getaway Packing Tips, getting your suitcase ready should be your top priority.
A perfect summer location would include visiting places like the Maldives, Bali, Florida, Hawaii, and the Caribbean. Don't forget to add lots of sunscreen and a wide-brimmed hat for those hot sunny days! No matter how much you plan ahead, there are always small things that can be forgotten or left out. To make sure your trip runs smoothly without any hiccups, here are some useful and essential packing tips:
Packing Tips
After all, you want to make sure you've brought all the essentials with you and left nothing important at home!
If you're going on a luxury vacation, you'll want to look the part. To achieve just that, here are some essential packing tips that will ensure you've got every base covered.
Check With the Airline
Before you get packing for your luxury beach vacation, it's wise to speak to your airline about baggage restrictions. This is particularly important if you're wondering, "are vapes allowed in checked baggage, or should they be carried in hand luggage?" Airline policies can differ on this, so it's best to check in advance rather than face complications during boarding.
If you've got any questions, don't hesitate to ask them! For those flying long haul, you should bring along a piece of hand luggage. You can pack items like noise-canceling headphones, a tablet, and a sleep mask to keep you comfortable throughout the duration.
Plan Your Outfits
However long you're going on your luxury beach vacation, you need to plan out what you're going to wear! While some people dread doing this, others find the process exciting! You don't want to be in the same outfit from morning till evening. For instance, if you're catching the rays first thing, you should have something fancy to wear for your evening meal. It's always best to pack a few more outfits than you need. That way, you have lots of choices to pick from.
Coordinate
When you're going somewhere exotic, you'll want to fit in and look the part. To ensure you don't stick out for the wrong reasons, it's time to coordinate your looks. For example, if you're going to be in a T-shirt and shorts for the duration of your trip, make sure they match! You don't want to be too experimental with colors, as they may not blend well together Packing Tips.
Coordinating is the number one rule when it comes to fashion! SSENSE specializes in menswear for traveling in style. They can help you find beautifully coordinated clothing that will make you look the part during your trip away.
Pack the Right Footwear
What are you going to put on your feet for your luxury beach getaway? If you're walking on the sand, you don't want to be in a pair of sneakers that's for sure! Make sure to pack plenty of sandals that give your feet a chance to breathe. You should pack some smart shoes too, especially if you're eating out at restaurants. For those bringing along brand new footwear, it's wise to pack some plasters too as you may get blisters when breaking them in!
Bring a Light Jacket
Even if you're going somewhere hot, temperatures may dip when the sun goes down. This means if you're out and about during the night, you may benefit from bringing along a light jacket. Packing Tips Of course, we don't mean to take a coat with you. But, something that can keep you warm will be a godsend. Don't bring too many jackets as you may find the weather is pleasant once the night falls.
Avoid Jeans
To look stylish and cool on your luxury beach adventure, there's one piece of clothing you must avoid – jeans! You may think they look great, but they aren't going to do you any favors when you're under the scorching hot sun. Packing Tips It's best to keep your jeans at home and stick with clothes that are light and airy instead.
Buy the Right Bag
Once you're packed up and ready to go for your luxury trip, there are some essentials you may want to have on your person, rather than in your luggage.  Packing Tips Whether it's deodorant, aftershave, or a pair of sunglasses, make sure to pick a luxury bag that can house all your personal belongings packing tips.
Try not to invest in a bag that's too big, otherwise, you'll find it a hassle to carry around throughout your adventure!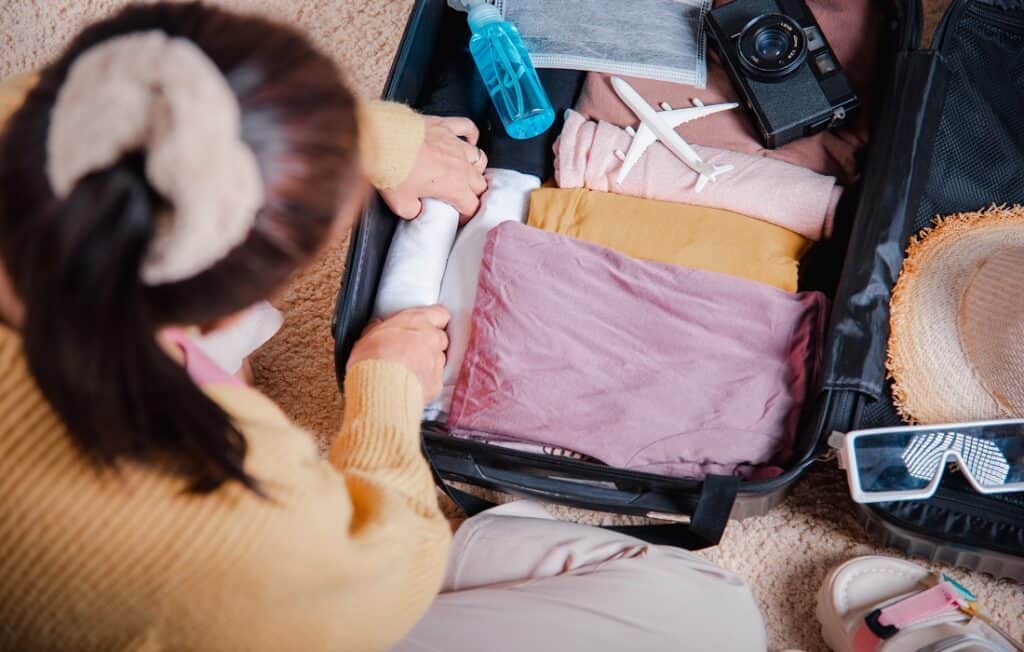 Roll Your Clothes
If you're bringing along a ton of designer gear, you don't want to take it out of your luggage to find it's all crumpled up! Unless there's an iron in your hotel room to get rid of creases, your beautiful clothes may not look their best otherwise Packing Tips.
To stop this from happening, make sure to roll your clothes! Rolling them up can not only create more space in your suitcase but also eliminate any stress of having to iron!
Whether you're off for a spell in the Bahamas, a trip to the Maldives, or an adventure to Bali, before you get on the plane and kick off your luxury vacation, it's vital you've got the essentials packed and ready for your trip ahead.