Howdy, y'all! Get ready to saddle up and get your cowgirl on this Halloween because, in this ultimate guide, we're going to show you how to rock a sexy space cowgirl costume like no other. From choosing the perfect attire to adding stunning accessories, we've got everything covered.
You'll be turning heads with fringe accents and leather details that scream "wild west." Channel your inner rodeo queen or outlaw with our creative cowgirl costume ideas, all while keeping it stylish and comfortable. So grab your boots and get ready for an unforgettable Halloween – yeehaw!
Table of Contents
Creating A Sexy Cowgirl Costume For Halloween
To create the ultimate sexy cowgirl costume for Halloween, you need to choose the right clothing and accessories, add some leather and fringe accents, and don a pair of sexy cowgirl boots.
Choosing The Right Clothing
When it comes to choosing the right clothing for a sexy cowgirl Halloween costume, keep in mind that less is often more. A denim crop top paired with high-waisted denim shorts or a fringed mini skirt can easily transform you into a sultry western babe. Don't forget to add some western flair with a braided leather belt or cowgirl hat.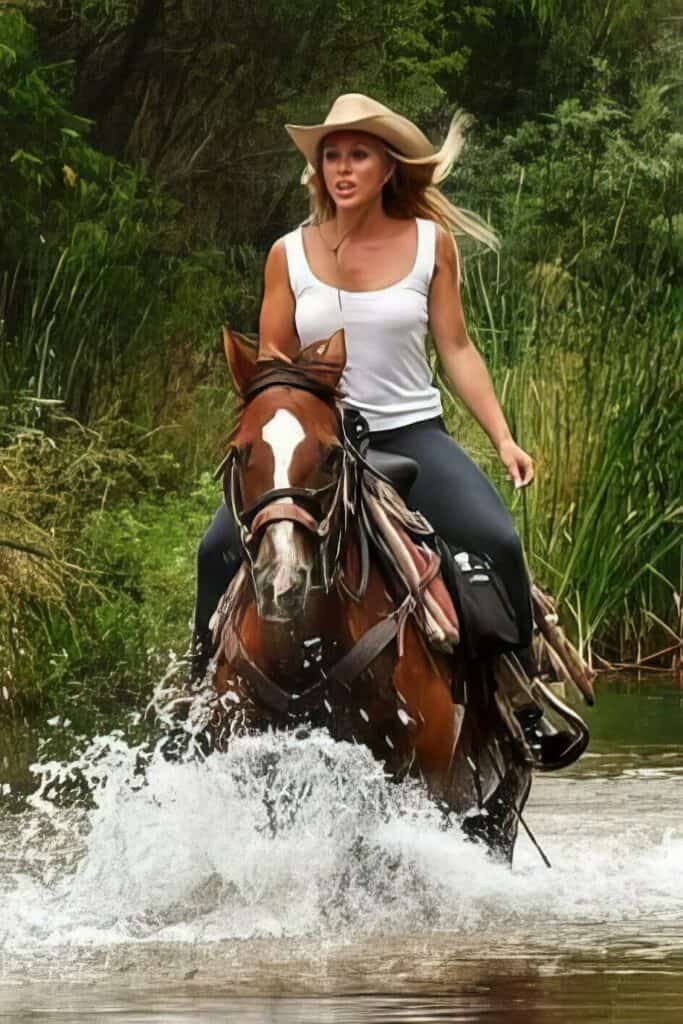 If you want to go for something different, try out an off-the-shoulder peasant blouse in lace or gingham fabric paired with distressed denim shorts and cowboy boots. The key is to show off your curves without going overboard. Consider adding chaps or fringed leather jackets for added dimension and sex appeal, but don't feel like you have to wear everything at once.
Remember that confidence is key when pulling off this look, so choose pieces that make you feel comfortable and confident while also staying true to the cowgirl aesthetic. Keep these tips in mind as you create your perfect sexy cowgirl costume for Halloween!
Adding The Perfect Accessories
When it comes to creating a sexy cowgirl costume for Halloween, adding the perfect accessories is key. Think fringe and leather accents, chunky jewelry, and of course, a cowboy hat. To really spice up your outfit, consider throwing on some sexy cowgirl boots that showcase your legs and add height. Don't forget about other western-inspired accessories like bandanas or belts with statement buckles.
Incorporating props like toy guns or ropes can also help take your costume to the next level. You may even want to try wearing some lingerie pieces as part of your ensemble for added sex appeal. Remember that the right accessories can make all the difference in putting together a standout look that will leave everyone impressed at any Halloween party.
Whether you're going for a more classic cowgirl vibe or looking to switch it up with something edgier like a bandit cowgirl outfit, accessorizing strategically is key in pulling off this popular Halloween costume choice. So don't be afraid to mix and match items until you find just the right combination!
Incorporating Fringe And Leather Accents
When it comes to creating a sexy cowgirl costume, incorporating fringe and leather accents is key. Fringe adds movement and texture to any outfit, while leather gives it a tough edge. A fringed leather vest paired with high-waisted denim shorts or a fringed suede skirt is the perfect combination for achieving that iconic cowgirl look.
Accessorizing with leather pieces like belts and bracelets can also elevate your outfit. Don't be afraid to go bold with studded or embellished details! Adding a cowboy hat completes the look while keeping the sun out of your eyes while at outdoor parties. Whether you opt for genuine or faux leather, incorporating these materials into your costume will give you an authentic Western feel that's sure to turn heads at any Halloween party.
Donning Sexy Cowgirl Boots
As a foodie who loves to dress up for Halloween, I have found that donning sexy cowgirl boots can make or break a cowgirl costume. Not only do they add authenticity to the outfit, but they also enhance the overall sex appeal. When selecting the perfect pair of boots, go for those with some heel and intricate detailing such as embroidery or studs.
Complete your sexy cowgirl look by pairing the boots with denim shorts or skirts and a fitted plaid shirt. If you want to take your costume to the next level, accessorize with a leather fringe jacket and hat. And remember, it's all about confidence when rocking this Western-inspired ensemble. So strut in those boots like you own them and become the ultimate sexy cowgirl at any Halloween party.
In conclusion, incorporating sexy cowgirl boots into your Halloween costume is essential for achieving an authentic Western look while keeping it sultry and stylish. With budget-friendly homemade outfits combined with statement accessories such as hats and jackets, dressing up like a cowboy has never been more fun or affordable!
Creative Cowgirl Costume Ideas
Get inspired with these creative cowgirl costume ideas that will take your Halloween look to the next level! From Western beauty queens to bandit cowgirls, there are so many options to choose from. Don't miss out on the chance to stand out at your Halloween party with a unique and sexy cowgirl outfit.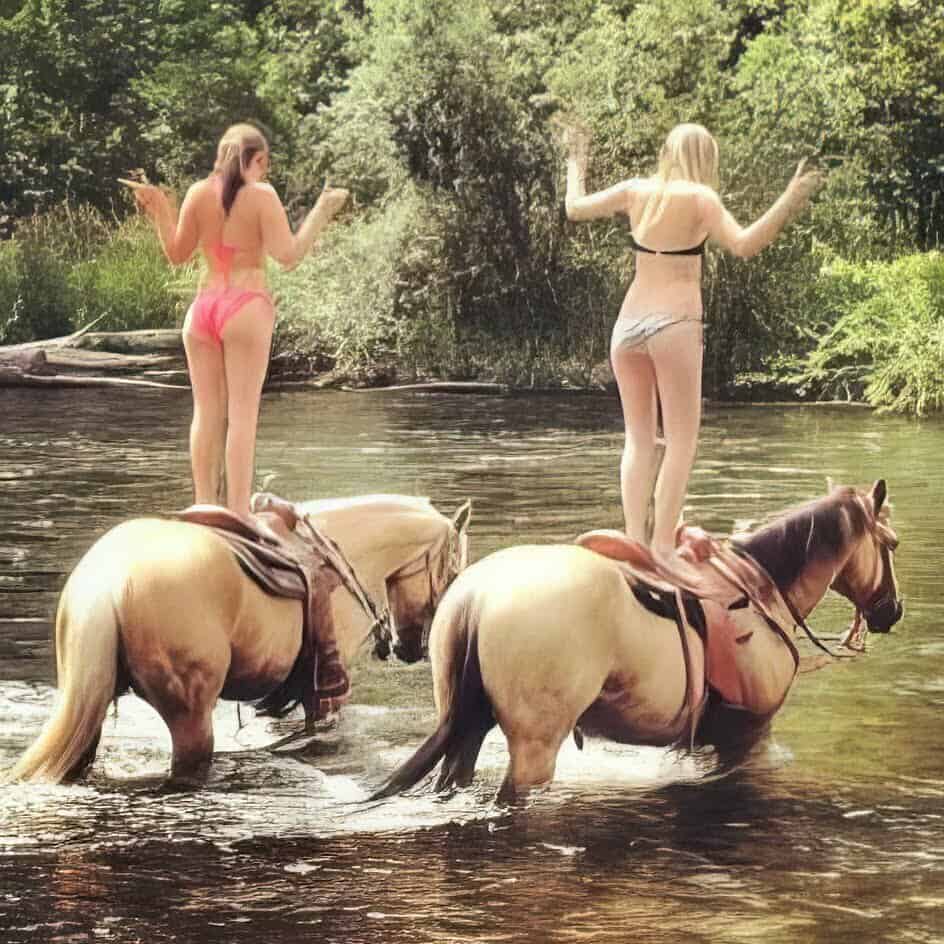 Western Beauty Queen
As a foodie, there's nothing quite like putting on a great costume and celebrating the holidays. One Halloween classic is dressing up as a sexy cowgirl, with one popular option being the Western Beauty Queen look. Decked out in fringe, leather accents, and cowboy boots, this costume will make you feel like the ultimate rodeo star.
To nail down this look for Halloween, start by selecting the right clothing pieces. Choose denim shorts or skirts with fringe detailing to give your outfit that authentic cowgirl vibe. Don't forget to add some leather accents, such as a belt or vest, to really bring it all together. Accessorize with some statement jewelry, and of course, don your favorite pair of western-style boots for an added touch of sexiness.
There are plenty of ways to customize your Western Beauty Queen costume depending on what you're looking for. Maybe you'd prefer to go rogue as a Cowgirl Outlaw instead? Get creative with different ideas, but most importantly, have fun bringing out your inner wild west spirit!
Cowgirl Outlaw
Being an outlaw cowgirl on Halloween is a perfect costume choice for those wanting to show off their rebellious side. To bring this outfit to life, start with a fringed dress or skirt paired with cowboy boots and a leather vest. Accessorize with a bandana, hat, and holster filled with toy guns for the ultimate outlaw look.
If you're feeling more daring, incorporate metallics into your outfit for added edge. Silver accents on boots or jewelry can help elevate your cowgirl outlaw look even further. Remember to stay true to character- stand strong and confident in your costume as you take on Halloween festivities with flair.
Rodeo Queen
As a foodie who loves to attend rodeos, I know that the Rodeo Queen is a coveted title. To dress like one for Halloween, start with a classic western-style dress in bold colors like red or turquoise. Add some bling with a belt featuring rhinestones and silver accents.
To complete the look, put on some cowboy boots with intricate designs and embellishments. Don't forget to add cowgirl accessories like a hat and bandana! For makeup, stick to natural tones but add a pop of color with bright lipstick in shades of pink or red. With these tips, you'll look like royalty at any rodeo-themed event!
And if you're looking for an easy DIY option, consider cutting up an old flannel shirt into fringe and pairing it with denim shorts or jeans. This budget-friendly idea will have you channeling your inner Rodeo Queen in no time!
Bandit Cowgirl
As a foodie, you might want to showcase your love for all things western-inspired this Halloween. One great costume idea is the Bandit Cowgirl. The Bandit Cowgirl exudes an edgier vibe while still maintaining the classic cowgirl look with a bandana and boots. You can even add some fun props like toy guns or ropes to really give off that "wild west" feel.
To complete the Bandit Cowgirl look, consider wearing denim cut-offs or a skirt paired with a studded leather jacket or vest. Don't forget to accessorize with silver jewelry and bold makeup for an eye-catching finish. Whether you're headed out on the town or just staying in to indulge in some spooky treats, dressing up like a Bandit Cowgirl will ensure that all eyes are on you this Halloween season!
Tips For Creating A Western-Inspired Look
Style your hair in loose waves or braids and create a natural, dewy makeup look while adding bold lipstick and smoky eye makeup to achieve the perfect western-inspired cowgirl look.
Styling Hair In Loose Waves Or Braids
For a truly Western-inspired look, it's important to style your hair in loose waves or braids. Not only do these styles create a natural and effortless look, but they also perfectly complement cowgirl attire. Love Quinn from the popular TV show "You" has mastered this look with her long blonde locks styled in loose beachy waves.
To achieve this hairstyle, start by dividing your hair into sections and curling each section with a curling iron. Once you've finished curling all of your hair, use a wide-tooth comb or your fingers to gently brush out the curls for that laid-back wave effect. Alternatively, try braiding your hair into two loose braids for an easy yet chic cowgirl hairstyle. The Pragmatic Costumer offers basic tutorials on how to create both of these classic hairstyles.
Creating A Natural And Dewy Makeup Look
When it comes to dressing up as a sexy cowgirl for Halloween, the right makeup can make or break the look. To achieve the perfect natural and dewy makeup look, start with a good skincare routine that includes cleansing, toning, and moisturizing. For added glow, use an illuminating primer before applying foundation.
To enhance your cheekbones and add dimension, use bronzer on the hollows of your cheeks while dusting highlighter on top of them for extra shimmer. Keep eye makeup simple with earthy tones like brown or bronze and finish off with mascara to give your lashes volume. Lastly, add some color to your lips with nude lipstick that complements your complexion.
Remember to practice beforehand so you can perfect this natural yet alluring cowgirl makeup look! You may also visit the Red Apple Lipstick website, which gives step-by-step instructions for creating a western chic cowgirl Halloween makeup look.
Adding Bold Lipstick And Smoky Eye Makeup
When it comes to creating a sexy cowgirl look for Halloween, your makeup plays a crucial role. To really make your eyes pop and add an air of mystery, go for smoky eye makeup. Apply black and silver eyeshadows to your lid and blend them in with an eyeshadow brush or sponge applicator. Don't forget to add a highlighter on top of the silver eyeshadow to give that extra sparkle.
To complement the smoky eye, choose bold lipstick in a deep shade like red or burgundy. This will not only complete the overall look but also create an irresistible pout. I recommend trying out Red Apple Lipstick's range of bold shades that are perfect for any playful yet seductive costume this season – plus, they're cruelty-free and gluten-free! For that final touch, don't be afraid to use plenty of eyeliner thickly applied along both lash lines making sure it curves up at the end, giving you those flirty Cat Eyes we all love!
DIY Cowgirl Costume On A Budget
This section provides tips and tricks for creating a stunning cowgirl costume on a tight budget, including ideas for homemade costumes, incorporating denim pieces, and accessorizing with fun props like toy guns and ropes.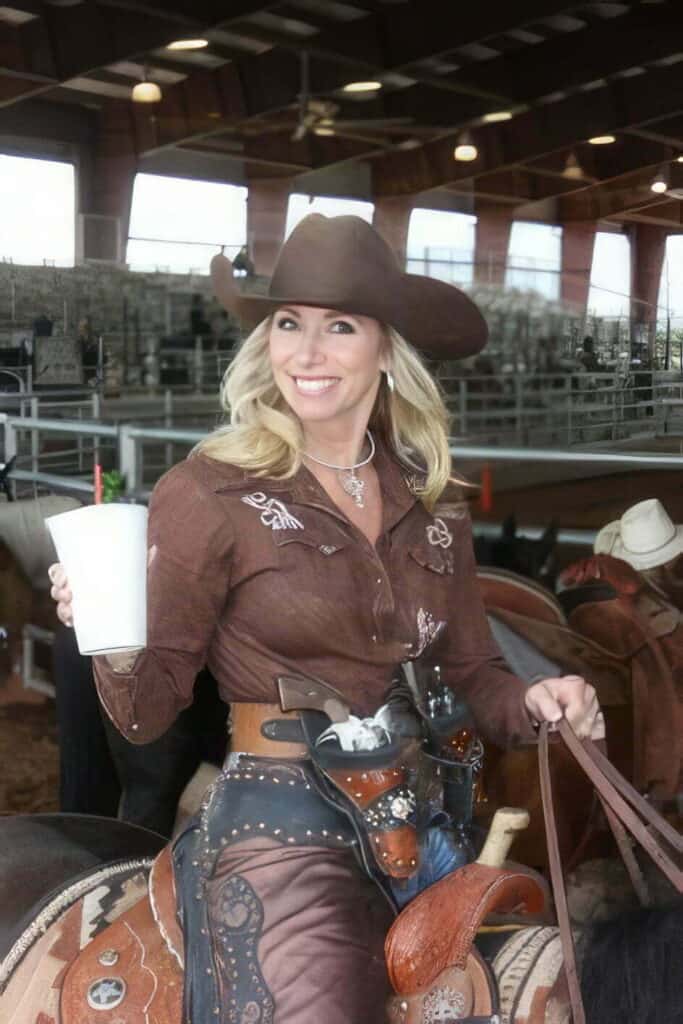 Homemade Costume Ideas
If you're a foodie looking to dress up as a sexy cowgirl for Halloween, but want to do it on a budget, then homemade costume ideas are the way to go. With a little creativity and some basic items from your wardrobe, you can put together an amazing cowgirl outfit. Start with denim cut-off shorts or a skirt paired with a checkered shirt or plaid crop top. Add some cowboy boots and finish off with accessories like bandanas or earrings.
Another fun idea is to transform yourself into a "space cowgirl." All you need is silver glittery leggings, metallic boots and gloves, and a shiny top. To take it up another level, incorporate materials like neon mesh or plastic in bright colors.
With these DIY ideas in mind, along with resources available online, such as eHow and BootRoxx guides– you'll be sure to have an awesome homemade costume that will turn heads at any party without breaking the bank!
Tips For Making Your Own Costume
When it comes to creating a cowgirl costume on a budget, there are plenty of DIY options that won't break the bank. One suggestion is to raid your closet for items you already own, like a flannel shirt and denim shorts or jeans. To jazz up the look, consider adding fringe accents in the form of a vest or skirt.
Another way to save money while still achieving that sexy cowgirl look is by getting creative with accessories. Raid your jewelry box for statement pieces like long necklaces and chunky bracelets, and don't be afraid to add some hair accessories like feathers or bandanas. And if you really want to go all out, try making your own cowboy hat using supplies from your local craft store!
Incorporating Denim Cut-Offs And Skirts For A Sexy Look
When it comes to dressing like a sexy cowgirl for Halloween, incorporating denim cut-offs and skirts is an easy and affordable option. For adults on a budget, short denim cut-offs can be paired with a plaid shirt or corset top for a sultry outfit. Young cowgirls may prefer longer denim skirts or basic jeans for their costumes.
For those looking to DIY their cowgirl costume, eHow offers tips on how to create your own look with homemade pieces. Denim cut-offs or skirts can easily be incorporated into the overall outfit for added sex appeal. And let's not forget about accessorizing – toy guns and ropes can add some playful fun to your cowgirl ensemble.
Whether you're going for the Western Beauty Queen or Cowgirl Outlaw, look, adding some denim accents is an easy way to amp up the sexiness of your costume. Plus, when Halloween is over, you'll still have stylish pieces that can be worn year-round!
Accessorizing With Fun Props Like Toy Guns And Ropes
When it comes to adding a little extra something to your sexy cowgirl costume, props like toy guns and ropes can make all the difference. Not only do these accessories add more authenticity to the look, but they also allow you to play up the "outlaw" aspect of dressing as a cowgirl.
For those on a budget, DIYing your own roped or holsters for toy guns can be an affordable way to accessorize your costume. Additionally, including chaps or other Western-inspired clothing pieces can help accentuate these accessories even further.
Overall, incorporating fun props into your sexy cowgirl costume is a must-do for anyone wanting to stand out at their Halloween party. By doing so, not only will you feel and look more confident in your outfit choice, but you will also have created an unforgettable memory that everyone will be talking about come next year's Halloween season!
Conclusion
In conclusion, dressing up as a sexy cowgirl for Halloween is the perfect way to embrace your inner wild west spirit and show off your adventurous side. With our ultimate guide, you'll be able to create the perfect costume that is both fashionable and fierce.
From choosing the right clothing and accessories to incorporating fringe and leather accents, we've got you covered. Whether you prefer a western beauty queen or bandit cowgirl look, we offer creative costume ideas that are sure to impress.
And if you're on a budget, don't worry – our DIY cowgirl costumes will help you save money while still looking fabulous. So what are you waiting for? Grab your cowboy hat and boots and start creating the ultimate sexy cowgirl outfit for Halloween!
Frequently Asked Questions
What should I wear to dress like a sexy cowgirl for Halloween?
To dress like a sexy cowgirl, you can start by wearing a plaid shirt tied at the waist with a pair of short denim shorts or cutoff jeans. Accessorize with cowboy boots, a hat, and a bolo tie to complete the look.
How can I make my sexy cowgirl costume stand out?
To make your costume stand out, consider adding fringe or rhinestone details to your clothing and accessories. You could also incorporate faux leather accents or carry a toy pistol in a holster.
Can anyone pull off dressing as a sexy cowgirl for Halloween?
Yes, anyone can pull off this costume regardless of body type or gender identity! There are many variations of sexy cowgirl costumes available that cater to different preferences and sizes.
Is it appropriate to wear this type of costume in all social settings?
It is important to be mindful of the setting when choosing any Halloween costume, including one dressed as a sexy cowgirl. In some more conservative environments or situations such as workplaces, schools, or family-friendly events may not be suitable for revealing costumes, so always being respectful & culturally sensitive is key, especially if concerned about offending others around you or impacting relationships negatively over time through questionable choices regarding attire choice during holidays/celebrations, etc.