Everyone is probably a sucker for the famous Moscow Mule, but ginger beer has more options than you can ever think of. The fizziness is refreshing, and when mixed with the right drinks, you'll love it. But what is ginger beer? Ginger beer is a carbonated non-alcoholic drink made of ginger and sugar only. There is a slight similarity to ginger ale, but it's not as sweet and has a stronger kick.
In this guide, we'll go over ten of the best ginger beer cocktails and how you can make one at home. There are tons of variations, but we will only have ten ginger beer cocktail recipes for this context. Keep reading if you want more!
Moscow Mule
It is a no-brainer that the Moscow Mule had to be at the top of our list. Its popularity came in the late 40s in Hollywood as a way of marketing vodka, and ever since, it has been a common ginger beer cocktail drink across the globe. Moscow mule is made with ginger beer, citrus juice, and vodka. It is simple to prepare, and you'll have your drink ready in a couple of minutes.
Ingredients:
½ cup Ginger beer
1-ounce vodka
½ ounce lime juice
1 mint leaf
1 lime wedge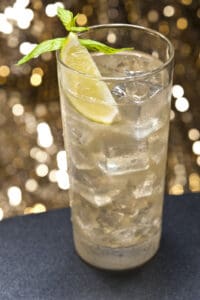 Instructions
Add 1 mint leaf to the glass and smash it to release the oils
Mix all the ingredients and stir up slowly.
Do not use a cocktail shaker if you want to preserve carbonation
Garnish with 1 lime wedge
Serve over ice, or for best results, use a copper mug or copper cup
You may wonder why we recommend copper cups or mugs. There is something about copper that makes this ginger beer cocktail thrilling. Copper takes the drink's temperature, remaining cold instead of glass, warming it up to room temperature. It is not a must you use copper mugs. Ice cubes will do just fine.
Dark and Stormy
The dark and stormy drink has caused a storm in ginger beer cocktails. Its earthy dark color and rich brown sugar notes make it refreshing. With only three ingredients, Dark and stormy is the way to go. You can sip the carbonated cocktail at any time of the day all year long. It has a cool name and has nothing to do with gothic lingo. The cocktail's history dates back to the 1800s discovered by the Goslings in England during their voyage to America.
Ingredients:
3 ounces dark rum
2 ounces ginger beer
½ ounce lime juice
Instructions
Pour ice cubes into a tall glass and add three ounces of rum
Top with 2 ounces of ginger beer and lime juice
Stir up the mixture with a bars poon
Garnish with a lime wedge and enjoy
Floradora
Here is another mix of a once-popular drink inspired by a Broadway show by the same name back in the 1900s. It has been mentioned in many bartending books and movies of the 19th century, making it one of the most popular theater-themed cocktails. Its distinctive pink color and bubbly taste make it unique and ideal for folks with a sweet tooth. The Floradora spices up the raspberry syrup with gin, lime, and of course, ginger beer! While initially, folks loved the raspberry syrup, people nowadays use raspberry-flavored framboise liqueur. So, you can play with both and find your best flavor.
Ingredients:
4 ounces ginger beer
½ ounce raspberry syrup/ framboise liqueur
1½ ounces gin
½ ounce lime juice
Instructions
Get the ingredients together and pour framboise, lime juice, and gin into a highball glass with ice.
Top with 4 ounces of ginger beer and mix it up
Garnish with a lime wedge enjoy
Kentucky Mule
If bourbon whiskey is your style (we love bourbon!), then there is something for you. Ginger beer with bourbon is something you have to taste to believe in the greatness. The Kentucky Mule breaks away from mixing vodka with ginger beer and swaps that with bourbon whiskey. It is probably one of the easiest cocktails to make. No mixing or stirring is required. Just put in all the ingredients, and you are good to go! Kentucky Mule is a popular cocktail for summer parties and a nice cocktail to drink in the evening by the porch.
Ingredients: 1/4 ounce lime, 2-ounce ginger beer, 1½-ounce bourbon whiskey
Instructions
Pour lime juice, bourbon, and ginger beer into a serving glass of your choice
Add ice and garnish with a lime
That's it! Enjoy
Since both lime, bourbon, and ginger beer have strong tastes, it is crucial to find the right balance of bourbon to avoid the nuisance of alcohol in the drink. The best way to do this is by getting a high-quality bourbon whiskey. You don't necessarily have to spend a lot, but a mid-priced option will suffice.
Mexican Mule
Here's another spin to the classic mule: The Mexican Mule. It is a classy cocktail and is as amazing as both the Moscow and Kentucky Mule. If there is one thing Mexicans love is tequila, and that was all they had to swap to get this amazing cocktail spin. Surprisingly, tequila combines well with ginger beer, and a dash of lime juice will make you continue after the first sip. Some folks will add orange liqueur to brighten up the flavor, but it's completely optional.
Ingredients:
2-ounce ginger beer
1-ounce lime juice
1½-ounce tequila
Instructions
Fill up the cocktail shaker with ice
Add the 1½ ounces of tequila and lime juice and shake well for 15 seconds
Pour the mix into your glass of choice
Top with 2 ounces of ginger beer and garnish with a lime wedge
Serve chilled
Shirley Temple
Looking for a popular drink from anywhere in the world? Try the Shirley Temple. It is well known and has a non-alcoholic mocktail, so you don't have to order an alternative when with kids. But there is no reason to wait for a night out to buy it when you can just make it at home. Shirley Temple is incredibly easy to make and will sure get you revitalized. Born in the 30s. The Shirley Temple is an amazing drink named after the child movie star Shirley Temple. It is a delicious drink for dinner and a great alternative to soda as well.
Ingredients:
⅓ cup lime soda
½ tablespoon grenadine
⅓ cup ginger beer
Instructions
Put all the ingredients together
Fill a glass halfway with ice cubes and pour ½ tablespoon grenadine
Add equal amounts of ginger beer and lime soda
Stir well with a bars poon
Garnish with a cherry and enjoy
Pimm's Cup
Pimm's Cup is easily refreshing and is one cocktail Britons love. It is a mixed drink with a fruity flavored gin, and it is easy to consume lots of glasses due to its taste. There aren't many ingredients required to make this drink, so all you need is a few cucumber slices, ginger beer, and Pimm's No.1. What Pimm's does is tone down the tangy ginger taste and bring a balanced liqueur. You can have Pimm's Cup at any time of the day as it is a light alcoholic drink. Plus, you don't have to cancel your appointments after a few glasses of the popular British cocktail.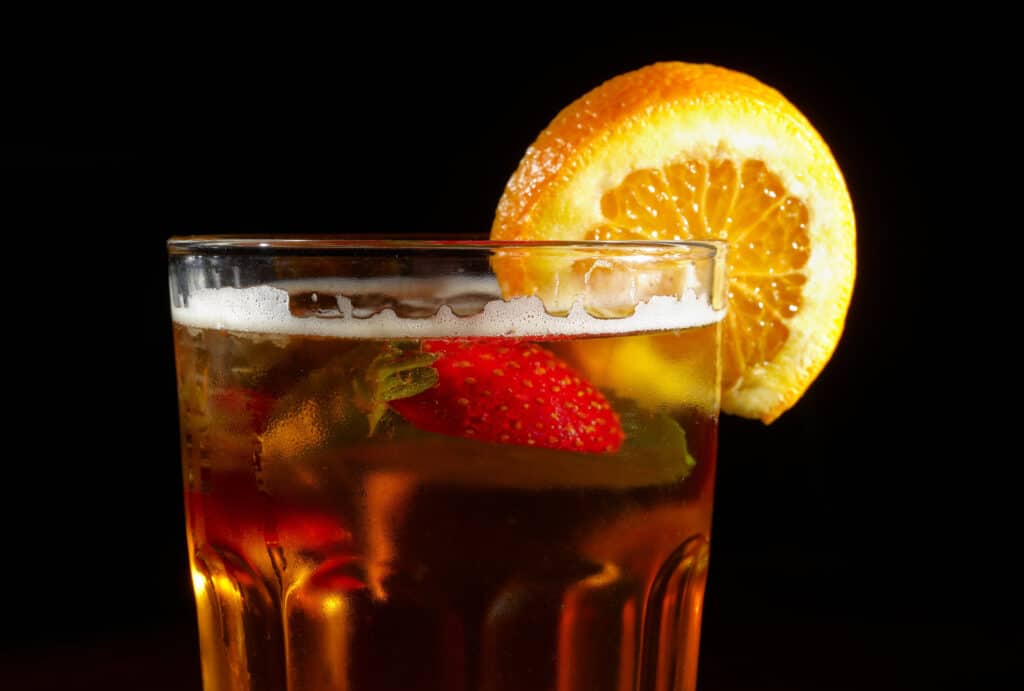 Ingredients:
2 ounces ginger beer,
2 cucumber slices
2 ounces Pimm's No.1
½ ounce lime juice, mint leaves
Instructions
Prepare the cumber by removing seeds and muddle with Pimm's No.1 in a mixer
Shake the mixture and strain the cucumber to remove all the guts
Add ½ ounces lime juice and top with 2 ounces ginger beer
Garnish with mint leaves
Serve and enjoy
Whiskey Highball
If you want a simple and classic way to enjoy your whiskey, you should try this whiskey highball cocktail. It is one of the recipes that every mixologist or bartender should know. What's more, whiskey highball cocktails work best on any kind of whiskey, scotch, bourbon, Canadian, and rye whiskey. Initially, people mixed the whiskey highball with soda in the late 1800s, but ginger beer became a better option. The snappy flavors of ginger beer blend well with whiskey, and you'll love this refreshing cocktail. And oh, did we mention how easy it is to make this cocktail?
Ingredients:
2 ounces Whiskey
4 ounces ginger beer
Instructions
Get all the ingredients together
Fill a highball glass with ice halfway
Add 2 ounces of whiskey into the glass
Mix with 4 ounces of ginger beer
Serve and enjoy
Highballs are well-known drinks, and it is a commonly misplaced name with other meanings. For instance, in the 1800s, the British used "ball" for whiskey drinks, and "high" probably meant tall glasses. Of course, how true the statement depends on which part of England you come from.
Gin Gin Mule
While we've had a fair share of mules (Moscow, Kentucky, you know the vibes), we still have some interesting ones like the Gin Gin Mule. This recipe was created by Audrey Saunders of Pegu Club in New York. It is a perfect mix of Moscow Mule and a mojito. It means the recipe is the same as Moscow Mule, only that now you swap vodka with gin (sorry if you're a vodka fan). You can also add a garnish of mint leaves or muddle mint. The choice is yours. I know you're wondering why the name Gin Gin and not just Gin Mule. Well, each Gin has its meaning. The first Gin stands for gin, and the second stands for gin in ginger beer. This cocktail is amazingly light and refreshing. You won't have a dull day with these ginger beer drinks.
Ingredients:
1½ ounce gin
2-ounce ginger beer
½ ounce lime juice
ice
fresh mint
Instructions
Fill a glass or copper mug with ice cubes
Add gin on top of the ice
Mix small amounts of lime juice
Add ginger beer and garnish with lime or ginger
Serve and enjoy
Apple Cider Mule
Apple Cider Mule is probably the closest variation but packed with more flavor if you are a Moscow Mule fan. It is simple to make and has a refreshing look. This recipe includes apple cider, apples, and cinnamon sticks for a perfect fall cocktail. What makes the Apple Cider mule completely different from the Moscow mule is the addition of Apple cider which replaces the usual lime juice we often see in Moscow mule.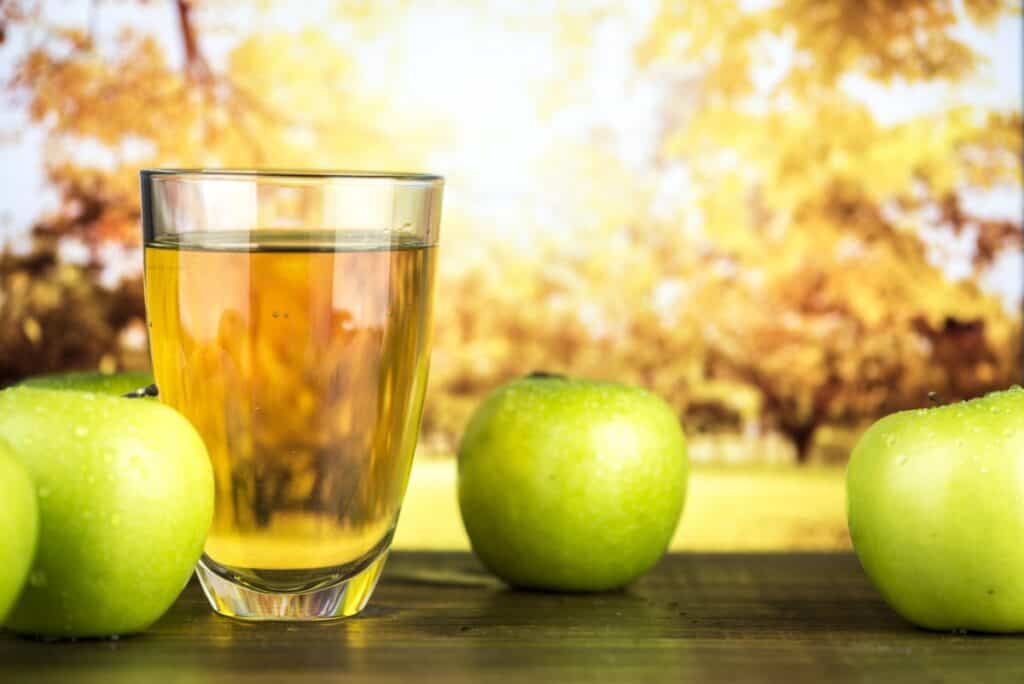 Ingredients:
2 ounces apple cider
1-ounce vodka
1½ ounces ginger beer
2 apple slice
Pinch of cinnamon
Instructions
Mix 1 cup of apple cider, 2 bottles of ginger beer, and a cup of vodka in a pitcher.
Pour the mixture in a glass half full of ice
If the cider is too sweet, you can add a squeeze of lime
Garnish with apple slices and cinnamon
Serve and enjoy
Tip: The Apple Cider mule is best prepared if you intend to serve immediately. It is easy to make, and a few hours prior will make the beer go flat. Get everything chilled and ensure you have enough ice for this cocktail mix.
Best Ginger Beer Cocktail Brands To Use
Nowadays, there are tons of ginger brands out in the market. Knowing which ones fit your ginger beer cocktails is important in bringing the exact flavor of the specific cocktail recipe. That's why we compiled a small list of the most popular ginger beer brands sold today.
Fever-Tree Ginger Beer
If you want the natural taste of ginger beer with no additives or sweeteners, then Fever Tree ginger beer is your top pick.
Q Ginger Beer
This is probably our favorite type of ginger beer drink. It comes in convenient cans and is best for small cocktails.
Bundaberg Ginger Beer
It is a traditional pick for us as it is brewed just like beer and tastes amazing too.
Maine Root Ginger Brew
If you want a ginger beer with high ginger content, this is what you're missing. The ginger beer has a spiky, distinctive ginger taste the moment you take a sip.
Other ginger beer types include Zevia Mixer Ginger Beer, Royalty Ginger Beer, Brooklyn Crafted Mango Ginger Beer, etc.
Ginger beers are essential mixers for alcoholic drinks, and, as you can see, they can make a variety of cocktails. Whenever you are making ginger beer cocktails, check the ginger beer brand you are using to know what to expect. Each brand enhances the flavors from spiced, sweet to subtle tones. What we know is that you'll get a taste that you'll never forget. Also, if you're not so much into cocktails, you can drink the ginger beer as is- no need for alcoholic drinks either.